Naples Players delivers powerful production of 'Hunchback of Notre Dame'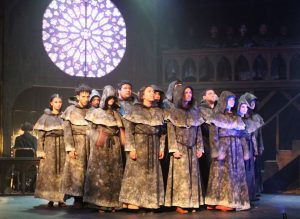 What makes a monster and what makes a man? Venture into the timeless retelling of Victor Hugo's renowned novel, The Hunchback of Notre Dame, at The Naples Players (TNP) from July 5 through July 23rd.
Featuring a 14-piece orchestra, 16-person on-stage choir, Alan Menken's sweeping score, Stephen Schwartz's moving lyrics, sound design by Tony Nominee Joshua Reid and costumes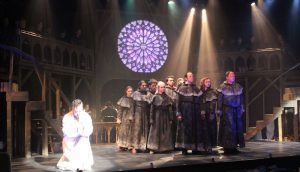 by Disney costume designer Joshua Winchester, The Naples Players delivers a powerful production of The Hunchback of Notre Dame to kick off TNP's 2023-2024 season.
The musical begins as the bells of Notre Dame sound through the famed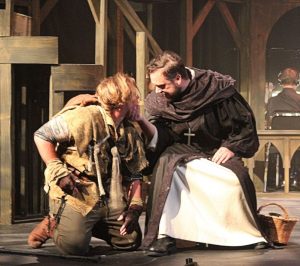 cathedral in fifteenth-century Paris. Quasimodo, the deformed bell-ringer who longs to be "Out There," observes all of Paris reveling in the Feast of Fools. Held captive by his devious caretaker, the archdeacon Dom Claude Frollo, he escapes for the day and joins the boisterous crowd, only to be treated cruelly by all but the beautiful Romani woman, Esmeralda, a compassionate gypsy who protects him from the angry mob. Quasimodo isn't the only one captivated by Esmeralda's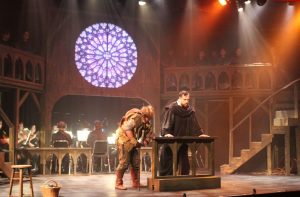 free spirit. So are Dom Claude Frollo and the new captain of the guard, Phoebus de Martin. Both are infatuated by the beautiful girl, but Frollo's lust turns lethal and only Quasimodo has a chance of saving Esmeralda from Frollo's seething anger.
Hunchback's lush, emotionally rich score features a trove of cherished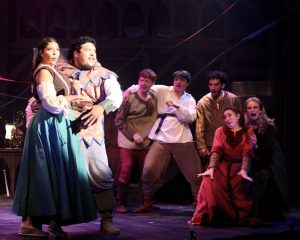 songs from the somber opening tome, The Bells of Notre Dame, to Disney classics that include "Out There," "God Help the Outcasts," and "Hellfire," and many new songs and dance numbers.
The Hunchback of Notre Dame will be performed off site atTheatreZone's home, the Community School of Naples, while TNP's 5th Ave S theater undergoes a $20 million renovation.
"To have the opportunity to see a production of this incredibly grand spectacle of a show in a space as intimate as TheatreZone is a unique experience." says Music Director Charles Fornara, "[Director] Dawn Lebrecht Fornara's thoughtful staging, great choreography, and brilliant storytelling is a mere few feet away from every seat."
After music directing 50 productions at TNP, Fornara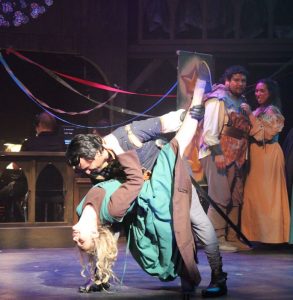 claims that "from a musical perspective, this show is shaping up to be one of TNP's very best."
Director Dawn Lebrecht Fornara and Music Director Charles Fornara lead an all-star ensemble cast of Naples favorites, many of whom have become regular staples of The Naples Players' most popular shows.
Go here for play dates and times.