'Gidion's Knot' play dates, times and ticket info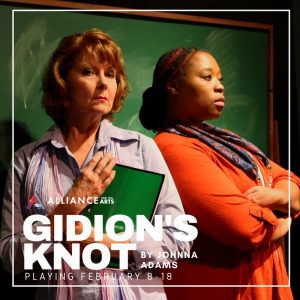 Play: Gidion's Knot
Playwright: Johnna Adams
Synopsis: Amidst the fallout from her 5th grade son's suspension from school, a mother demands answers. What begins as a highly charged parent/teacher conference with Gidion's reticent teacher soon develops into a revelatory confrontation. A thought-provoking exploration that keeps us guessing about where to lay blame when children go astray. A suspenseful drama that is as elegant as it is chilling.
Cast:
Corryn Fell: Sonya McCarter
Heather Clark: Lauren Drexler
Director: Rachael Endrizzi
Assistant Director: Sima Robbins
What the Critics Say:
"resonant…[a] particularly eloquent study of people caught between the competing demands of reason, morality and family…harrowing…a narrative that is as elegant as it is chilling." —Washington Post
"…a riveting, explosive drama." – Chicago Critic
"Gidion's Knot is is as sad as life itself, and as funny and startling as well…a beautiful, disturbing story." —DCTheatreScene.com
Play Dates and Times: February 8-10 & 15-17 at 8 p.m.; 2:00 p.m. matinees on February 11 & 18.
Tickets: $22 Alliance for the Arts members; $25 non-members.
Place: Foulds Theatre, Alliance for the Arts, 10091 McGregor Blvd., Fort Myers, FL
Running Time: 80 minutes