Theatre Conspiracy continues August Wilson's Century Cycle with 'Seven Guitars'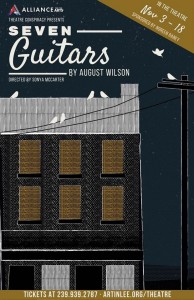 Last season, Theatre Conspiracy took audiences into the world of 1920s African-American blues musicians with its groundbreaking production of August Wilson's Ma Rainey's Black Bottom. In November, the Alliance-based theater company will continue Wilson's decade-by-decade Century-Cycle exploration of the black experience in America with Seven Guitars, a play that is one part bawdy comedy, one part dark elegy, and one part murder mystery.
The play opens in the backyard of a Pittsburgh tenement in 1948. Friends have gathered there to mourn the passing of blues guitarist Floyd "Schoolboy" Barton. His sudden death is a tragedy not only because Floyd was so young, but because his promising musical career was on the verge of taking off with a
lucrative record deal waiting for him in Chicago. Following a reflective discussion of the mysterious events surrounding Floyd's untimely demise and the six black-hatted angels who appeared at the gravesite to bear Floyd's spirit away, his friends and neighbors break into a soulful rendition of Floyd's hit recording, "It's All Right."
From there, the play flashes back in time to recount the final days of Floyd's life. Through the characters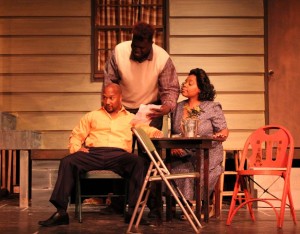 of his friends and the members of Floyd's band, Seven Guitars explores themes that resonate in American culture today, including the importance of the past and one's roots, the conflation of guns with power, the correlative fragility of life and the inherent unfairness of the criminal justice system. These messages evolve organically through the stories recounted by each character who, like a well-rehearsed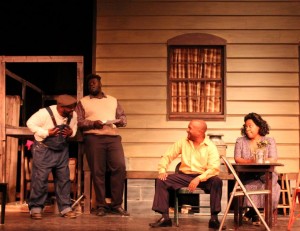 orchestra, play their own variation on these themes. And what emerges is a full-throated, fully harmonized blues number that enables the audience to experience for itself the characters' shifting dreams, triumphs, losses and searing pain.
Dense, dire, and filled with music-drenched drama, Seven Guitars brings back a number of the stars of Ma Rainey's Black Bottom, including Roosevelt Stewart (Floyd "Schoolboy" Barton),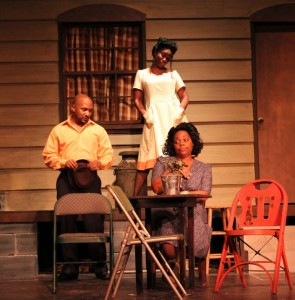 Shaunte Manuel (Vera Dotson), Cicero McCarter (Hedley) and Cantrella Canady (Ruby). They will be joined by Derek Lively as Canewell, Curtis Sheard as Red Carter and Tijuanna Clemons as Louise.
And it is Louise who sums up the play's spirit and sensibility as she sits alone on the stage and muses aloud. "They about to drive me crazy," she says. "Who don't know where the other one is or went or ain't going or is going and this one's dead and that one's dying and who shot who and who sung what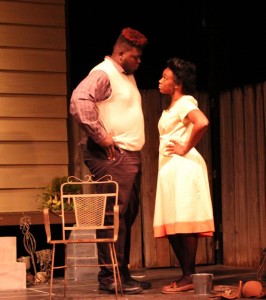 song."
October 24, 2017.
RELATED POSTS.