'Outside Mullingar' play dates, times and ticket information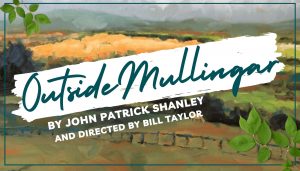 Play:  Outside Mullingar
Playwright:  John Patrick Shanley (Moonstruck, Doubt)
Synopsis: Outside Mullingar unfolds in the picturesque, Irish countryside near Killucan and follows the unlikely romance of two lovable misfits, Anthony Reilly and Rosemary Muldoon. Anthony's father, Tony, is scheming to sell the family farm and disinherit his son. Standing in his way is a small plot of land belonging to his neighbor, Rosemary. But as a result of a long-simmering grudge and bitter land feud, Rosemary is disinclined to cooperate with Tony's machinations – which makes her and Anthony unlikely and unwanted allies. Destiny—whether embracing or fighting it—means everything in this very Irish story told with a rich tapestry of language, compassion and a few surprises. Full of humor and poetic prose, John Patrick Shanley's tenderhearted portrait reminds audiences that it is never too late to take a chance on love.
What the Critics Said:
"Outside Mullingar is a charmer of a play… In [Shanley's] first work set in Ireland, he lovingly tends the roots and tills the soil of his ancestry, spinning a tale suffused with melancholy humor and a deep yearning for heart, home, land, faith and a sense of belonging…. Shanley has a poet's ear for the lyrical music and twinkly humor of their dialogue." – Hollywood Reporter
"Mullingar is Shanley's best play since Doubt, and like that hit from a decade ago, it's lean, dialectical and packed with wise saws and aphoristic gems." – Time Out New York
"Shanley once again reveals both a touch of the poet and a fine gift of gab." – NY1
"Wholly diverting… Mr. Shanley's finest work since Doubt... a softhearted comedy freckled with dark reflections on the unsatisfactory nature of life and the thorns of love." – New York Times
Director:  Bill Taylor
Cast: 
Tony Reilly: Jim Yarnes
Anthony Reilly: Derry Woodhouse (Actors' Equity Member)
Aoife Muldoon:  Andrea Thom
Rosemary Muldoon: Karen Goldberg
Play Dates and Times: Performances are:
7:30 p.m. on February 17-19 and 24-26; and
2:00 p.m. on February 27.
Location: Foulds Theatre, Alliance for the Arts, 10091 McGregor Boulevard, Fort Myers, FL.
Tickets: $25 for Alliance members; $30 for non-members. Tickets can be purchased by telephoning 239-939-2787 or visiting Outside Mullingar by John Patrick Shanley and directed by Bill Taylor – Alliance for the Arts (artinlee.org)
Sponsor:  Noreen Rainey
December 11, 2021.