Digging deep for meaning in the guest list to the party in Topsy Washington's head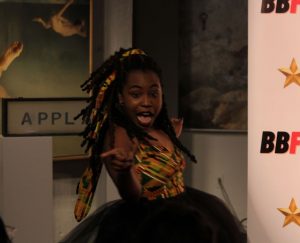 Artistic Director Bill Taylor and the show's director Sonya McCarter have staged the Alliance's current production of George C. Wolfe's The Colored Museum as a walking tour of the eleven exhibitions found in Wolfe's rogue's gallery of black stereotypes and themes of appropriation and assimilation. Each exhibit is unapologetically satirical. Each exhibit excoriates black and white cultural "norms." Each exhibit compels black,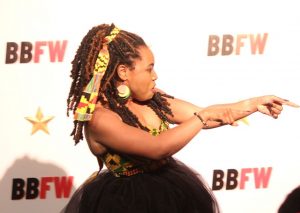 brown and white audience members to examine and overthrow their assumptions about what it's like to be a person of color in present-day white society. But you have to dig beneath the surface to get at the heart of what Wolfe wants you to see.
Take the final vignette by way of example.
On the surface, "The Party" seems to be about a deeply superficial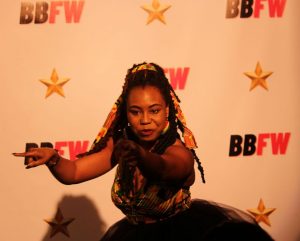 name-dropping party girl by the name of Topsy Washington who loves to dance more than just about anything else. But, omigod, the names that Topsys drops conjure up such a head-spinning cauldron of apparent contradictions that it's no wonder that Topsy is that girl at the party who dances harder and yells louder than everybody else.
Sure, we've all heard of the entertainment icons that Topsy mentions.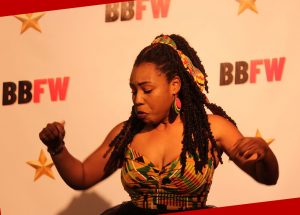 But do we appreciate why Wolfe included them on the guest list for the party in Topsy's mind?
There's Eartha Kitt – singer, actor, dancer, comedienne, and "most exciting woman in the world." And Miles Davis – one of the most influential and acclaimed figures in the history of jazz and the entirety of 20th century music. Duke Ellington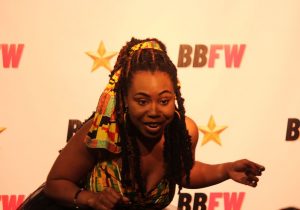 is the musician, composer and bandleader who left an indelible mark on classical, pop and jazz music. There's Count Basie – the innovative jazz pianist, organist, bandleader and composer who became the first African-American male to win a Grammy. Louie Armstrong too –  bandleader, singer, comedian, film star and New Orleans trumpet player who became one of the most influential artists in the history or jazz.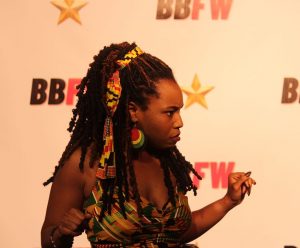 And you couldn't omit Ella Fitzgerald – the "First Lady of Song" – from the invite list either.
Or Stevie Wonder, Jimi Hendrix, and Sly Stone.
But Nat Turner?
Aunt Jemima?
Bert Williams?
WTF?
And would Angela Davis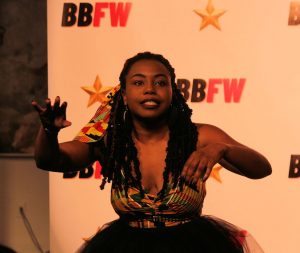 ever be caught dead sharing collards with Nancy Green?
Would Malcolm X ever consider kickin' it with Bert Williams?
Ah, but there is a message to Wolfe's madness in these seemingly incongruous pairings.
For 131 years, Nancy Green was the face of the ready-made pancake mix Aunt Jemima brand. The name traces its origins to an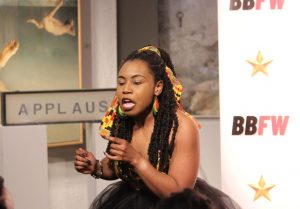 1875 song from a minstrel song that featured white performers in blackface who wore aprons and bandanas which they cynically appropriated from black culture. In the past half century, many in the black community shunned Green's image and the product she represented, embarrassed by the shameful sell-out. But was she really? A former slave,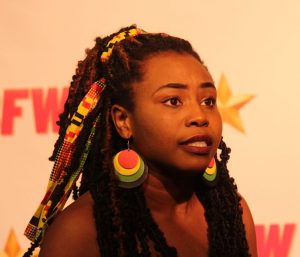 Nancy Green was a minister and philanthropist at the time she responded to a casting call seeking an actor to represent the company that produced the self-rising pancake batter. True, Green did not make millions representing Pearl Milling and its successor, Quaker Oats, over the ensuing 30 years. She barely eked out a living. But as trailblazing corporate model, she created the paradigm that's enabled athletes like Derrick Rose, Tiger Woods, Lebron James and
Steph Curry to make tens of millions a year in lucrative endorsements from brands like Adidas, Nike, Coca-Cola, Under Armour and Samsung Electronics. And in the process, Green turned the racial stereotype of the black Nanny into a symbol of friendliness, hospitality and prosperity.
Bert Williams was a black entertainer who performed in blackface. Like Green, he took back the racial stereotype that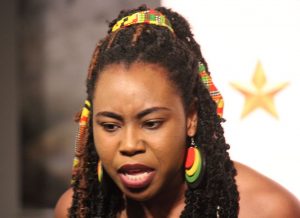 the white controlled entertainment industry had used to portray blacks as lazy, shiftless and uneducated.
Like Green and Williams, Eartha Kitt, Miles Davis, Duke Ellington, Count Basie, Louie Armstrong and so, so many other black musicians, entertainers and athletes had been used to varying degrees by white owned and operated business conglomerates to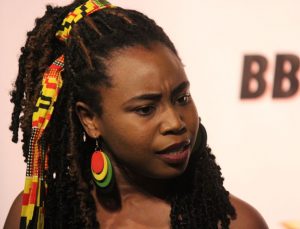 make a fortune. And like Green and Williams, each used their celebrity to pioneer the role of pitchmen and women in the marketing and advertising industry – all the while altering the stereotypes that had previously proliferated in white society and culture.
In essence, Wolfe is saying in "The Party" vignette that the past, no matter how painful or embarrassing, is prelude for the future.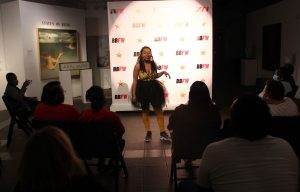 Which is why all these seemingly contradictory and incongruous personalities co-exist amicably, harmoniously, even commensally in the party taking place in Topsy Washington's mind in The Colored Museum's concluding vignette.
Or as Topsy emphatically declares, ""Everything I need to get over in this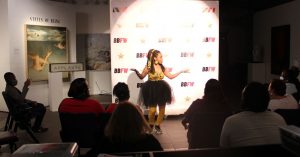 world is inside here, connecting me to everybody and everything that's ever been. So, honey, don't waste your time trying to label or define me, 'cause I'm not what I was ten years ago or ten minutes ago. I'm all of that and then some."
To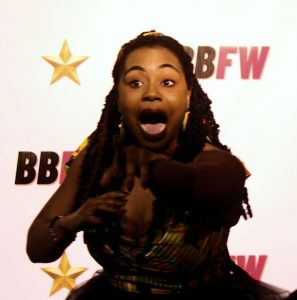 play the part of Topsy Washington properly, an actor really has to get what Wolfe was driving at when he created the character and her monologue. Ruthgena Faraco is such an actor. It's clear from her performance that she and director Sonya McCarter have not only mined this vignette for its rich, deeper meaning, but found a way through body language, movement and inflection to convey the heart and soul of the intentionality underlying this scene.
With her performance as Topsy and her portrayal of Celie in The Color Purple,
Ruthgena Faraco has served notice that she has the theatrical chops to play virtually any dramatic role that comes her way. Some of Faraco's other stage credits include Mary Warren in Lab Theater's production of Arthur Miller's The Crucible, Molly Cunningham in Joe Turner's Come and Gone (for Theatre Conspiracy at the Alliance), Lorraine in All Shook Up (Cultural Park Theatre), Kala in Tarzan (Cultural Park) and Brenda in The Pajama Game (Cultural Park). But go here to see everything Ms. Faraco has done.
The Colored Museum plays through January 30 at the Alliance for the Arts.
January 14, 2022.