Director Bill Taylor converting Foulds Theatre into bar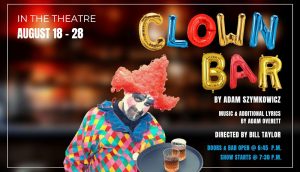 Director Bill Taylor is converting the Foulds Theatre into a bar – a Clown Bar, to be more precise. With music and additional lyrics by Adam Overett, Clown Bar by Adam Szymkowic is a cunningly sharp clown noir-dramedy. While the ubiquitous clowns you'll encounter in Szymkowic's bar aren't, Derry Derry, of the same ilk as Pennywise or Bubbles, Szymkowic's hilarious-yet-frightening gangster clowns could very well give you a bout of coulrophobia.
Here's the set up: Happy Mahoney (Steven Coe) is a gumshoe detective, and happy to have put is life as a clown in the rearview mirror. But when Happy's younger brother Timmy (Declan Ireland) is gunned down, Happy returns to the world of organized clown crime to investigate the murder of his baby brother. It's a world dominated by the usual suspects – a terrifying crime boss, gun-toting henchmen and a host of fascinating women, like the multi-talented femme fatale Petunia (Shelley Sanders), homicidal Popo (Dena Galyean) and seductress Blinkey (Kelly Rivadulla). Will Happy find his brother's killer or will he be sucked back into the seedy underbelly of vice and violence that virtually impossible to escape?
"This is a play that challenges every taboo, from extreme violence and drug abuse to stage performers who cannot afford to live without resorting to prostitution," writes reviewer Nalalie Sacks. "That almost every member of the cast happens to have on a wig and face paint only draws you further into the world, where loyalty is everything and no one can ever really escape."
And to make this crime noir all the more compelling and immersive, Taylor and company are transforming the Alliance theater into an actual dimly lit bar that places the audience in privy with the diabolically demented cast.
The timing of Clown Bar couldn't be more perfect, filling in the void left by Ringling Brothers when they closed the circus a decade ago after 146 seasons. But alas, few retirements, Tom Brady, are forever. Clown Bar will get audiences in the mood when The Greatest Show on Earth returns in September of 2023 for a 50-city tour across North America sans the animals and with choreography by Cirque du Soleil's Giulio Scatola and A Chorus Line backstory for the performers in the show.
Who knows? Taylor and company may celebrate that event with a production of Clown Bar 2.
Go here for play dates, times, ticket information and the full cast and crew.
July 4, 2022.