Good People

February brings a show to Theatre Conspiracy that was the winner of the New York Drama Critics' Best Play Award and nominated for a 2011 Tony Award for Best Play. Good People is a funny,
tough and tender story about the insurmountable class divide. When Margie Walsh loses her job at a South Boston dollar store, she reaches out to her old flame Mike, a neighborhood boy who escaped and became a successful doctor. Margie's attempt to hit Mike up for a job takes on a surprising twist when she realizes the power a secret from Mike's past holds. From Pulitzer Prize-winner David Lindsay-Abaire, Good People looks at the extraordinary consequences of choosing to hold on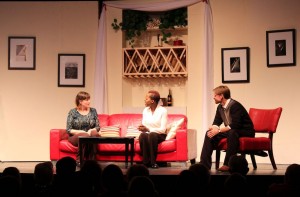 to the past or leave it behind. Performances are at 8 p.m. on February 6, 7, 12, 13, 14, 19, 20 and 21 and 2 p.m. February 15.
Individual tickets are $22 each. Student tickets are $11. Thursdays are "buy one get one half off" and opening night on January 3 is "pay what you will", you name the ticket price! Tickets can be purchased by calling Theatre Conspiracy's box office at 239-936-3239 or by visiting www.theatreconspiracy.org.
Continue reading to review announcements, articles and reviews about the play, playwright, director and cast.
* * * * * * * * * * * * * * * * * * * * * * * * * * * * * * * * * * * * * * * * * * * * * * * *
Just three more performances of Theatre Conspiracy's 'Good People' remain (02-18-15)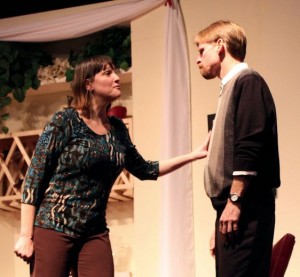 Just three more performance of Theatre Conspiracy's Good People remain. This farcical class clash stars Annie Wagner at Margie, a down-on-her-luck girl from Southie who pays a visit to her old high school flame played by wrob, who's escaped the stultifying, suffocating old neighborhood only to find that life among the upper crust isn't all that he thought it would be.
Annie Wagner has appeared in several productions at Theatre Conspiracy during the last decade,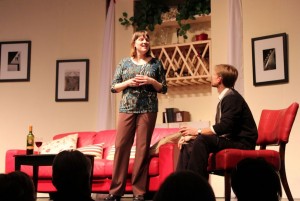 including last season's The Whale, that also starred Theatre Conspiracy Producing Artistic Director Bill Taylor. Back in the 20th century, Wagner eared a college degree, toured the Midwest with Mosaic Theatre Project, and studied in workshops with the late Uta Hagen of HB Studio in New York City. Ironically, today Annie works at the public library with people having difficulties with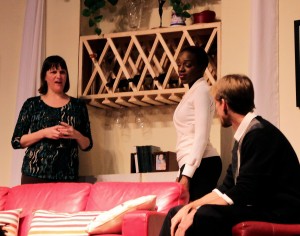 computers. Her favorite pastime is enjoying everyday life with her two remarkable sons.
wrob is a veteran of stages all over Lee County. He is making his first local appearance after a 10-year sojourn in New York City. He was the producing artistic director of the Orpheus and Red Curtain Theaters on Fort Myers Beach. His acting credits include Sexual Perversity in Chicago, A Few Good Men, Treasure Island, The Odd Couple (as both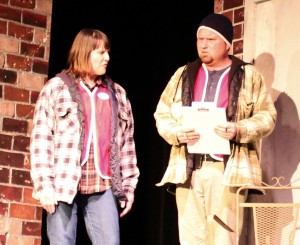 Felix and Oscar), Fifth of July, Scrooge, Sex, Lies and Videotape, and Pounding Nails in the Floor with My Forehead. His primary creative focus is writing, where he can be found at nakedmeadow.blogspot.com.
Sparks fly when these two interact on stage, and a number of their confrontational, emotionally-charged exchanges are the highlight of this production, which presents the all-too-painful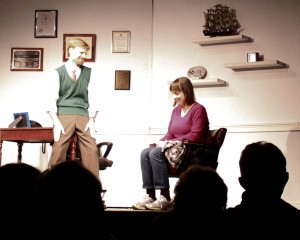 disconnect between the rich and poor, professionals and working stiffs, the degree-wielding book smart and street smart grads of the school of hard knocks. Okay, there's not denying that playwright David Lindsay-Abaire is frequently guilty of belaboring a point that Mitt Romney so eloquently made in 47 seconds about 47-percenters, but his story about a girl who makes an unrequited grand sacrifice is touching, memorable and thought-provoking, and Wagner shines during those moments when the script turns her loose to focus on the personal ramifications of the choice she made when she was still a just a kid.
Catch this show even if you're not from Boston. And if you are, it'll be like going home.
See above for play dates, times and ticket information.
___________________________________________________
Meet 'Good People' playwright David Lindsay-Abaire (02-14-15)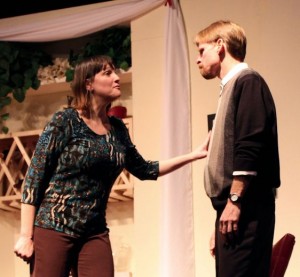 On view now at Theatre Conspiracy is Good People. It was written by David Lindsay-Abaire, a Pulitzer Prize winning playwright, screenwriter, lyricist and librettist.
Good People premiered on Broadway, and was awarded the New York Drama Critics Circle Award for Best Play, The Horton Foote Prize, The Edgerton Foundation New American Play Award, and two Tony nominations. TCG named Lindsay-Abaire as the most produced playwright in
America for the 2012-13 season, and Good People as the most produced play.
His previous play, Rabbit Hole, received the Pulitzer Prize for Drama, five Tony nominations, and the Spirit of America Award. He also wrote the book and lyrics for Shrek the Musical, which was nominated for eight Tonys, four Oliviers, a Grammy, and earned Mr. Lindsay-Abaire the Ed Kleban Award as America's most promising musical theatre lyricist.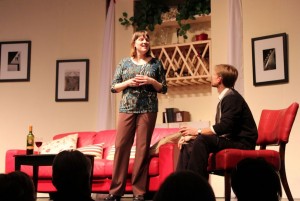 Lindsay-Abaire's other plays include Fuddy Meers, Kimberly Akimbo, Wonder of the World, and A Devil Inside, among others. In addition to his work in theatre, David Lindsay-Abaire's screen credits include his film adaptation of Rabbit Hole (starring Nicole Kidman — Oscar Nomination), Dreamworks' Rise of the Guardians, and MGM's upcoming Poltergeist reboot, among others.
See above for play dates, times and ticket information.
____________________________________________________________
David Lindsay-Abaire's 'Good People' wry, humorous class clash (02-03-15)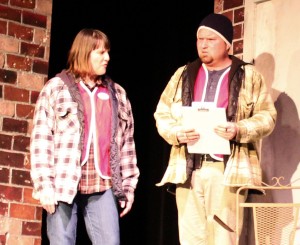 In his award-winning play Good People, playwright David Lindsay-Abaire questions the myth that anyone can achieve anything if they just work hard enough. It's a topic at the forefront of political debate at present, with President Barack Obama vowing to restore the viability of the American Dream and his conservative adversaries contending that Obama's own policies have widened the gulf between the haves and have-nots in this country.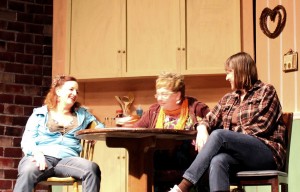 To Lindsay-Abaire's way of thinking, it is neither work ethic nor innate ability that determines our lot in life, but rather the accidents of our birth and a healthy dose of luck. Take Margie Walsh, for example. She hails from a tough, predominantly Irish-American working class neighborhood in Boston known as "Southie." She is in danger of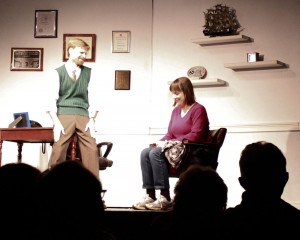 being evicted from the cramped flat that she shares with her severely-impaired adult daughter because she has just been fired from her low-wage job as a cashier at a nearby dollar store for being late – again. The audience, of course, is immediately sympathetic. She was late because her landlady/babysitter overslept – again – and Margie couldn't leave her daughter unsupervised.
In due course, the audience discovers that contrary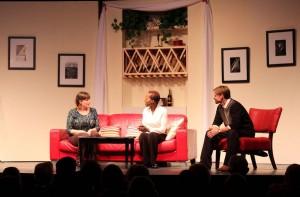 to being lazy or a ne'er do well. Rather, she was a hapless victim of circumstance. She didn't have the time or money to get a proper lunch, so she snacked on peanut brittle, breaking a tooth. Since she couldn't afford a dentist, she let the tooth go until it abscessed. With no dental coverage, she had to use the money allocated for her car payment, which resulting in the vehicle being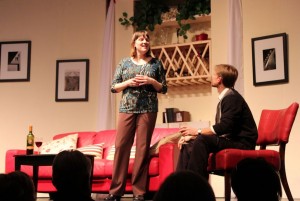 repossessed. With no transportation, she couldn't get to work on time or get her daughter to child care, which led her to get fired from one dead-end job after another, ruining her employment history and disqualifying her getting a job at the local factory or any other decent company.
So what's a girl to do? Well this girl pays a visit to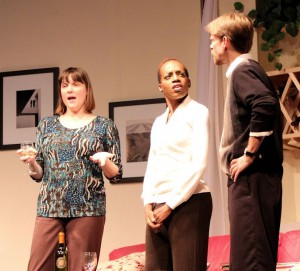 her old high school flame, Mike, who is now a successful physician and married to a young African American woman who is a professor of literature at Boston College. When Margie shows up at their home for a party that has been cancelled because the couple's son is ill, the differences between low-rent Margie and upper-crust Mike and Kate become painfully, hilariously obvious. Kate has no clue what it's like to be a poor, blue collar slob, and Margie cannot function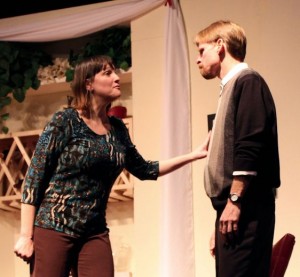 in the world of the privileged nouveau riche. Lindsay-Abaire weaves ingrained stereotypes, misperceptions and the class divide into every crackling line of dialogue and comically embarrassing situation.
Since its premiere, Good People has received numerous awards and accolades, including a Tony nomination for Best Play and the Drama Critics Circle Award, and most find the play's final twists surprising, enormously satisfying and true to the biting undercurrent of the crushing burden of folk just trying to get by. But it will be up to you to draw your own conclusions about whether the dream that anyone can achieve anything in America if they just work hard enough to achieve it is fact or fiction.
See above for play dates, times and ticket information.