'Nether' actress Eren Sisk dishes on her character Iris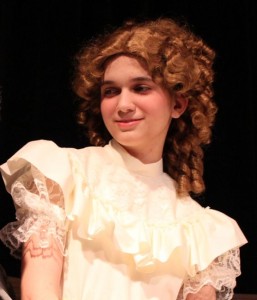 On stage now at Theatre Conspiracy is Jennifer Haley's The Nether. It's a dark sci-fi crime thriller in which men visit a virtual world in the nether for purposes of having sex with and then murdering and dismembering virtual children. Fort Myers High sophomore Eren Sisk plays one of those virtual children, a bouncy, beautiful 9-year-old Victorian girl by the name of Iris.
"Iris is very unique, and roles like her don't come along very often," says Eren about her character. "I was really overjoyed when I was offered the part."
E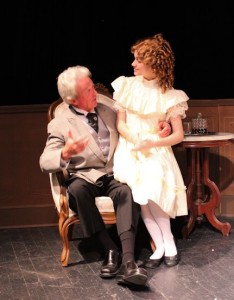 ren responded to an invitation to audition at Theatre Conspiracy this past summer. After she performed an original monologue she prepared for the audition, director Rick Sebastian pulled her aside and handed her a portion of Jennifer Haley's script that he wanted her to read. After familiarizing herself with it in the lobby for ten or so minutes, she read that portion of the script with another actor.
"Originally, I read the script with my normal voice, but then then asked me to read it with an accent," Eren recalls. "This is my third show this year alone where I've had to use a British accent. The first was Jekyll & Hyde at Fort Myers High School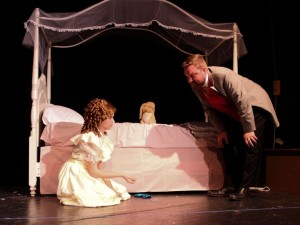 and the other was Les Miserable at Cultural Park Theater. So I was somewhat accustomed to [talking with a British accent]."
Sebastian liked what Eren did in her reading, so a couple of days later he called to speak to Eren's mom about the adult content in the play. Of course, no graphic scenes take place in this play. But Eren and the audience are prompted by the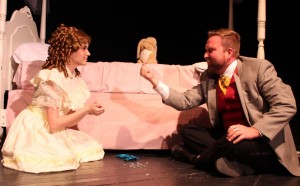 dialogue to imagine what happens to Sisk's character through suggestion and innuendo.
"We deliberated for about a week about whether or not I could do this role."
Obviously, they decided it was a role she couldn't pass up, but Eren's mother has been with her since
rehearsals first began. "This is mom's first experience at being able to be there at the rehearsals and see everything come along, and she's really enjoyed it," Eren says with gratitude in her voice.
Her family has been supporting her thespian aspirations since third grade. "I've pretty much been in one show a year since then, including Footloose at Fort Myers High. I really have a passion for acting and theater. The more that I do it, the more passion I have for it. I want to actually be on Broadway when I'm older. I want to devote my life to this craft.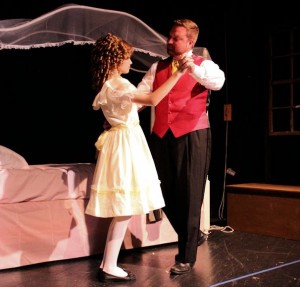 It's what really excites me."
Eren is already preparing herself for a life in theater. In addition to the theater class she takes at Fort Myers High, she works with directors Matt Koller, Aaron Jackson and others, participates in choir, orchestra and band, reads scripts for fun, and does as many shows as she can without overloading her plate. Although college is a couple of years in the future, she already has her sights set on N.Y.U., which is just a stone's through from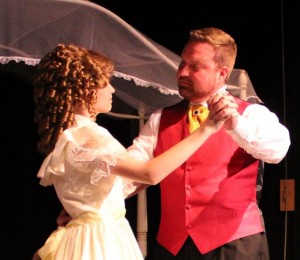 Broadway and 42nd Street.
But for now, there's still a lot to learn about Iris. "I spent a lot of time studying Iris, getting to know her," Eren relates. "The more that I experience what she tries to do, the more that I understand her."
And what is it that she understands?
"In such a dark show, Iris is a beam of light. Every time I am on stage and every time that I am her, I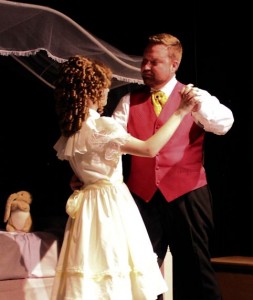 feel joy."
That's true even though Iris knows what's going to happen and what she is going to be asked to do.
"If I come into the character with that mindset, that's too dark of a place," Eren quickly rejoins. "Iris is there for Papa. She loves him and will do anything to stay with him and that is why she does all the things that she is asked to do. I have to come into the character as a child because children are so happy and full of wonder and love. Coming from there, everything else falls into place."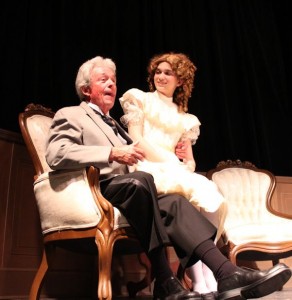 You can watch Eren as Iris in The Nether again this weekend. There are performances in the Foulds Theater at the Alliance for the Arts on Thursday, Friday and Saturday at 8:00 p.m. and Sunday at 2:00.
Published March 7, 2016.