Theatre Conspiracy's 'The Taming' smart, fast-paced feminist comedy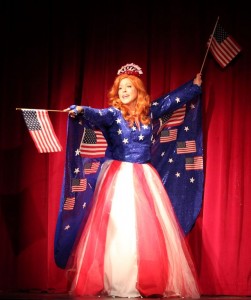 Opening this Friday inside the Foulds Theater at the Alliance for the Arts is Theatre Conspiracy's production of The Taming, a feminist blue-state, red-state comedy inspired by the banter contained in Shakespeare's The Taming of the Shrew. Written by smart, sassy award-winning playwright Lauren Gunderson, it features three cerebral, trash-talking friends who definitely have the stamina to parody our country's current state of virulent partisan rancor.
Okay, let's set the scene. Think Ann Coulter and Rachel Maddow locked up together in a hotel room without their cell phones and one without pants. But the Coulter character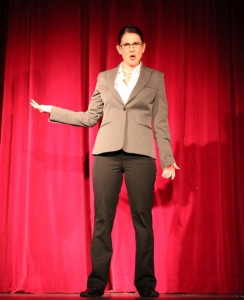 in this instance is a raging liberal activist blogger and the Maddow-type is a conservative political operative whose boss has a penchant for diddling young interns. Turns out they've been roofied by a beauty pageant contestant who has decided that for the talent portion of the Miss America contest, she's going to present the country with a revised, reformed, modern version of the United States Constitution – in which Supreme Court justices have term limits, the electoral college is no more, redistricting is banned, a balanced budget is mandated, and the art of compromise is once again restored.
Anna Grilli plays the liberal activist blogger Bianca (a nod to
The Taming of the Shrew), who is intent on blocking a bill that will result in the extinction of the continent's smallest mammal, the panda shrew (another nod to Taming of the Shrew). Lisa Kuchinski is Patricia, who actually authored the jobs bill that has Bianca so upset. And even before they shake loose the drug-induced cobwebs that still have them off-balance, they immediately engage in a dizzying exchange of witty repartee often shrilly delivered at the top of their lungs. In between the laughs, hysteria and occasional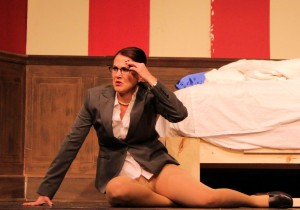 grimaces (as barbs hit too close to home), it's remarkable to watch these two actresses discharge an impossibly heavy line load with assault rifle speed and deadly accuracy. This play is worth seeing just for that.
It's also worth seeing because of Shelley Sanders, who plays Flag Angel Katherine Chelsea Hartford, the Miss Georgia who wants to hit the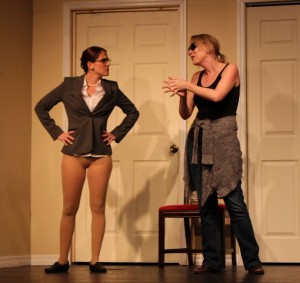 reset button on the document that modulates our democracy in order to break up the gridlock and extremism that is undermining our self-governance – not only in Washington, but in state houses all around the nation. Sanders dominates every scene in which she appears and one of the funniest sequences in the entire play is when she grabs Blue State and Red State by the roots of their hair in order to get them to listen and agree to work together to rewrite the constitution in time for the talent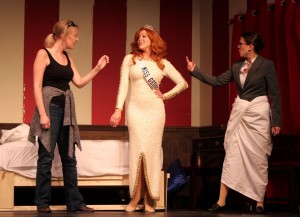 portion of the Miss America pageant.
There is a lot going on in The Taming. The premise is absurd. The action and dialogue are farcical. The outcomes are poignantly ironical. And a good part of the reason for all of this is that The Taming was written by a woman for women with the full-frontal, unsubtle irreverence of Samantha Bee, Chelsea Handler and Sarah Silverman all rolled up into one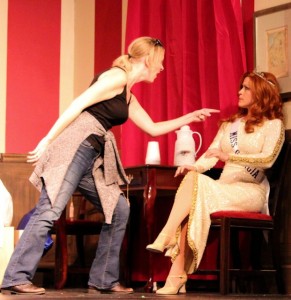 sharp, incisive play. The dialogue is so packed with political angst and disgust of the status quo and is delivered with such rapidity, staccato and volume that Bill Taylor and his Theatre Conspiracy crue had better hand out lattes, expresso or Cuban coffee with each playbill so that the audience has a prayer of keeping up.
A self-avowed liberal, playwright Lauren Gunderson takes perverse delight in skewering her own belief system and political convictions. And she's not bashful about being a little preachy, especially when it comes to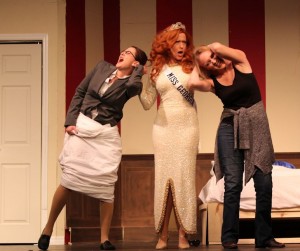 dishing dirt on the nasty little deal that G-dub brokered between James Madison and Charles Pinckney in 1787. And that's the irony underlying The Taming. The play argues that we need compromise to make our democracy work, and yet it was the Madison-Pinckney compromise that saddled America with slavery, two-plus centuries of deplorable race relations, and the anachronistic electoral college which expresses on-going distrust for the popular vote.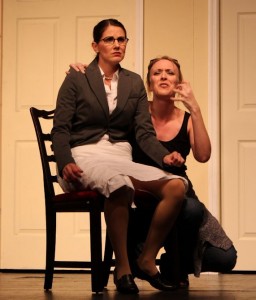 Shelley Sanders, Lisa Kuchinski and Anna Grilli proudly tout themselves as besties. They've also worked together numerous times on other productions. It shows. They possess an unmistakable chemistry that further enhances the audience's appreciation of their onstage antics and verbal barbs. All three of these women give exceptional performances. Sanders is a scene stealer, but it's hard not to command the house when you're dressed to the nines in an sequined evening gown wearing a tiara (or dressed in a gray wig, gold-buttoned black long coat and breeches and white stockings in the Constitutional Convention scene that opens the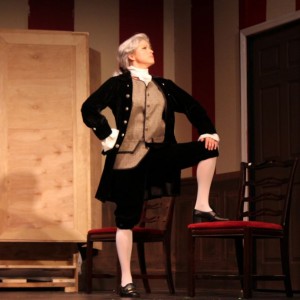 second act of the play). Lisa Kuchinski has the more difficult, less enviable task of performing most of the play sans pants and sporting sensible black flats (although she does clean up well as a white-haired, crimson-attired James Madison in the Constitutional Convention flashback). But it's poor Anna Grilli who has the toughest task in The Taming. Gunderson fashions her character, Bianca, as a self-serious, intransigent feminist fanatic, and as a result, Grilli is often whiny, annoying and humorless (although, fortunately,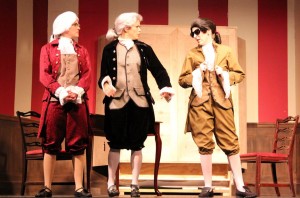 she refrains from going third-person). Well, we all can't be beauty queens!
Bill Taylor has not only done an exemplary job with the casting, he has outdone himself when it comes to set design and construction. In Kayak it was a motorized remote-control kayak set on the floor in a theater in the round. Here, notice the bed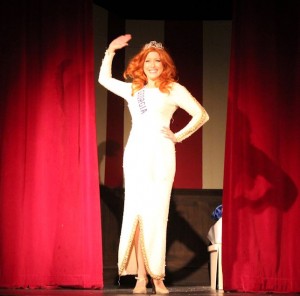 that converts into an armoire and the red and white striped walls that resemble a divisive fence (just like the one painted by social commentary artist Cesar Aguilera which hangs in the entry to the main gallery as part of the Alliance's Politikos companion exhibition).
Whether you are Blue State or Red State, Maddow or Coulter, tree-hugger or pipeline promoter, or somewhere in between, you'll find this play raucous, hilarious and painfully self-aware. There's no mention of Trump or of Clinton or our current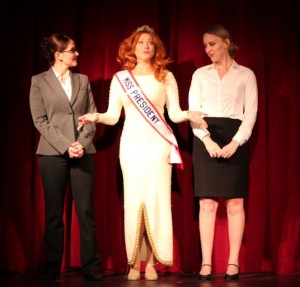 farce of a presidential campaign. But by the end of The Taming, you'll be joining the movement to write in the name of Katherine Chelsea Hartford for president. Now that's one woman who'd really shake things up and get things done in the Oval Office. Miss America for President! That's hope we can really believe in. Ah, a female with personality that would really make America gr8-er.
October 13, 2016.
RELATED POSTS.