'Party' with Imani Williams in 'The Colored Museum'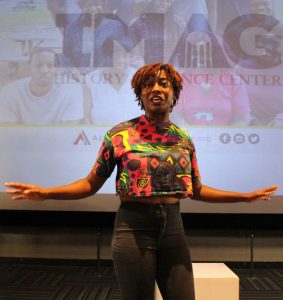 CHANGE is a project focused on getting more minority actors onto SWFL stages in culturally relevant productions. Made possible by a grant from the Southwest Florida Community Foundation, the Alliance for the Arts wrapped up its inaugural 9-week acting course with a graduation production of George Wolfe's edgy The Colored Museum. Among the 11 graduates was Imani Williams.
It fell to Williams to perform the closing vignette of The Colored Museum. Her character is a fun-loving woman by the name of Topsy Washington, and she's decided to put her rage about the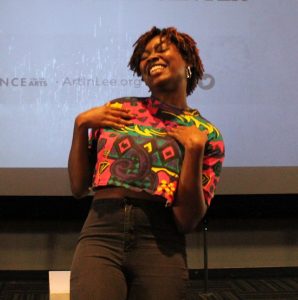 past behind her so that she can celebrate her own "madness and colored contradictions" unencumbered. She imagines she's attending a blow-out party where "Nat Turner sips champagne out of Eartha Kitt's slipper and Angela Davis and advertising icon Aunt Jemima go off about various political topics. But make no mistake, the purpose of this vignette and Williams' lyrically topsy-turvy closing monologue is to tie up his play's myriad themes in one all-encompassing bow. But one thing's clear. While the play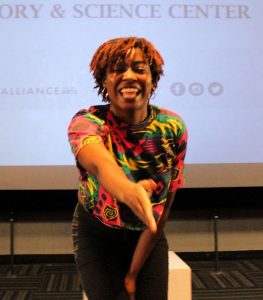 and its various characters are obsessed with putting the past into perspective and the psychological price associated with trying to fit into white American society and culture, the baggage of slavery can never be banished from "The Colored Museum."
Imani Williams is a student at FGCU. "Participating in this class has taught me about finding the love in every scene [and] has helped me to be more invested, as well as finding the fight," Williams states. "Many of the lessons have applied directly to my life. I have turned from acting to living through the scene."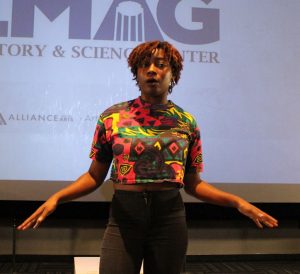 August 23, 2018.
RELATED POSTS.