'Rancho Mirage' play dates, times and ticket info
Playwright: Steven Dietz
Synopsis: Three affluent suburban couples get together for an ill-fated dinner party. One is experiencing financial troubles. A second is going through marital woes. The third is having trouble conceiving. Close friends who enjoy lively banter as much as the next glass of wine, as the evening progresses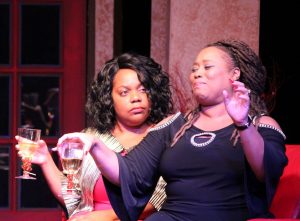 they begin revealing long-concealed secrets that threaten to undermine their relationships.
Director: Anne Dodd
Cast:
Tijuanna Clemons – Diane Dahner
Rob Green – Nick Dahner
Sonya McCarter – Louise Parker (Neese)
Cicero McCarter – Trevor Neese
Carolyn Greene – Pam Caldwell
Nuniez Philor – Charlie Caldwell
Eren Sisk – Julie
Play Dates and Times: June 14-15 and 21-22 at 7:30 p.m., with 2:00 p.m. matinees on June 16 & 23.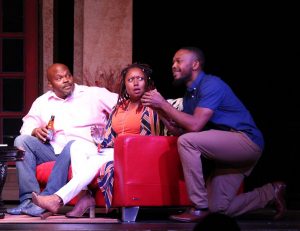 Tickets: $26 Non-Members; $22 Members.
Special Events:
Audio Descriptor Performance: June 23. For theatregoers who are blind, or have moderate to severe vision loss, the Alliance will provide a specially trained describer who verbalizes what's happening on stage during pauses in dialogue. The describer uses a headset microphone, while individuals using the service listen through a receiver with a single earpiece. Reservation of headsets is required prior to the show by calling 239-939-2787.
Talk-Back Performance: May 12: The talk-backs are designed to widen the post-show conversation and discuss what the art onstage means to us as individuals and as a society. This opportunity is included in your ticket purchase. Talk-back features panelist Kevin Aho, a Professor of Philosophy and Chair of the Department of Communication and Philosophy at Florida Gulf Coast University. He has published widely in the areas of existentialism, phenomenology, hermeneutics, and the philosophy of health and illness. He is the author of Existentialism: An Introduction (2014), Heidegger's Neglect of the Body (2009), and Body Matters: A Phenomenology of Sickness, Disease, and Illness (2008). His latest book, Contexts of Suffering: A Heideggerian Approach to Psychopathology will appear in 2020.
Sponsors: This production is sponsored by Stephen Hooper & Ellen Poage.
June 15, 2019.