Enjewel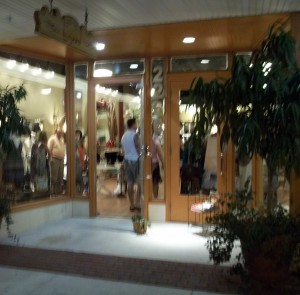 Enjewel is a chic, trendy boutique that caters to ladies with penache and professional fashion-forward women.
Facilities. Enjewel is located at 2266 First Street, directly across from the 103-year-old Arcade Building that's home to Arts for ACT Gallery and the Florida Repertory Theatre. (The Arcade once housed the movie theater in which Thomas Edison, Henry Ford and Harvey Firestone watched early motion pictures.)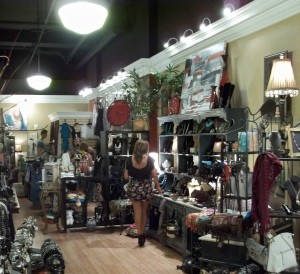 With high exposed ceilings (painted black to force the eye downward), long stucco walls with crimson bump-outs and buffed tan wood floors, the boutique offers spacious accommodations to patrons even during Art Walk and Music Walk. Merchandise is stylishly displayed on antique furniture and tables, and dressing rooms are provided to shoppers who wish to try on clothing items. A custom counter with granite top, hanging globe lights, gold-framed antique mirrors decorated with purple drapery, and rich crimson vases filled with art deco reeds and dried flowers complete the designer look provided by owner Lynne Routhier and her daughter, Vanessa Dryden.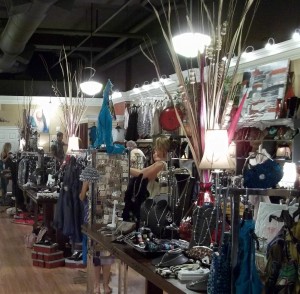 Genres and Media. The boutique is known for its art jewelry made in sterling silver and semi-precious gems by artists and artisans from around the world. In addition, Enjewel offers a wide range of modestly-priced female apparel, shoes, unique leather handbags, hand-beaded purses, canister handbags, costume jewelry, artistic gifts, imported scarves, and accessories designed to compliment the individual, expressive styles of the boutique's patrons. Styles and genres include runway, classic, vintage, fantasy, artist one-offs and themed choices. Owner Lynne Routhier hand picks flattering merchandise that ambitiously represents the most current trends, and the boutique's inventory is constantly expanding and evolving.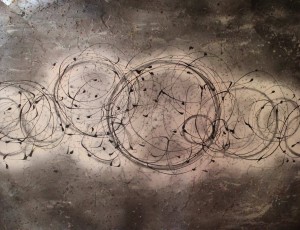 Enjewel also features a variety of artists in conjunction with Art Walk of the first Friday of every month. In the past, the boutique has featured work by Lia Martino as well as up-and-coming 2D and 3D abstract artist Tracy Loso. A graduate of Florida Gulf Coast University, Loso's "Within These Layers" collection stole the show at the Spring 2011 Student Program Exhibition at Florida Gulf Coast University. Loso's works remained on exhibit at Enjewel through the end of August. Enjewel plans to feature a new artist each month throughout 2012 and were so well-received that Enjewel invited her back for an encore show in December of 2012.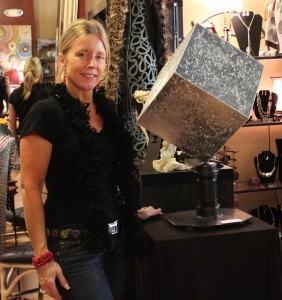 Hours. The gallery is open weekdays from 10 a.m. to 5 p.m. and Saturdays from 11 a.m. to 3 p.m., with expanded hours from 6-10 p.m. to coincide with Art Walk on the first Friday and Music Walk on the third Saturday of each month.
Telephone Number and Website. The gallery's telephone number is 239-332-0293. The boutique is presently working on a website, but it can be found currently on Facebook at http://www.facebook.com/pages/daas-Gallery/100633509980563.
Ownership. The gallery is owned by Enjewel, LLC, which in turn is operated by Lynne Routhier and her daughter Vanessa Dryden. The boutique first opened in 2004. A former mortgage broker, Lynne made a career change after visiting her brother and seeing the hand-crafted jewelry he designed. Today, Lynne too is a jewelry designer.
Fast Facts. At Enjewel, the shopper is the center of attention. To emphasis the boutique's orientation, owner Lynne Routhier is fond of saying, "You know instantly you're in the right store. We've been waiting for you."
The boutique first opened in Patio de Leon in the space now occupied by Space 39. A year later, Lynne moved the shop to First Street, where she rode out the Streetscape project before moving to a cozy (actually, it was claustrophobic) corner location.
One service that endears the boutique to its loyal customer base is their gift-wrapping. "Best place for birthday presents," says Jill Cory, "because they do the wrapping."
Related Links and Articles. For more information, please read: