For gregarious Gerrie Benzing, life post-COVID is a world of solitude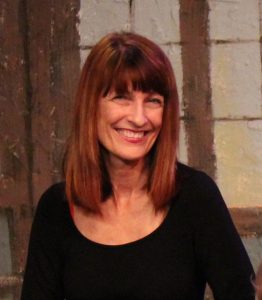 Slipping her key into the stage door, Gerrie Benzing gives a short, silent sigh before slipping inside. The back of the theater is as quiet as a tomb. She scurries across the stage and begins the lonely walk up the stage right aisle, her only companion being the ghost light keeping vigil center stage.
It's not that Florida Rep is haunted. But theatrical superstition holds that every theater has a ghost. Locally, Lab Theater is reputed to have at least one. Just ask ghost hunter Lee Ehrlich, who found a lot of paranormal activity in certain spots of the nearly 100-year-old theater during a visit last May. On Broadway, the Palace Theatre supposedly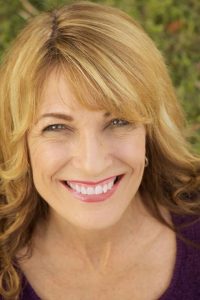 houses more than 100 ghosts, including a white-gowned cellist, an ill-fated acrobat and even Judy Garland. And the New Amsterdam is said to be inhabited by former Ziegfeld showgirl Olive Thomas.
So over time, theaters around the world have evolved traditions to appease and please their supernatural residents. For example, London's Palace Theatre keeps two seats bolted open in the balcony to provide seating for the theater's ghosts. New Amsterdam posts pictures of Olive Thomas at every entrance and exit. But the vast majority of theaters employ a ghost light – a single bulb left burning whenever the theater is dark. While some maintain that the light scares away mischievous ghosts, the more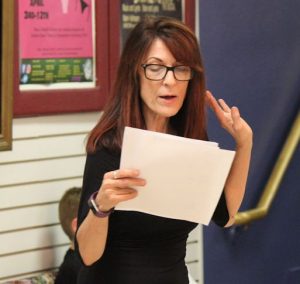 popular and Caspar-friendly view is that the light keeps the ghosts in good spirits by giving them the opportunity to perform onstage when their theater is devoid of human beings.
Even if the Rep doesn't have a conventional ghost, it certainly enjoys a spiritual presence during off hours and at times like these. So as Gerrie makes the long trek up the aisle toward the lobby, she undoubtedly finds favor with the legion of players and patrons who've left their imprint on the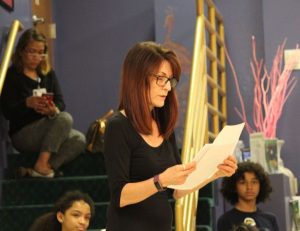 theater.
Like Harvie Heitman and his bother, Gilmer, who built the theater in 1915.
And Jno T. Hendry, who built the Arcade into one of the state's preeminent movie houses after his Grand Theatre across the street burned down in the early morning hours of February 27 that same year, nearly spoiling Bargain Day.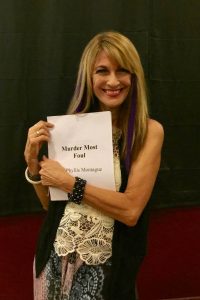 Tom and Mina, Henry and Clara, and a bevy of their famous friends had designated seats at the Arcade.
And while he's far from dead, even Mikhail  Baryshnikov exerted a presence on the theater that can be felt to this day.
Even if mindful of the ethereal vestiges left behind by these well-wishers and the hosts who've performed on stage or attended vaudeville acts, talent nights, movies and all the dramas and musicals that have played out across the Florida Rep stage, their presence is felt, not heard.
"It's so weird, so quiet," Gerrie muses. "I feel like I live in a world of solitude."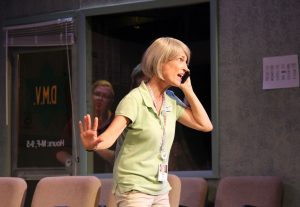 The solitude is augmented by her confines – a glass enclosed ticket booth overlooking the now-deserted tiled walkway that connects Bay to First Street. With the lobby doors locked tightly and the blinds lowered, Gerrie's isolation is only interrupted by the occasional production person walking by.
"I don't really interact with anyone because I'm locked inside my glass cage. The theater is usually bustling with activity.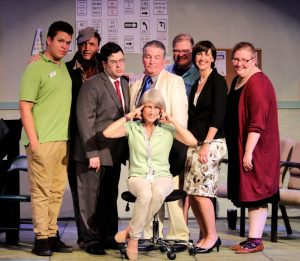 [But in addition to there being no customers], everyone in Admin is working from home," Gerrie wanly points out.
So when the phone rings – and, luckily, it rings often notwithstanding the COVID-19 pandemic- it's an eagerly welcomed respite from her enforced seclusion.
If Rachel Burttram and Brendan Powers have become the de facto face of Florida Rep during the hiatus in live performances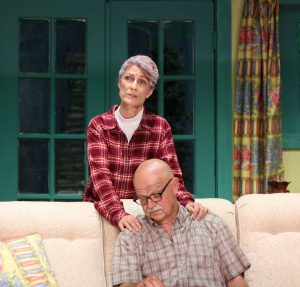 with their closeted Tiny Theatre, Gerrie Benzing is undoubtedly the venerable theater's voice.
"Right now we've been getting lots of calls because the Rep is virtual streaming Dolls House Part 2 and Every Brilliant Thing. I'm doing a lot of tech support. Me! A lot of our patrons will call up and ask how to get the video to work on their computer. I've had to go online and read articles and watch YouTube instructional videos in order to learn how to stream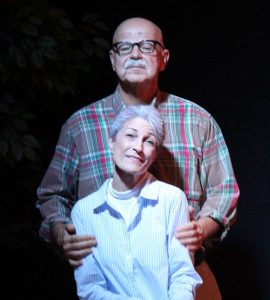 a video on a smart TV. I hope I'm being helpful …."
Undoubtedly.
But as importantly, she's a caring, empathic and live presence in a world reduced by Coronavirus to voicemails and automated lines.
In normal times, the end of the work day and weekends opened vistas of interaction for Benzing. If she wasn't rehearsing or performing, you'd either find her teaching musical theater classes at Cultural Park Theatre in the Cape or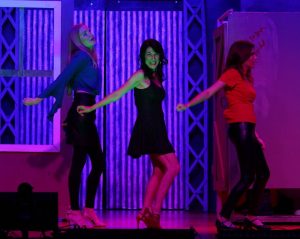 attending a show in order to show her support for members of her theater family.
In the former regard, she's been quite busy. In just the truncated 2019-2020 season, she's had lead in two shows – Zalman Velvel's DMV for Lab Theater and Ethel Thayer in On Golden Pond for Cultural Park Theatre – and choice parts as Susan and Molly in Terrence McNally's The Full Monty for New Phoenix Theatre.
The last show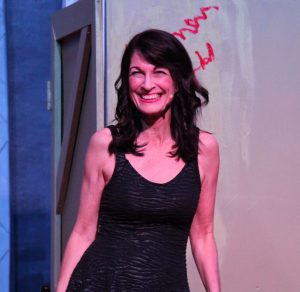 was bittersweet. Producing Artistic Director Brenda Kensler had to close the show a week early because of the pandemic, disappointing New Phoenix's patrons and The Full Monty cast just as the show was hitting its stride.
"We were lucky in that we got three weekends of performances in, and Brenda did tell us an hour before we went on that Sunday that it would be our final show," Gerrie relates. "So we at least got to experience that sense of catharsis that comes with your final show. I feel so terrible for all the people who were getting ready to open and never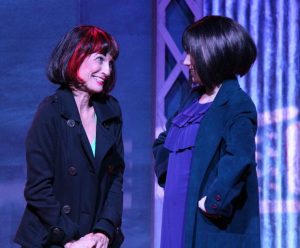 got to."
Like the cast and crew of The Curious Incident of the Dog in the Night-Time at Players Circle Theatre.
And the cast and crew of In the Heights at Lab Theater.
And her Cultural Park musical theater students, who were just a week away from their final performance. ("I'm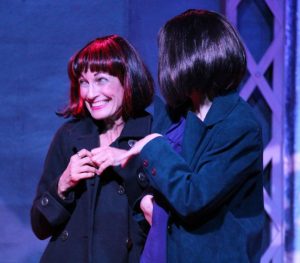 so proud of that show and we never got a chance to do it and it just breaks my heart. I hope we get to do it at some point, but oh my gosh.")
And then there's the matter of her son's wedding, that had to be postponed until October.
Hopefully.
And she's still holding out hope that life may return to normal – or a new normal – by the summer.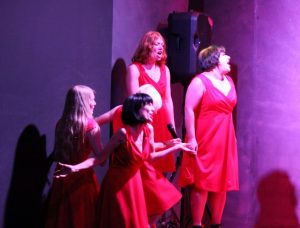 "I had just gotten cast in one of the summer shows at Lab Theater, and I was so looking forward to it," she says, brightening suddenly. "Wonderful script, great role, and now we may never get to do it. But that's nothing in comparison to In the Heights or the seniors who won't get to do their Spring Musical, or go to prom or graduation, and whose parents won't get to see them walk across the stage. It's just so awful, so horrible."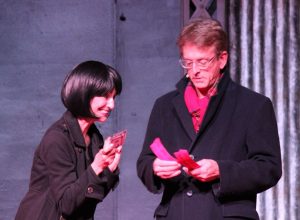 Benzing is painfully aware that life may never return to normal.
"Some people are going to stay scared for a while – particularly is there are new surges in the Fall and Winter," she says. "I don't blame them."
But some good may yet come out of the necessity for quarantines and social distancing.
"I took a phone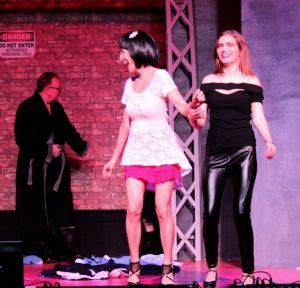 call today from a patron who watched the Rep's virtual gala this past Saturday night and she asked why we aren't doing more of this all the time. Like the old PBS fundraisers. A number of theaters are going virtual. Broadway Palm will be doing a weekly cabaret on Saturday nights. But what we did with the gala might present an opportunity. We got majorly good feedback from that, and it kept Rep in the news. Maybe all the theaters should put that into their marketing strategy going forward – using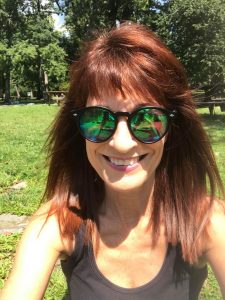 livestreaming for fundraising and to create interest in the shows we put on."
Classic Benzing.
Making lemonade from lemons.
After a short pause, she's gotten her mind right and is once again writing perky, uplifting pieces for her Monologues4Kids clients. She's learning more than she ever planned on knowing about livestreaming and virtual performances. And she's attained an even greater appreciation for the role that theater plays in her life and that of her her family, friends and patrons in our local theater community.
The latter will indubitably make her and even better actor and director than she already is.
Next thing you know, she'll teach Bailey (her stubbornly taciturn dog) to talk!
April 4, 2020.