For rising star Dena Galyean, acting feeds the soul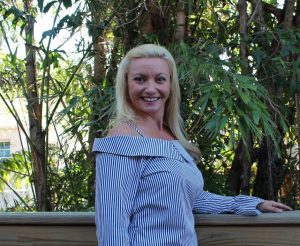 Fresh from starring as Nora Helmer in Theatre Conspiracy's production on Henrik Ibsen's A Doll's House, Dena Galyean kicks back in a simple brown wooden chair on the south porch of Bennett's Fresh Roast Café in downtown Fort Myers. It's crisp and cool. Locals might even argue the temps are downright frigid. But a native of the Chicago burbs, Galyean barely notices the folks at adjoining tables shivering beneath sweaters and winter coats.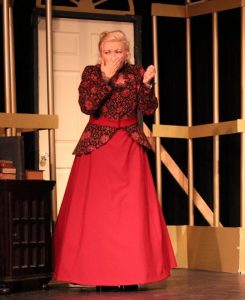 "This is invigorating," she proclaims, her lips curling into a satisfied smile.
The actor readily admits that Nora has been her most challenging role to date. When she ticks off the reasons she loves acting, the opportunity to be someone else for a little while figures prominently in the equation. "I like hearing stories, I like sharing stories, and I especially enjoy telling someone else's stories, embodying that person and giving them a voice," she says, her big brown eyes twinkling as she sips her coffee.
No surprise, she likes it "bold."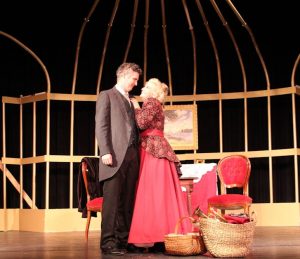 "Nora was unique because she's a hundred different people, tying to figure out which one she really is," Dena muses. "That's what motivates her to leave her husband at the end of the play. She had to get out of the doll's house he's created for her in order to find out who she really is."
As the wind rustles the palm fronds behind her, Galyean suddenly morphs into the character herself. "My dad told me how to behave, what to do and what to think.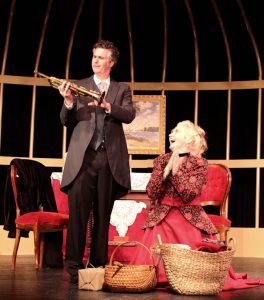 Then Torveld came along, took me away from my dad, and after that I lived under his rules. But I never had the chance to think and act for myself."
Catching herself, Dena indulges a throaty Midwest laugh. "I wish I'd had another two months with Nora," she adds wistfully. "I miss her already."
To prepare for a role, Dena projects herself into the time period in which the story is set and creates a detailed backstory for her character, imagining her favorite foods, the type of music she listens to, and how she met the other characters in the play.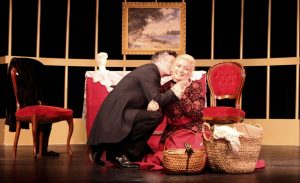 But to play Nora properly, she had to embrace a startling reality. The Nora her husband and friends encounter is a carefully-contrived fiction. The real Nora is an actor trapped in an ongoing part that's defined for her by the men in her life. And to make matters nearly intolerable, she knows deep down that she's not the façade she projects to please her husband. She's this smart, savvy,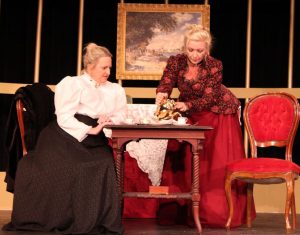 strong, resourceful woman who had the guile and guts to take the affirmative action necessary to save his life when he fell ill and nearly died. She'd done it all on her own, without his knowledge or approval. And based on that experience, she knows that she can do anything to which she sets her mind, but as the play unfolds, it becomes painfully obvious that she'll have to break away from her husband and the comfortable life he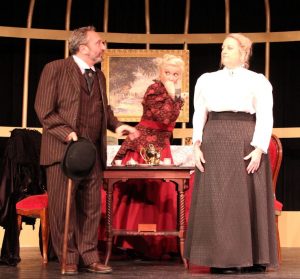 provides in order to test her mettle and discover who she really was.
"When the audience first meets Nora, she's happy, it's Christmastime, they have money and her husband just got a big promotion. She was happy to do what her husband asked and expected," Dena expounds. "But the fact that she'd saved his life and did it all on her own gave her a sense of purpose and hope for [more recognition and independence in] the future. She was just waiting for the right opportunity to come along.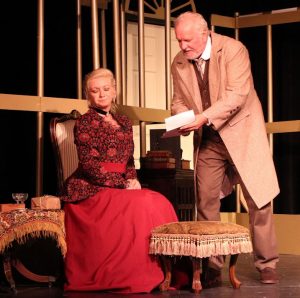 Unfortunately, it came in the form of disappointment. When Torveld fails to stand up to [the guy she borrows money from to take her husband to a warmer clime for his health] and tell him to get bent, it broke her heart. But that cleared the way for her to finally go out on her."
In this particular role, the contrast between strong/independent Nora and fictional Nora (who is her husband's doll, caged bird or indoor kitten) was cued for the audience by the presence or absence of other actors on stage.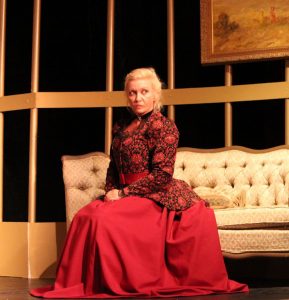 "You only get to see Nora's true self when she's on stage by herself."
Still, there are telltale signs of her inner conflict and turmoil, such as her proclivity for pirouetting around the living room and laughing at inappropriate times, not to mention her almost addictive infatuation with chocolates.
"She goes into these manic states, and it was challenging to properly convey that without making Nora seem crazy from a clinic therapy perspective," Dena acknowledges.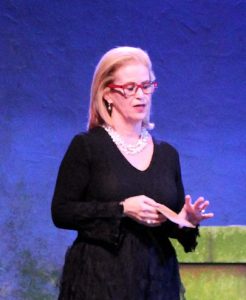 Introspective, Galyean heaps praise for the performance she ultimately gave in A Doll's House on Anne Dodd, who directed the production for Theatre Conspiracy and drew out the very best Dena had to offer.
"I could not imagine doing the play with anyone else," Dena states emphatically, her blond tresses dancing playing around her bare shoulders in the cold morning gale. "She is unquestionably one of the best directors I've ever worked with. She loved the play so much and had such respect for the playwright that she read six different versions of it innumerable times each to ensure that we represented the work perfectly."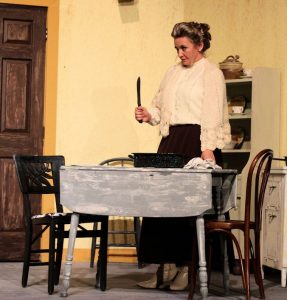 (Ibsen was Norwegian, and there exist a number of different English translations.)
"I trust her," Galyean quickly adds, nodding thoughtfully as if to underscore the import of her words. "If you've ever worked for someone that you didn't trust, then you also know what's it is like to work for someone you trust completely. It's the best experience in the world. It works the same in relationships and in business partnerships. And what made Anne so good was how well she knows the play. She knew it backwards, forward, upside down and inside out."
On top of – or perhaps because of –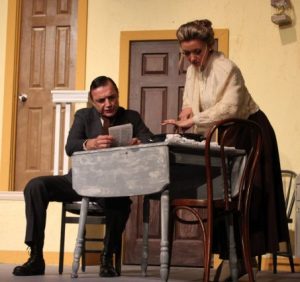 her preparation and meticulous attention to detail, Dodd is also one of the most intuitive directors that Galyean has ever met.
Her connection with Dodd was as immediate as it was fortuitous. Dodd saw her perform in The Underpants at Lab Theater. It was her very first role on the local theater scene after she and her husband relocated to Cape Coral several years ago.
"When I met her after the show, she said, 'You would be a great Nora in A Doll's House.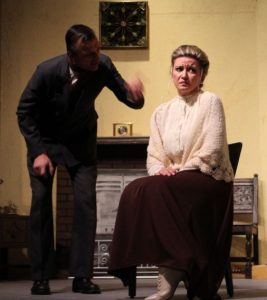 If we ever do A Doll's House, you're going to be my Nora.' I'd read the play 20 years ago, and I immediately replied, 'Anytime, anywhere.' Things seem to keep coming around since we came to Florida."
After graduating high school, Galyean went to school to become a massage therapist. Not only did she work at the same time, she also took acting classes and performed on stage whenever and as often as the opportunity presented itself.
"When I was in high school,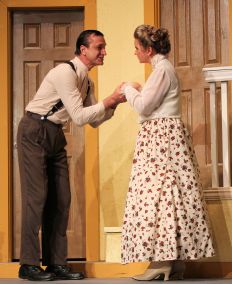 I knew I wanted to be an actor, a massage therapist or a nurse. I wanted to do something in health care and acting. I started message therapy school right after high school and just fell in love with it. I never saw myself doing anything else."
Except acting, that is.
"I did a fair amount of acting in my late teens and early twenties. Then I took five or six years off and worked, worked, worked. But after my husband and I relocated here and I got my bearings, I started up again heavily in theater. But getting back into acting was another one of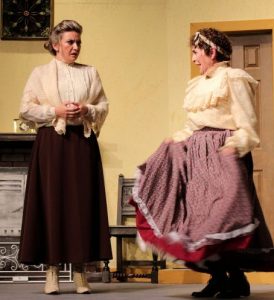 those weird, fortuitous moments."
Dena had a small part in a play some fifteen years ago.
"In fact, it was Moon Over Buffalo," she suddenly remembers, her eyes growing large with a mix of incredulity and delight. Last season, she played Roz in CFABS Community Players' production of Ken Ludwig's Moon Over Buffalo, a production that also included Anne Dodd and her husband Patrick Day (who played the villainous Kils Krogstad in A Doll's House).
"I tell you, since we moved to Florida, things seem to keep coming full circle."
"Anyway,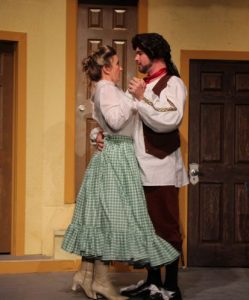 one of the actors [in her first Moon Over Buffalo] had a script for The Underpants and asked if I'd ever read it. When I told him I hadn't, he said, 'It's hysterical. Read it.' I did, and promised myself that if I ever got a chance to audition for the play, I would, because I really wanted to play the part of Louise. So, lo and behold, we moved down here and when I decided to start establishing roots here, I 'liked' all the local community theaters on Facebook and I happened to see that Lab Theater was holding auditions for The Underpants. God bless Rick Sebastian, he cast me right off the street. I was a nervous wreck because I hadn't done anything in years.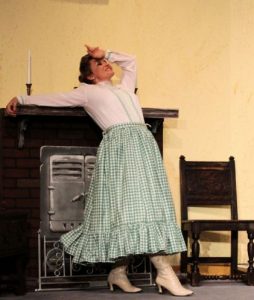 But he cast me in Underpants, and from that, I met so many wonderful people, including Anne Dodd and Patrick Day, who are so loving and supportive. They're like family."
Galyean is genuinely surprised, perhaps even a bit taken aback, by just how many shows she's done since The Underpants. Prior to A Doll's House, she appeared as Stella Kowalski in The Studio Players' production of Tennessee William's A Streetcar Named Desire at the Golden Gate Community Center. Other credits include in reverse order Sylvie in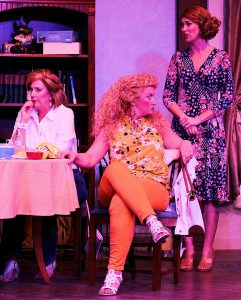 Off-Broadway Palm's The Odd Couple: Female Version, the sister of a priest who finds himself in a duel with Lucifer in Theatre Conspiracy's production of Noli Timere, Alithea in The Country Wife, Elaine Navazio in Last of the Red Hot Lovers at the Broadway Palm Off-Broadway, the sexually-charged preacher's daughter Elaine Harper in the CFABS Players' Arsenic and Old Lace and Vixen, the indignant, conflicted and quietly resigned victim of Santa's sexual harassment and assault in Lab Theater's 2015 Christmas hit, The Eight: Reindeer Monologues. She's also been an understudy on the Seminole Gulf Railway Murder Mystery Train and reigned for a year as Matlacha's Mermaid Queen.
"Whew, I've been busy,"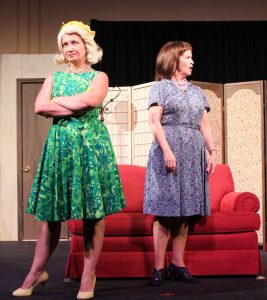 she exclaims, feigning sudden weariness.
Most of the roles area thespians land at our area community theaters are labors of love, with the actor receiving little or no compensation. On top of that, they're taking time away from family and their business or day job. So it's rare and refreshing to find someone as committed as Galyean to developing and perfecting her craft.
"Is [my schedule over the last three years] a little insane?" she asks, those big brown eyes flashing defiantly for a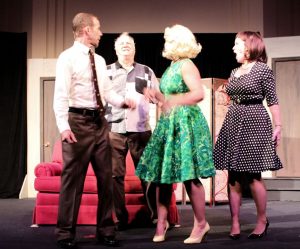 split second.
"Probably," she moderates, answering her own question. "But I just love it."
Part of what drives Dena is a resolve to improve her skills and see just how good she can be. She thrives on both the challenge and revels in the accomplishment of learning and perfecting each new role. Each each new script, director and cast affords her a unique opportunity to learn new skills and improve both as an actor and a person, and with that in the forefront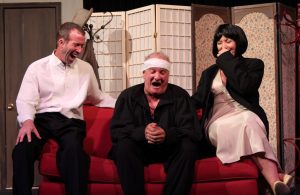 of her mind, she throws herself into each new role and production.
"Dena is a gem," Doll's House director Anne Dodd confirms. "She has a light onstage that is hypnotic. She is a director's dream as she is collaborative, has terrific instincts and desires to constantly push herself and grow as an artist. Her work ethic is unparalleled. I have acted with her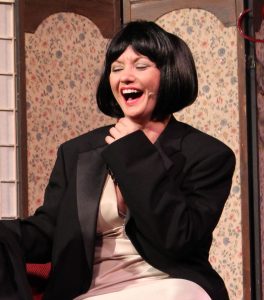 as well, and she gives you so much. It is a joy to play with her. She has your back. I adore her!"
Her collaborative nature, work ethic and professionalism has earned her many new friends within the theater community.
"I stay in touch with a lot of the people I perform with. They're like my second family."
She played Tom Marsh's sister in Noli Timeri and are now close friends. She is also particularly close to Shelley Sanders from Country Wife. 
She's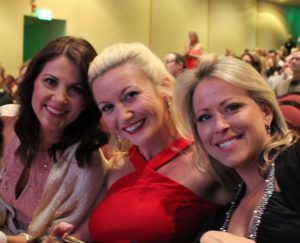 especially complimentary of Brendan Powers, who played husband Torveld in A Doll's House. "We couldn't have pulled off that show without him or someone of his caliber. He was so courageous to tackle that role. It was interesting and sometimes alarming to hear the reaction from the female members of the audience when Brendan delivered some of those lines toward the end of the play."
Before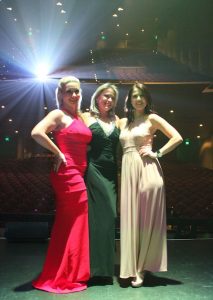 parting, we talk awhile about roles Dena would like to play in the future, and some of the local directors and actors she hopes to work with someday. (The Graduate, Cat on a Hot Tin Roof and Glass Menagerie are mentioned, as are local actors/directors such as Jessica Walck, Marta Sand and Tera Nicole Miller (if she ever returns to live or do a play back home in Fort Myers).) She'd like to do film someday, and perhaps even direct. Bill Taylor at Theatre Conspiracy has given her the opportunity to direct four 10-minute vignettes for the SoCo Art Craw. "But I need a lot more experience to tackle a full-length play."
But for now, Galyean is content to just keep improving and expanding her circle of family and friends. If you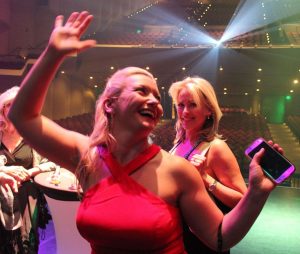 haven't seen her perform yet, make plans to catch her the next time she lands a role. Dena Galyean is unquestionably one of those actors who just keep getting better and better – both in terms of the parts she lands and the quality of her performances.
Maybe it's because there's a little Nora inside her that needs to be periodically unleashed. And as we've discovered, acting feeds her soul.
The Universe must agree. Kismet just keeps bringing around good parts and new friends to this rising local star.