Wyatt TecoHikari Burton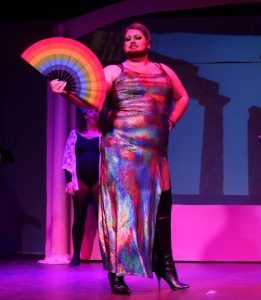 Wyatt TecoHikari Burton appears in the role of The Baker in New Phoenix Theatre's production of Into the Woods. Previously, Wyatt played Pythio in Head Over Heels at New Phoenix Theatre, Jersey Shore the Musical @ Pipe Dreams Theatre, and Riff in West Side Story.
When not in rehearsals, they spend their time slaying hair at Hair Cuttery, snuggling their cats on the couch, or twirling as their drag persona Saváge Fierce as an active performer in the drag scene.
Originally from Decatur, IL, Wyatt is a graduate of Millikin University with a BFA in Theatre Design and Production with an emphasis in costume, hair, and makeup design.
March 25, 2023.