Burttram and Powers' Tiny Theatre giving voice to playwrights near and far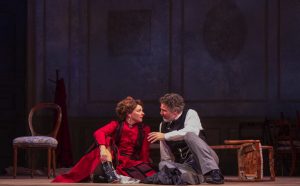 Rachel Burttram is a performing artist. When the pandemic struck, she and husband Brendan Powers were all set to spend the next three and a half weeks of their lives performing A Doll's House Part 2 to 14 rows of live audience. They'd put in an enormous amount of work mastering an impossibly difficult script. Now suddenly finding themselves cut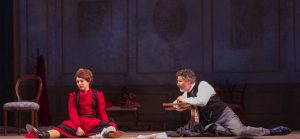 adrift by the COVID-19 outbreak, they decided to create a tiny theater in a back bedroom not only to provide themselves something to do, but give playwrights a voice during this unprecedented time when theaters across the globe are eerily dark.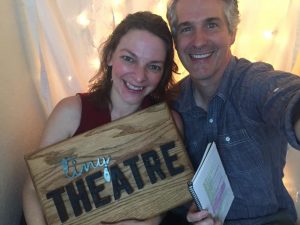 "I know myself well enough that if I don't have a project to work on, I get pretty blue," Rachel explains. "So instead of giving in to a broken heart, I downshifted into a project that gives [Bren and I] a sense of purpose and creates a forum for playwrights to hear their words and others to watch and enjoy."
For Burttram, a playwright's words are sacred. She would never,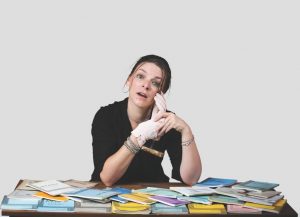 ever do a reading or performance without the playwright's permission. So she shared her Tiny Theatre idea with a handful of playwrights with whom she and Brendan have made friends over the years. Before they knew it, their inbox was flooded with submissions.
"Our playwright friends are all part of playwriting groups. So when the playwrights we knew put the word out to their groups,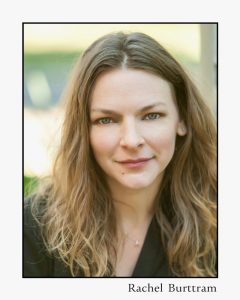 all these people we don't even know started sending us their work too. What's really fun is that although some of [the playwrights] are quite popular, it's work that nobody's ever heard. Either it's [work that is] under development or has been sitting in a drawer the last three years. So it's super cool in that way."
Because of this sourcing, Tiny Theatre's reach extends far beyond Southwest Florida.
"We're getting viewers from India and New Zealand and Singapore and Canada, and on some nights as many as 20 states are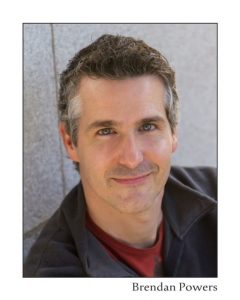 represented."
Among the playwrights that Burttram and Powers have read so far are Audrey Cefaly (Alabaster) and Eric Coble (My Barking Dog, The Velocity of Autumn). But Southwest Florida's talented pool of local playwright is, so far, conspicuously underrepresented.
"We're reading everything that comes in," Rachel confirms.
They divide up the submissions, of course. After 13 years together, 7 years married (next month) and scores of performances, including close to 15 productions together (A Doll's House Part 2, Outside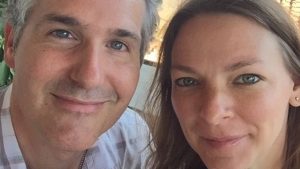 Mullingar, Repossessed, Hay Fever, The Glass Menagerie, Dividing the Estate, Doubt), each knows what the other likes. So if a piece catches Bren's attention, Rachel can be sure it will appeal to her artistic tastes and sensibilities, and vice versa as well.
"We trust each
other's judgment. So we compare notes and agree on what would nicely pair up."
Still, the volume of submissions is somewhat daunting. It gives them a better appreciation of the yeoman job done each year by Bill Taylor, Lauren Drexler and their review panel who, among them, read upwards of 600 full-length plays in connection with Theatre Conspiracy at the Alliance's annual new play contest.
Admittedly, Burttram and Powers prefer dramatic roles, but given the dark times we are currently facing, they are gravitating toward work that is more comedic in nature.
"People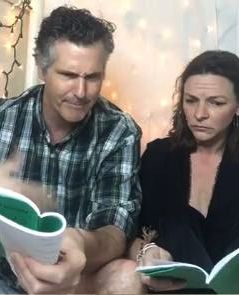 want to escape the news, so while a lot of the stuff that's coming in is heavier content – the kind of stuff I'm normally drawn to – for now we're trying to keep the fare a little lighter and brighter," Rachel shares.
And, of course, both she and Powers are equally adept at comedy.
In addition to roles in comedies like The 25th Annual Putnam County Spelling Bee, Powers writes humor. His cartoon captions have won various contests including The New Yorker, Hartford Courant, Denver Post, Moment Magazine, Clinical Psychology, Inside Higher Ed, and the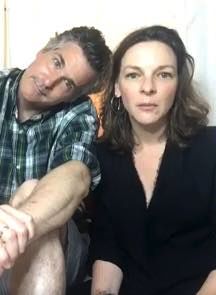 Greensboro News-Record.
"One of my very favorite experiences was Book of Liz," Burttram chimes in, making reference to the David and Amy Sedaris farce that Theatre Conspiracy at the Alliance produced during its 2016-2017 season."
She also recalls with fondness her role in Don't Dress for Dinner at the Hippodrome Theatre in Gainesville, a farce with lots of bedroom humor that allowed her to romp around in a bright red wig.
"But I don't get the luxury of doing that very often," she laughs, betraying a slight Alabama drawl.
Page length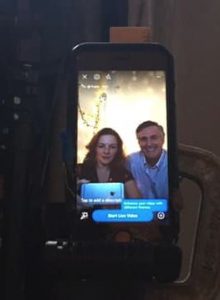 is also a consideration. Although they've experimented with a couple of longer works, the virtual format lends itself more to shorter pieces, scenes, character studies and monologues of roughly 10 t0 12 pages.
"People really seemed to like the monologue night we did," Rachel adds. "Audrey Cefaly is conducting a monologue challenge, so we may do another collaboration with her that involves doing some of the monologues that she's received. And we are exploring a  collaboration with a group in North Carolina called Women's Theatre Festival. They're doing all kinds of interesting things. So there may be some content that they're willing to share with us too."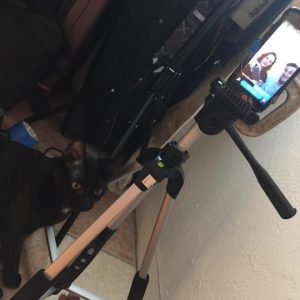 The shorter works also comport with a trend taking place in theater. The past few years have seen a proliferation of 10-Minute Play Festivals. Locally, Lab Theater introduced its inaugural Festival of 10s last year, and the Center for Performing Arts Bonita Springs is entering the third year of its very popular Stage It! Ten-Minute Play Festival and Book Release Event.
"I was in a 10-Minute Play Festival in Louisville by a fabulous playwright who has actually submitted work to Tiny Theater. Talk about coming full circle.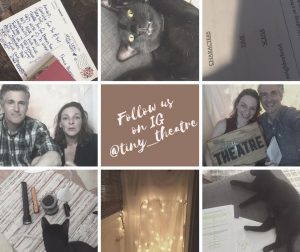 So new work is imperative, and 10-minute plays are fabulous not only for the audience, but for the playwright. In some ways, 10-minute plays are harder than a full-length play. How do you tell a story condensed into 10-12 pages?"
Shorter works also fit better within the tight time constraints under which Burttram and Powers are operating. It's not just that they're doing readings three nights a week (Mondays, Wednesdays and Fridays at 9:00 p.m.).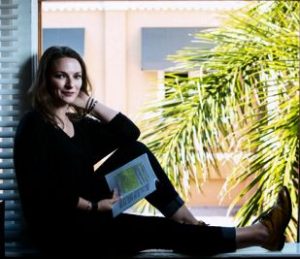 "We've decided [arbitrarily] that we're only going to read the works we're featuring twice through and then perform them on the third reading."
The rigors of reading, reviewing and rehearsing the work of so many playwrights aside, the Tiny Theatre project has turned out to be an astonishingly rewarding labor of love.
"For me, new plays have always been part of my love of theater. Sometimes when we're reading a submission, it's the first time anyone has ever read it."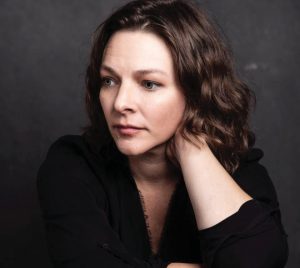 It's not just humbling. It's a responsibility that Burttram and Powers take seriously.
"You always hope that what you're doing matters," says Rachel, waxing philosophic. "We're not essential workers. We're not firemen, police or health care providers. But it's truly gratifying to know that we have a skill and talent that is somehow being considered useful by the people who see [Tiny Theatre]."
And people really do value Tiny Theatre.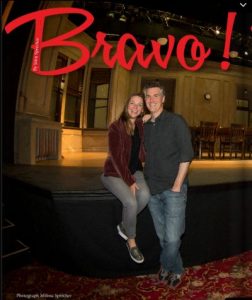 For suddenly marooned theater-goers, Burttram, Powers and Tiny Theatre provide provocative and thoughtful entertainment during a novel Coronavirus wasteland.
For their fellow thespians both here and across the country, they offer a sense of community and hope.
And for playwrights whose works have unexpectedly fallen mute, they provide a voice in the solitude emanating from stay-at-home orders and self-imposed quarantines.
Rachel Burttram and Brendan Powers do staged readings, character studies and monologues at 9:00 p.m. every Monday,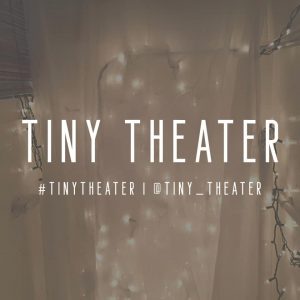 Wednesday and Friday from their house to yours. Tune in this week to see which playwrights they'll be bringing to life from the closet in the back bedroom of their home.
#tiny_theatre
April 11, 2020.
RELATED POSTS.