Scenes from Simon Fill's 'Burning Cities' charming and endearing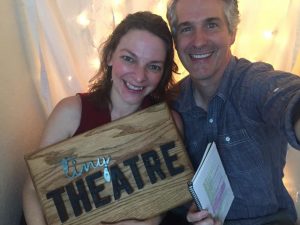 What could be better for a philosophy major from Newark with a Chihuahua named Tootie McGregor than a play about a guy in New York City who owns a philosophy bookstore and a gal who minored in philosophy and had as a kid a Chihuahua named Kierkegaard that ate linguini with clam sauce? I know! How 'bout watching Brendan Powers and Rachel Burttram charm the pants off each other in their back bedroom closet?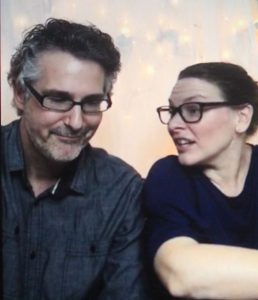 Get your mind out of the gutter! It's not that kind of theater. Their pants came off in your imagination in Scene 8 of their staged reading of Simon Fill's Burning Cities, an endearing character study that looks at how the difficult choice to love others challenges, transforms and, in the end, elevates the lives of four different people: a nurse, a bookstore owner, a literary agent and the seventeen-year-old girl they adopt.
It's apparent that Fill knows of what he writes when it comes to philosophy and philosophers. Consider these two lines from last night's reading:
"For every question you have, we'll [namely philosophers] will give you then more."
"Philosophers don't answer questions, we just build glass cages around them."
It's also clear that Fill possesses a cabernet-dry sense of humor that dovetails well with Powers' self-deprecating, deadpan delivery.
An American playwright who works both nationally and internationally, Simon Fill was a member of Austin Pendleton's Playwrights Project at Circle Repertory Theatre and is a playwright member of Michael Warren Powell's Circle East Theatre Company (formerly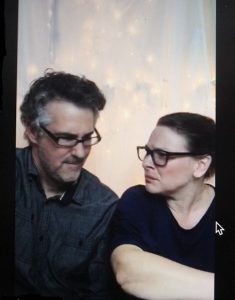 Circle Rep Lab) and the Dramatists Guild of America.
Burning Cities was one of three finalists from over six hundred entries in the Theatre Conspiracy Annual New Play Contest. But Rachel Burttram didn't hear about Fill then or there. Instead, her familiarity and friendship with Fill and his work traces back to her time in Louisville apprenticing at Actors Theatre. She met Fill there. More, she forged a close working relationship with him, originating the role of Emily in his 10-minute play, Night Visits, for which Fill won the Heideman Award out of 1,800 plays!
In 2014, Burning Cities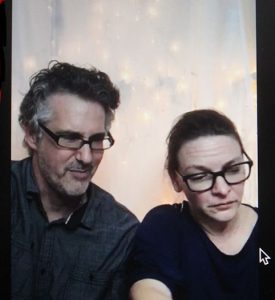 won the BETC Generations Award, an international new play competition. Boulder Ensemble Theatre Company (BETC) then workshopped the play, thereafter conducting a highly-successful public staged reading for BETC's subscription audience (and anyone else who wished to attend). More recently, Burning Cities received a successful developmental production in New York City in December 2019 from New Circle Theatre Company, and now three scenes from the play have been performed by Burttram and Powers in their Tiny Theatre Playhouse.
If you're new to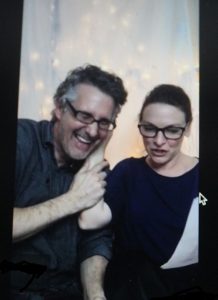 Tiny Theatre, it's an initiative that the Florida Rep power couple launched in March to help you and themselves navigate the isolation of the COVID-19 lockdown and give playwrights like Fill a voice in the wasteland. Since theaters are shuttered and dark save for their ghost lights, Rachel and Brendan transformed the closet in their back bedroom into a theater – a Tiny Theatre – and from that venue they perform staged readings every Monday, Wednesday and Friday night on Facebook Live beginning at 9:00 p.m.
It's a thrill watching Rachel Burttram and Brendan Powers perform anything. They could make reading a software manual exciting. Yes, they're that good.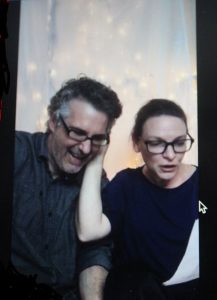 And while staged readings do not require Doll House Part 2 theatricality, reading scenes from the confines of a closet does invoke other skills.
"My on-camera [skills] are getting a work out because what we're doing is so different than performing on stage. How I'd perform Dolls House Part 2 to 14 rows is so different than how I'd play something sitting in my closet with a script in my hand and our iPad right in our faces. But the real challenge is that we're reading plays that are meant to be performed to a live audience. They're theatrical by nature. So how do you keep the spirit of a theater piece and turn it into two actors in front of a camera in a closet?"
Burttam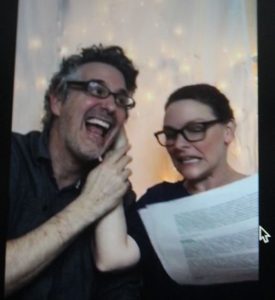 postulates that their personalities lend themselves to a little drama.
"I think that helps."
But the drama in their back bedroom closet is confined to the words on their scripts.
Part of what people find so refreshing is the way in which these two interact with and look at each other. More than love, they genuinely like, appreciate and admire each other and it's inspiring to watch two people thrive in a six-square-foot closet during a time when many couples are finding it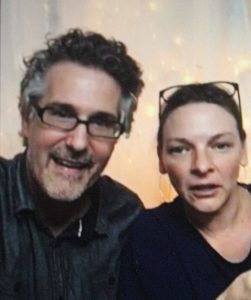 tough to get along together in a 2,000-square-foot house four weeks and running!
It also helps that they're giving their viewers a sense of purpose.
"Bren and I have been overwhelmed by all the people commenting on how much they look forward to our Tiny Theatre performances. Patricia [Clopton] and Patrick [Erhardt] are getting dressed up and taking selfies. Others have posted that they'd had a really bad day, but looking forward to Tiny Theatre helped them get through it. I'm so charmed by [the reactions]."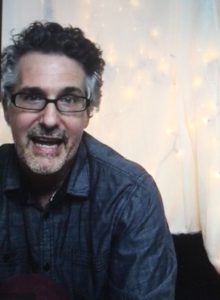 "You're hoping that what you do matters, and I'm not a doctor, a fireman, a police officer, or some other essential worker," Rachel adds. "So it's truly gratifying to know that we have a skill and talent that is somehow being used in a useful way for folks."
Tiny Theatre comes to you on Facebook Live at 9:00 p.m. every Monday, Wednesday and Friday. And if you've written a play, character study or monologue, Burttram and Powers want to hear from you too. Go to Tiny Theatre for submission details and read below for the type of work they're looking for.
April 14, 2020.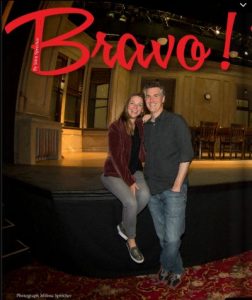 RELATED POSTS.