Rachel Drake dishes on playing LeFou and 'Beauty and the Beast'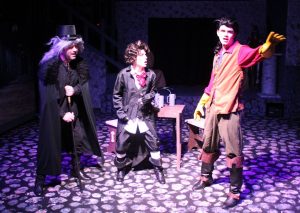 Rachel Drake plays the part of LeFou for Fort Myers Theatre in Beauty and the Beast.
The character is the snarky sycophantic sidekick of the story's physically and verbally abusive antagonist, Gaston. In spite of the abuse inflicted on him, LeFou (which is French for fool) admires Gaston and is steadfastly loyal to him, assuming a central role in Gaston's plot to blackmail Belle into marrying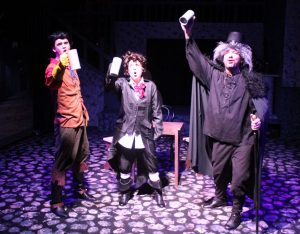 him by having her father declared insane.
"I think LeFou is very misunderstood," Rachel declares. "He is half-villain, half good guy. He so badly wants to be adored by Gaston, and Gaston could care less about him. I would really love to know what happens to LeFou after Gaston is out of the picture."
While portraying a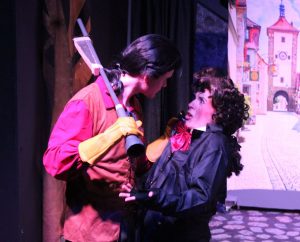 male character has been fun for the most part, the vocals can be a bit tricky at times.
"I have to decide if I'm going to go an octave up or an octave down and then make sure that I can match my male counterpart that I'm singing with on stage," Rachel explains. "And I do change my voice a little bit, which has been the interesting part to kind of sound almost off key but I have to remain on key so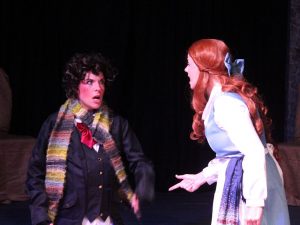 that it sounds right. But I do change my voice for the vocals, which is super fun."
In a show that's packed with many memorable numbers, Rachel's favorite is "Gaston" because she feels like that's LeFou's moment to shine.
"Everyone in the village is watching him, even though the entire song is about how LeFou idolizes Gaston," Rachel remarks.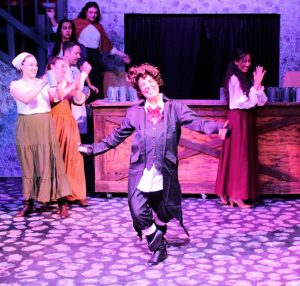 "He gets to dance around and do some acrobatics. The whole entire number is so full of energy. The entire ensemble is on stage, and it's just really, really fun to be a part of and to listen and to watch."
Drake grew up with the 1991 Disney classic, but feels that the stage production provides so much more character development than was possible in an animated movie.
"You really get a look at the characters, and this cast does such a wonderful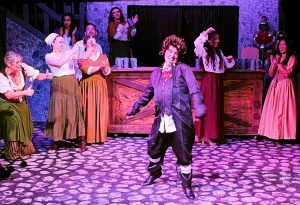 job of really getting into their character more so than any animated movie would. And [Fort Myers Theatre] is great because you are so up close and personal with all of the actors that it's almost like you're a part of the production. While this cast is amazing, the vocals are wonderful and Robin [Dawn Ryan]'s direction and her vision is amazing, I think the actors' ability to jump in and become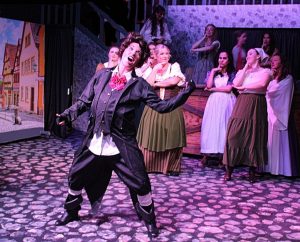 their character is the real strength of this production."
Children will love the show for the magic and mystery, but Drake thinks that their parents and grandparents will find a lot more to the story than they previously experienced or ever expected – from the love story to the existential clash between good and evil. For that reason, she predicts that parents and grandparents will want to catch the show more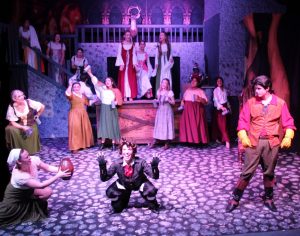 than once.
"You need to come once by yourself. Then come bring the kids and the grandkids. You're probably going to want to come a third time just to end on a note where you're not distracted by anything else and you can just jump into the magic again."
It's like watching your favorite re-run again and again.
But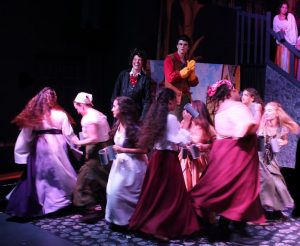 don't come to see Rachel playing LeFou. Uh uh. That'll never do. Come instead to see Gaston.
Say it again, who's the man among men? And then say it once more
Who's the hero next door who's the super successful gentleman
There's just one man in town whose all of the above
And his name's G-A-S, uh, T-G-A-S-T-E, G-A-S-T-O, ow,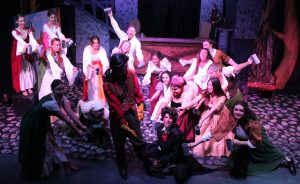 Gaston!
May 16, 2023.