'Murder at the Howard Johnson's' full of laugh lines and extravagant sight gags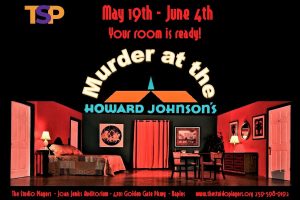 The Studio Players' production of Murder at the Howard Johnson's plays at Golden Gate Community Center May 19 through June 4. According to Variety, the comedy about a love triangle in a Howard Johnson Motor Inn has "enough laugh lines, mirth provoking situations and extravagant sight gags to outfit two rapid fire farces of the absurd."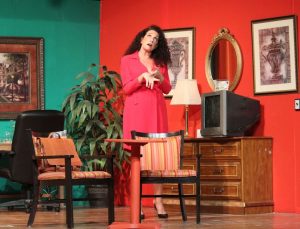 The love triangle involves a woman, her lover, and her husband. Arlene Miller is a Femme Fatal, of sorts. Her lover, Mitchell LaVell, is a commonplace dentist who imagines himself a dashing hero. By contrast, Paul Miller is a blundering, monochromatic, money-obsessed used car salesman.
In the first of three scenes, the wife and her lover plot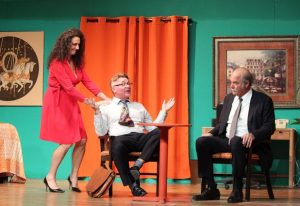 to murder the husband in Room 514 a week before Christmas.
In the second scene (Room 907, the Fourth of July), the wife and her husband are plotting to murder the lover.
The third scene (Room 1015, New Year's Eve) has the husband and the lover plotting to murder the wife. As you might guess,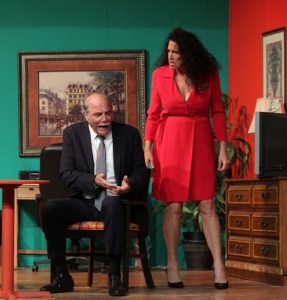 their carefully laid plans quickly go awry.
Murder at the Howard Johnson's premiered at the Golden Theater in New York City on May 17, 1979.
"Sometimes you just want to laugh," says Director Paula Keenan. "The three characters in Murder at the Howard Johnson's are written with that in mind. They are unbelievably shallow and self-absorbed. I am very lucky to have three skilled actors in service to the script."
Paul LoPresti plays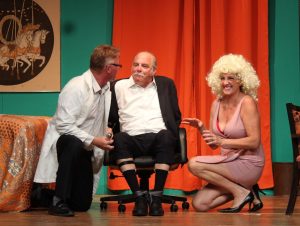 the husband, Todd Miller the lover and Christi Lueck-Sadiq the wife.
"Don't look for any hidden meaning," Keenan adds. "You'd be wasting your time. The one thing that rang true for me was the references to the 'women's movement' that came to full power in the late 70's and early 80's. How times have changed. Let yourself drift back to a simpler time whilst we commit mayhem on the TSP stage."
May 16, 2023.