Nikki Hagel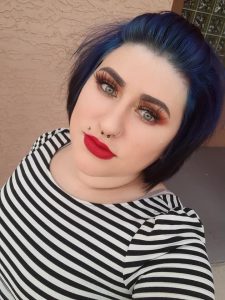 Nikki Hagel appears in the role of Little Red Riding Hood for New Phoenix Theatre in Stephen Sondheim's Into the Woods. Previous roles include a prostitute by the name of Nelly in Jekyll & Hyde the Musical, Pamela in Head over Heels (for which she was named Broadway World's Best Performer in a Musical), Frederick Frankenstein fiancee Elizabeth Benning in Young Frankenstein, Georgie Buckatinsky in The Full Monty, the memorable role of sax-playing Magenta in Richard O'Brien's Rocky Horror Show, all for New Phoenix Theatre; Columbia and Eddie in the Rocky Horror Shadowcast; and a Priscilla girl in Thoroughly Modern Millie.
Nikki is also a local business woman (she owns and operates a fiber art business called  Nerdy Knitz on Etsy).
February 18, 2020; revised April 23, 2023.