With 'Hedwig,' PJ McCready vaults into the pantheon of memorable Lab genderbending performances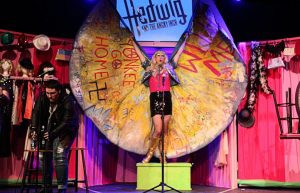 Hedwig and the Angry Inch continues tomorrow night at Lab Theater. PJ McCready plays the title role, and boy does he play John Cameron Mitchell's glam-punk transgender diva. At the risk of understatement, McCready crushes the role with a deeply nuanced performance and a powerhouse punk rock voice.
Let's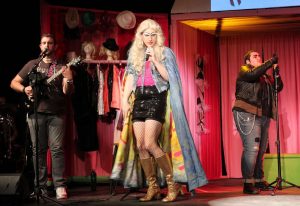 start by acknowledging that Hedwig is one tough role for any actor to play. The character is from East Berlin, so every line has to be delivered in a believable yet coherent German accent. If McCready slipped up and reverted to common English during final dress rehearsal, my ear failed to detect it. It's testament to the strength of his acting acumen and Paul Graffy's direction that McCready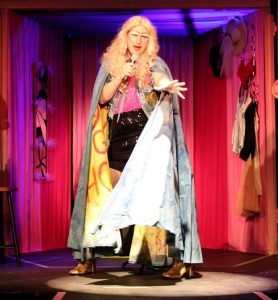 is able to get into and stay in character for the play's entire 2-hour running time.
But there's more.
By the time the audience meets Hedwig, he has undergone a sex change operation intended to change him into a woman. While his sexual orientation is clearly gay, it's less apparent that he possesses a gender identity that is different from his gender assignment. He transitions from male to female solely as an accommodation.
His American GI lover wants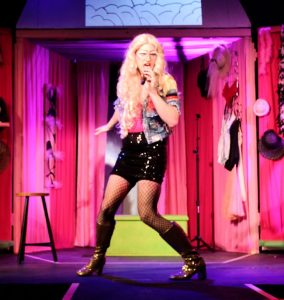 to marry him and whisk him away to the United States, but he has to pass "a full physical examination." Hedwig is so desperate to escape the confines of communist East Germany that he eagerly goes under the knife. But it seems that he could have – and would have – been just as happy going through life as a gay man in drag.
Perhaps I'm reading more into McCready's performance than either he or Graffy intended, but this latter possibility adds a note of sour grapes to Hedwig's entire character. The operation is botched and Hedwig's American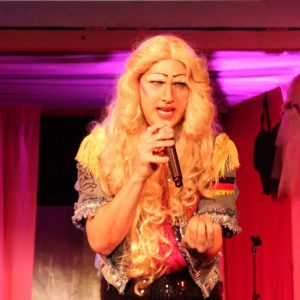 husband abandons him. In fact, he leaves Hedwig on the very day that the Berlin Wall comes down! Then later, Hedwig's one true love, Tommy Gnosis, also abandons him when he discovers that Hedwig is neither a man nor a functioning woman. So not only was the gender reassignment surgery all for naught, it has ruined his entire life. It's a bitter pill to swallow, and McCready gives voice to the anger and regret his character can't help but feel as a result.
Whether or not he wanted to be a woman deep down inside,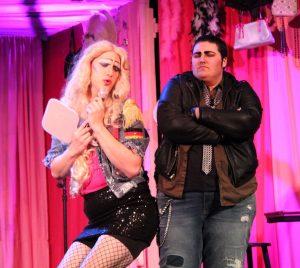 he fully embraces his womanhood, compelling McCready to employ every verbal affectation, head tilt, hip thrust, brow lift and blink of her sequined eyelids. McCready nails it. From his big hair blond wig to his glitterbomb make-up, McCready holds nothing back. She's the penultimate punk rocker in glamour garb, resplendent in yellow batwing cape, pink top, shiny liquid metallic black mini and gold lame boots.
But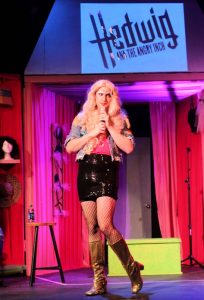 there's more.
As if it's not hard enough to speak like a female diva with an East German accent, McCready has to convey an unbelievably wide array of complex, interrelated emotions as he recounts the lurid details of his character's life. One minute, she's playful and funny. The next, she's melancholy and cruel. She's twisted. She's outrageous. But through it all, she's tragically vulnerable, scarred to the soul by each episode of her painful past and heart-wrenching abandonments.
But there's more.
For as flawed and damaged as Hedwig is, she nonetheless painfully traverses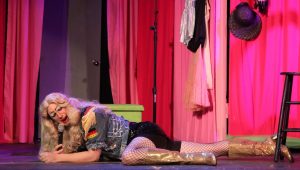 a character arc that causes her to shed her emotional armor and accept not only who she is, but her partner's true self as well.
It's a remarkably complex and amazingly deep portrayal and McCready doesn't just pull it off. He gives an unwavering, strong-as-Clorox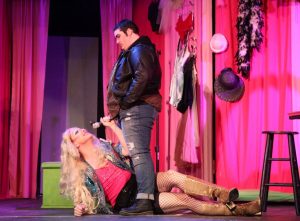 performance that furthers Lab Theater's evolving tradition of bringing iconic tragicomic characters to the stage. In 2015, there was Ty Landers giving an earthshattering portrayal of the oversexed, androgynous emcee of the Kit Kat Club in Cabaret. Two summers ago, it was Randall Kenneth Jones reprising the role of the diabolical, demented Baby Jane Hudson in the cult classic parody Whatever Happened to Baby Jane: A Parody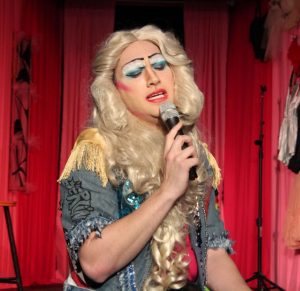 of the Horror. And this past June, Jones outdid himself as conniving cousin and femme fatale Miriam in Hush Up Sweet Charlotte. With his portrayal of Hedwig, McCready places himself squarely within the pantheon of these elite gender-bending performances.
Don't miss PJ McCready. He's unstable nitroglycerin in this role.
January 23, 2019.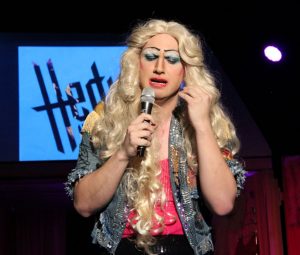 RELATED POSTS.