Kelly Rivadulla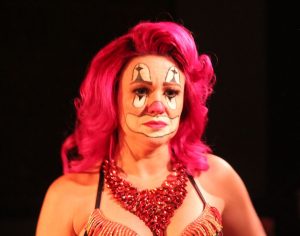 Kelly Rivadulla rocks Bill Taylor's Prohibition-style speakeasy as Blinky Fatale, the clown that gumshoe dick Happy left behind for the world of beige in Adam Szymkowic's Clown Bar. In the role, Rivadulla conjures the mystique, danger and coquettishness of the archetype, which dates back to silent movie era actresses Theda Bara and Helen Gardner or, in more modern times, Denise Richards' seductive portrayal of Kelly Van Ryan in Wild Things.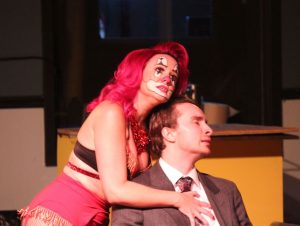 Ironically, Rivadulla's Blinky seeks to use her coy sexuality, idiosyncrasies and intellect to steer Happy him clear of jeopardy rather than lure him into a fatale showdown with Clown Bar boss Bobo and his henchmen and women.
A 2003 Florida Gulf Coast University Theatre graduate, Kelly has performed there and at Florida Repertory and Cultural Park Theater. However, for her portrayal of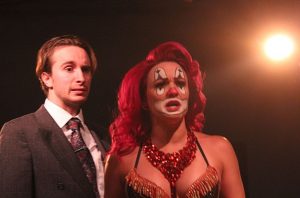 Blinky, Kelly channels her inner Koquette, which is her Glam! Bam! Burlesque! alter ego. When she's not breaking hearts, Kelly can be found at Halcyon Spa, which the Esthetician started up in 2021.
August 21, 2022.