Madelaine Weymouth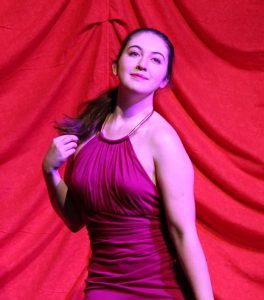 Madelaine Weymouth is a local actor and director. Her acting credits include Dr. Watson in Ken Ludwig's Baskerville: A Sherlock Holmes Mystery, Robyn in Sex Tips for Straight Women from a Gay Man, Vandy Jordan in Venus in Fur (for The Studio Players), Forgive Me; I Put You in a Play, Boberg's Timer and Dash in the Middle in Lab Theater's inaugural Festival of Tens, Serenity in And the Winner Is, Jessica in Hand to God, The Musical Comedy Murders of the 1940s, Prosecco in Tim Sniffen and Kate James' Realish Housewives of Fort Myers along with the earlier virtual reading of the play, and two staged readings at the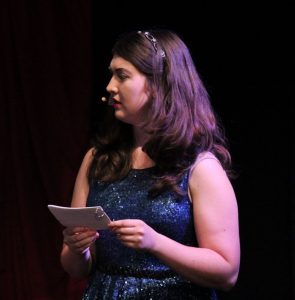 Laboratory Theater of Florida, the titular role in Julia and Callie in Stop Kiss. She also sizzled in Darlyne Franklin's Critic's Choice screenplay, Florida Couple, in Lab Theater's 24-Hour Screenwriting Project in November of 2020.
Weymouth has headed the Lab's winter camp and co-directed the Lab's summer camp shows, The Wolves (2019) and Evil Dead (2018). She also had the distinction of directing the Audience Choice winner in Lab Theater's 2018 24-Hour Playwriting Challenge, Sunny with a Chance of Social Anxiety by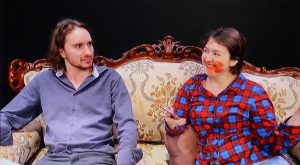 Dave Matthew Chesebro.
She appears next in Projekt Grotesquerie for Lab Theater.
October 23, 2019; revised December 17, 2020.