The Darvish Collection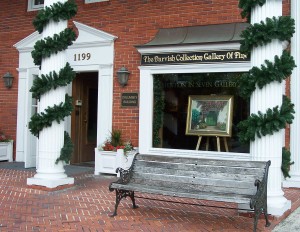 The Darvish Collection, Inc. Gallery of Fine Art is the second oldest art gallery in all of Naples, but it is also one of southwest Florida's best kept secrets. Those who have ventured inside the gallery for a peek at their collection of contemporary impressionist and realist paintings or their antique American and European works from as far back as the 16th century rave about the quality of the art and the personal and friendly service provided by Andrea Casement, her husband William and her father Charles Szabo. But most newcomers don't know about Darvish and have never been inside.
Location. The Darvish Collection, Inc. Gallery of Fine Art is located at 1199 Third Street South. It is across from Tommy Bahama and just down and on the same side of the street as Handsome Harry's.
Facilities. The Darvish Collection's office and reception room is on the ground floor of its location on the corner of Third Street South and Twelfth Avenue. Upstairs, however, is where the gallery displays paintings by some twenty prominent contemporary artists as well as antique works dating between the 16th and 20th centuries. In order to create a relaxed and pressure-free viewing environment, the space has been divided into seven tasteful museum-style gallery rooms that feature European wood paneling and luxurious accouterments.
Genres and Mediums. The Darvish Collection specializes in American and European realism and impressionism from the 19th century to the present, as well as select marble and bronze sculpture. The gallery is devoted to historical works from the Hudson River School, Cape Ann School, the Dutch School, the School of Paris, the Barbizon School, and marine art. "The common thread running throughout," the gallery states on its website, "is that we carefully select the best works of each artist we carry, whether they be well known names from the past like Edouard Cortes, Albert Bierstadt, Antonio Jacobsen, Henriette Ronner-Knip, or our featured contemporary artists such as Dulce Beatriz, Vincent, Troy Acker, or the many others whose works are held in our collection."
Representative Artists. Among the contemporary artists they represent are:
Troy Acker. Acker lived, worked and studied for many years in Sante Fe's bustling art community. Darvish describes him today as "a rising star of American post-impressionism … whose stated intent is to escort the viewer into a world of colorful sublimity where the complexity and bustle of our daily lives is transcended." His works capture the quiet and simplicity of the countryside and the charm of nature's gardens.
Dulce Beatriz. The Szabos and Casements believe that this Fellow of the Royal Society of Arts and recipient of the Royal Order "Isabel La Catolica" is one of the most important Spanish artists of her time. Her figurative work and still lifes are characterized by deep and vibrant color and powerful brushstrokes that evince a dominant, circular motion. "Her paintings are at once powerful but delicate, classic and romantic, happy and sad, full of life yet subdued with shadows," says the gallery's catalogue of her work.
Maximo Cortino. Under exclusive worldwide contract through the Darvish Collection, this Barcelona, Spain native is known for the remarkable depth and dimension of his paintings which feature "the contrast of light and shadows playing upon architectural subject matter to create a natural extension of the world for the viewer to walk into." His motifs focus on majestic Cadaques, Veles, Mijas and Monell and other picturesque Spanish locales. In addition to Barcelona, Cortino has exhibited in New York, Houston and Palm Beach.
Robert King. This versatile British artist is known for coastal scenes, impressions of Venice, still lifes, interiors and figures. He was elected as a member of the Royal Institute of Painters in Watercolor and the Royal Society of Maritime Artists since 1985. He resides today in a coastguard cottage that overlooks the Solent, where he beholds and paints scenes like the one depicted to the left on a daily basis.
James McGinley. This outstanding New Jersey born post-impressionist artist is adept at painting bone-chilling winter scenes that study the interplay of diffuse northern light with snowy white river banks and wind-stripped tree trunks interlaced with wisps of evergreen pines. His captivating landscapes are in hundreds of private and corporate collections and he is represented by several major galleries throughout the northeast.
Chris Overbeeke. It is easy to see the influence of masters such as Johannes Vermeer, Rubens and Rembrandt van Rijn in the work of this realist painter who is a descendant of the Dutch School of Painting. In order to help him obtain razor sharp lines and subtle contrasts, he paints on wood panel. The Darvish Collection catalog proudly proclaims that Overbeeke's still lifes "are fascinating because of their color and drama. Deftly working the magic play of light and dark, he makes tones seemingly disappear."
Vincent. This French plein air painter has a bold neo-impressionist style that presents viewers with the beauty of French countrysides and Mediterranean villages. He is a member of the Salon d'Automne, Biennale des Beaux Arts, Salon des Independants, and Academie Institute of Paris and his work can be found in private collections in France, Belgium, the Netherlands, Germany, Austria, Switzerland, Greece, Algeria, Spain, Great Britain, Sweden and the United States.
Bob Watson. This Florida native is a master of realism whose meticulous attention to detail often entails painting every blade of grass in the Everglades and sandy beach scenes for which he is best known.
Hours. During the summer, the gallery is open 1-5 p.m. Monday through Saturday. In season, the gallery's hours are 10 a.m. to 5 p.m. Monday through Saturday.
Telephone Number and Website. You can reach Darvish by telephone at 239-261-7581 or online at http://artnet.com/darvish.html. Neither the gallery nor its principals are on Facebook.
Owners. The gallery is family owned and operated. It was founded Charles and Eva Szabo in 1983 and incorporated on September 21, 1992. While Charles is still listed as an owner, it appears that the gallery in primarily run by daughter Andrea Szabo Casement and her husband, William R. Casement. In addition to dealing in art for many years, the principals are former professors with backgrounds in history, law, philosophy and literature. "When you walk through the door, or contact us by phone, fax or email, you will be dealing with one of the owners."
Gallery Directors. The gallery has no directors or other employees.
Exhibitions. The gallery no longer hosts shows, exhibitions or other events.
Fast Facts.
The Darvish Collection, Inc. Gallery of Fine Art is the second oldest gallery in Naples.
Darvish is a Turkish word that refers to a person who lives in the path of God and who is searching and practicing to get closer to God, as exemplified by the "whirling darvishes" of Konya in the days of the Ottoman Empire.