Tortured Muse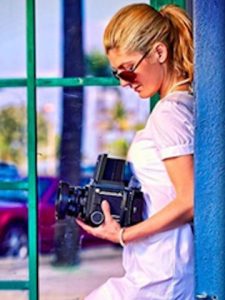 It's an unequivocal distinction to be included in one of Mila Bridger's group portraits, digital fantasies or iconic painting homages. There's fun, fame and notoriety, not to mention inclusion in an chic group of alumni of previous shoots. But it's not all fun and games. When Mila Bridger puts together a shoot, there's likely to be a fair degree of discomfort, if not actual pain.
Throughout the centuries, of course, muses have enjoyed a tenuous relationship with the artists, fashion designers and musicians they inspired. Just look at Petrarch and Laura, Dante and Beatrice, Gustav Klimt and Emilie Floge (who was 12 years the painter's junior and reputedly died a virgin in spite of Klimt's notorious philandering) or Salvador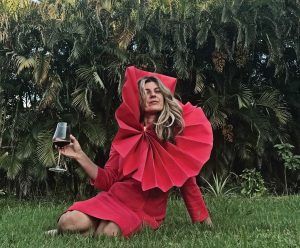 Dali and Elena Ivanovna Diakonova, otherwise known as Gala (who apparently did not have sex with the renowned surrealist in spite of marrying and living with him from 1929 until her death in 1982).
But in spite of the checkered heritage that muses occupy in the art world, those called upon by Bridger to appear in her digital narratives couldn't be more thrilled.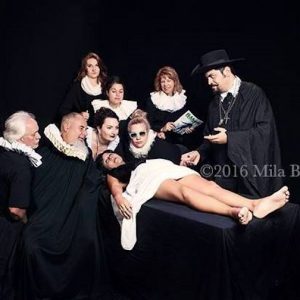 "She's up for anything and so am I," comments Leila Mesdaghi, who has posed for Bridger on a number of occasions. "It's an honor to take instructions from her" – even when, as in the case of Artful Anatomy, those instructions consist of laying nude on a table in front of a bevy of your friends pretending to be "the dead that is not so dead." [The image is an homage to Rembrandt van Rijn's The Anatomy Lesson of Dr. Tulp and joining Mesdaghi in the recreation are Terry Tincher, Stephanie Davis, Pam Beckman, Cesar Aguilera,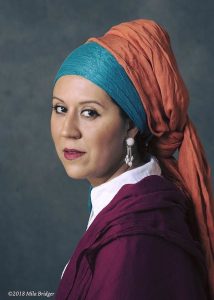 Lab Theater founder Annette Trossbach, Alliance for the Arts Executive Director Lydia Black, surrealist dreamscape painter Danielle Branchaud and city planner and visionary Jack Luft.]
But other Bridger muses have not gotten off as easily as Mesdaghi.
Some have incurred physical pain, even "torture," laughs Bridger, as she poses for a picture with friend and tormented muse Destiny Haggett at the opening of her two-woman show at the Alliance for the Arts with artist and fashion designer Maria Pia Malerba.
A former Fort Myers Film Festival Coordinator and Davis Art Center Box Office Manager and Volunteer Coordinator (she's recently relocated to Coral Springs),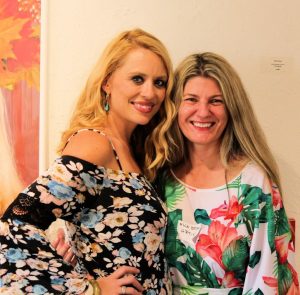 Haggett is one of Bridger's favorite subjects. Outwardly, she's statuesque and striking, with full lips and spellbinding cerulean irises. But Haggett's not just another pretty face. She's full of spirit, introspective humor and the kind of open, honest sensitivity that makes those around her lean in. It's these qualities, no doubt, that led Mila to choose Destiny as her muse for a series of four images that allegorically depict the four seasons.
For Spring, Mila wrapped Haggett in nylon netting to which she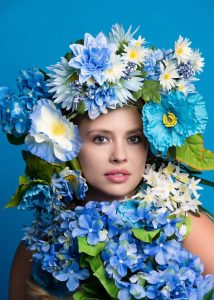 attached dozens upon dozens of polyester fabric blue flowers and green leaves.
"It was incredibly hot," Destiny recounted, "and the air-conditioning wasn't working in Mila's apartment."
To complicate matters for the erstwhile muse, some mutual friends dropped by unexpectedly before Mila was ready to shoot. Among Mila's many charms and positive attributes, she is a gracious and attentive host. So while Destiny waited, wilted and withered beneath nylon and polyester, Mila poured wine, put out snacks and otherwise attended to her guests.
"I'm dying over here,"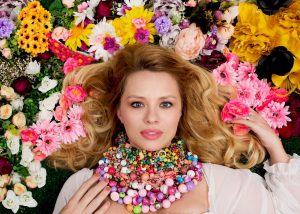 I yelled finally, which prompted Mila to scurry back over to complete the shoot.
Summer didn't go much better for Mila's tortured muse.
"For that shot, she had me lay on her garage floor with my hair fanned out above my shoulders surrounded by all kinds of different flowers,"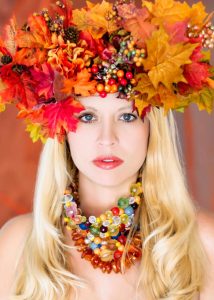 Destiny supplied, " along with a choker of multi-colored big and little beads."
To get this shot, Mila spanned the supine model with the legs of a sturdy stepladder that would enable her to take a close-up from above. But unfortunately, Bridger is disposed to debilitating migraines and as Haggett's luck would have it that day, one struck after Mila had posed her for the shot but before she could actually snap the image.
"It was so bad that I was getting flashes and blind spots," chimed in Bridger in her delectable Koszalin accent (she's originally from northwestern Poland).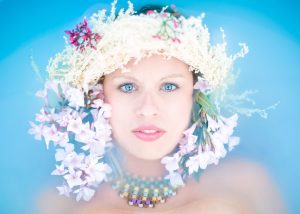 "She had to lay on the garage floor next to me until she could get the migraine under control," Haggett finished.
So for more than an hour, artist and muse, photographer and model, lay motionless on the garage floor at Bridger's Marco Island home.
While Autumn went without a problem, Winter subjected Haggett to a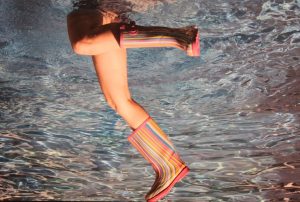 new and somewhat unsavory challenge. To get the diffuse, chill aura she wanted for the shot, Mila partially submerged Destiny in a plastic backyard child's swimming pool filled with Kefir, a fermented yogurt-like product that dates back centuries to the shepards of the Caucasus Mountains.
"It was disgusting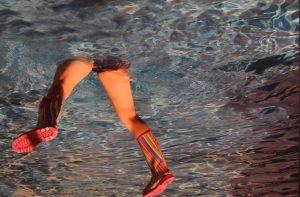 from the outset," Destiny recalls. "But it was in the 90s that day, and as it got hotter and hotter, the Kefir stank more and more."
As she waited for Mila to snap just the right image, Haggett dutifully lay motionless submerged to her chin and cheekbones, enduring the ever-intensifying olfactory assault.
"But it was worth the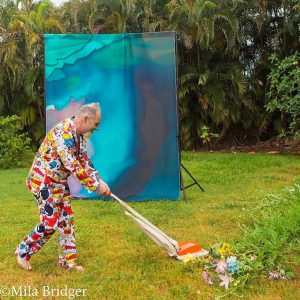 torture," proclaimed Destiny – even before Bridger began papering her face all over Southwest Florida as part of the "I See You" exhibition in the Lauritzen & Rush Galleries at the Marco Island Center for the Arts on Winterberry Drive.
Of course, Haggett would readily concede that these so-called "tortures" pale in comparison to those suffered by the world's most renowned inspirational figures through the centuries. Lizzie Siddal almost died of pneumonia while posing in a tin bath for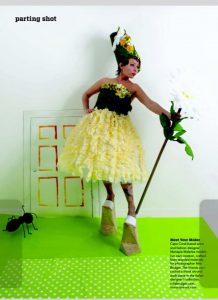 John Everett Millais' famous painting of Ophelia. Lee Miller, the beautiful model who inspired Man Ray, eventually gave up her own photography and slid into a "downward spiral" of alcohol, drugs, depression, and thwarted creativity. In the course of inspiring songs that included "You Can't Always Get What You Want," "Wild Horses" and I Got the Blues," long-time Mick Jagger muse Marianne Faithfull became so addicted to drugs trying to keep up with the Rolling Stones front man that she suffered a spell of homelessness before finally re-establishing herself as a musician in her own right. And then there's conceptual artist Yoko Ono, who inveterate Beatles fans still blame and revile for breaking up The Beatles (although to be fair,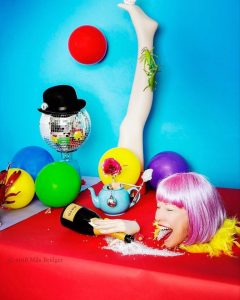 a legitimate argument can be made that it was Lennon who occupied the role of muse in the duo's artistic relationship and that the opprobrium suffered by Ono is/was anchored, in part, in racial prejudice and misogyny masquerading as loyalty to the Fab Four).
But being tortured by Mila Bridger is something of a badge of honor among those who've had the, er, pleasure of being called upon to assume a place in one of her compelling narrative compositions.
Terry Tincher has posed for Bridger in red long johns and then again in pajamas for her Spring Cleaning series..
Maria Pia Malerba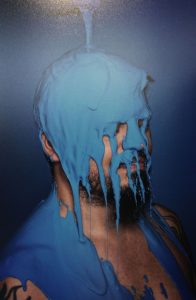 has posed in mile-high platform heels that might have caused a nosebleed had things gone awry.
Mila triggered Pam Beckman's gag reflex as she filled her mouth with crystals for Anatomy of a Party.
And pop artist and Davis Art Center curator Cesar Aguilera endured being doused in paint for a shot Mila created to promote his retrospective show.
"OMG!" exclaims Bridger's wicked co-conspirator Melissa DeHaven. "When I poured blue paint over Cesar's head, he almost suffocated and was covered in blue paint like a smurf!"
She almost had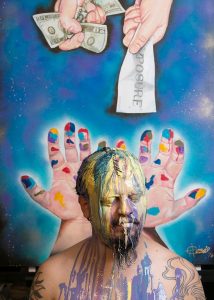 as much fun hosing him off in Bridger's backyard as she had covering his head in paint. [DeHaven also had a hand in throwing and putting spaghetti on chef Brian Roland and his wife Nicole during another shoot.]
Of course, where Bridger is concerned, torture is merely a means to breathing life into the stylized fantasies that evolve from peering into her subjects' souls. And while it's really cool to be included in an ingenious Bridger still shot, the real reason that Bridger inspires such enthusiasm and trust in her models and muses is because of the affection and respect that she heaps upon them (and everyone else she encounters).
So while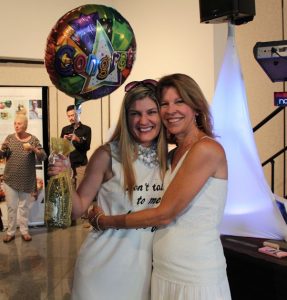 the very notion of the muse may be an archaic, supernatural concept drawn from Greek mythology (they were the goddess daughters of Zeus who presided over human inspiration in science and the arts), Mila Bridger invests her own models and muses with a currency lacking today in all but the performing arts.
Just ask Destiny Haggett.
Or Leila Mesdaghi.
Or Terry Tincher, Pam Beckman, Cesar Aguilera or any of the other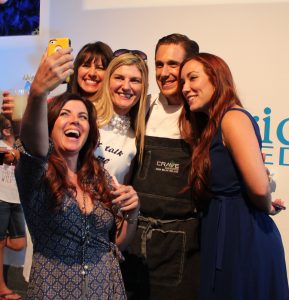 local actors, artists, authors and other luminaries who appear in her narrative fine art stories.
And be sure to answer the call when your cell phone rings.
May 27, 2019.