Eren Sisk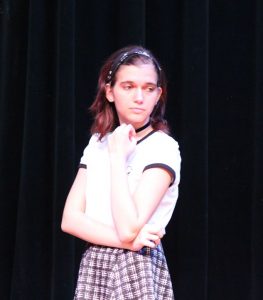 Eren Sisk is a rising star in the local theater scene. Her next appearance will be in New Phoenix Theatre's production of The Full Monty.
Her credits include the role of Mandy Bloom in Donald Margulies' Time Stands Still, one of the Phantoms and the Popcorn Girl in Richard O'Brien's Rocky Horror Show, the babysitter in Rancho Mirage for Theatre Conspiracy at the Alliance, Barblin in Andorra (taking over on less than four hours' notice when Danica Murray fell ill and had to be hospitalized for the remainder of the show's run), Helene in Henrik Ibsen's A Doll House, Annie in Evil Dead the Musical, young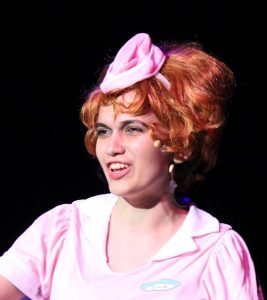 Blanche Hudson and next-door-neighbor Abby Bates in Whatever Happened to Baby Jane: A Parody of the Horror, a critically-ill high school student in Lauren Gunderson's I & You and a beautiful, bouncy 9-year-old Victorian girl who is murdered and dismembered again and again in Jennifer Haley's The Nether. She was also in Jekyll & Hyde and Footloose at Fort Myers High School and Les Miserable at Cultural Park Theater.
In her ongoing effort to learn as much about theater and theatrical performance, Eren has served as stage manager in a number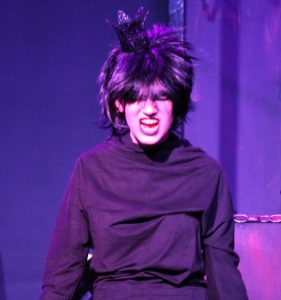 of recent productions, including Andorra, Hedwig & The Angry Inch, Hush Up Sweet Charlotte, Lab Theater's 24-Hour Playwriting Challenge, A Guy, a Girl, a Piano and Hand to God (which she co-managed). She also helped construct the set for It's Only a Play and was the tech assistant for translations, running the bilingual projections for Anna in the Tropics.
You may have also seen Eren on television recently in the public service announcement "Predator" for Christy's Cause, a non-profit organization that is working to eradicate human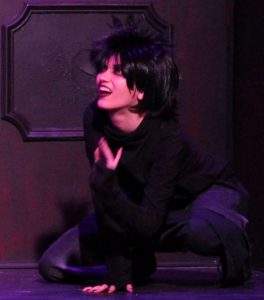 trafficking.
Her recent musical work includes functioning as the vocalist for the rock band CUP as well as being the female vocalist for FSW's Black Pearl Band.
May 28, 2019; rev. February 18, 2020.
RELATED POSTS.