Eric Riemenschneider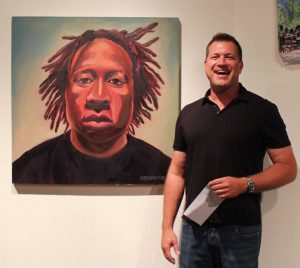 ARTIST:  Eric Riemenschneider
GENRE:  Portraiture; Epicurean Art
MEDIA:  Oil on canvas; mixed media with graphite
HIS ART: 
Portraiture
Riemenschneider approaches portraiture as part landscape artist and part sculptor. In fact, he has stated on numerous occasions
that he regards the human face as a landscape, with its own topography, texture and tonality.
Eric traces the roots of this unique slant on portrait painting to Chuck Close and Duane Hanson, whose work he saw at an exhibit in the Akron Art Institute to which his mother dragged him when he was but 10 years old. Hanson's sculptures were life-like depictions of everyday people, and Close's paintings were not only huge and hyper-realistic, they revealed the contours of every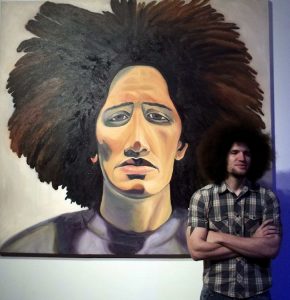 wrinkle, pock mark and blemish in each subject's visage.
The Close/Hanson exhibit worked subconsciously on him for more than a decade, laying the predicate for his slant on the genre. His unique approach finally took shape while he was painting landscapes in oil while he was attending the Ringling School of Art & Design.
Eric's "aha" moment did not come all at once, but over the course of his studies at Ringling.
"I believe I grew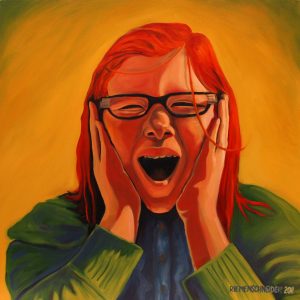 the most as an oil painter working outdoors, painting landscapes," Eric told Fort Myers Magazine writer Andrew Elias in 2011. "[W]hen I started painting people in oil, I think I naturally looked for those patterns and shapes in the portrait that reminded me of landscapes. This also becomes more apparent when working on a larger scale."
The vast majority of his subjects are ordinary, everyday, blue collar people like Bobby, Humphrey and Tattoo Mike. But more, through his portraiture,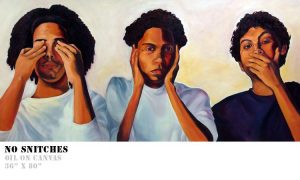 Riemenschneider works to convey the inner spirit, the joie de vivre expressed in their eyes, the set of their mouth and the rolling hills of their nose, cheeks and furrowed brows.
Epicurean Art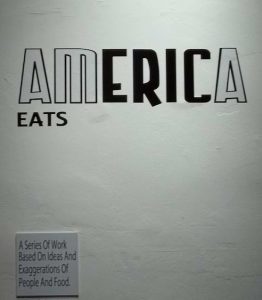 AmERICa Eats is a collection of artworks that explore America's relationship with food.
"I waited tables for 15 years. Sanibel. Captiva. I've seen people at their best and at their worst," Eric says of the experiential groundwork for his series.
Dating back to Leonard DaVinci (The Last Supper), artists from every genre have produced epicurean artworks at one time or another.
Of course, fruit, fish and bottles of wine have long served as favorite motifs for still life artists. Manet painted Almonds and Jar of Pickles,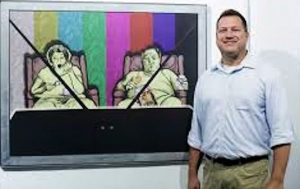 Cezanne did Still Life with Herrings, and van Gogh contributed Still Life with Carafe and Lemons. For contemporary realists, oranges, both peeled (Reflections of Fruit and Twilight Illumination by Suzanne Hughes Sullivan) and unpeeled (Four Oranges by Jeff Hayes and The Fall by Kevin Sloan), vegetables (Radishes II by Rob Evans),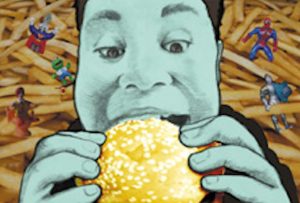 wine and cheese (Malbec by Melanie Cassey and Open Mind by Tiago Finato), and even pancakes (Syrupy Goodness by Melanie Cassey) are favorite subjects.
However, the genre is broader than just paintings of food stuffs. It includes table settings (Lindsey Goodwin), chefs at work (Andre Kohn, Stephen Shortridge) and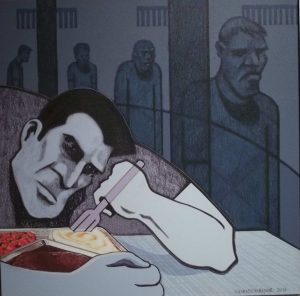 dining scenes (Janine Wasselmann) of all types and varieties.
Riemenschneider's epicurean pieces fall within the latter subset, but Eric puts his own spin on the genre. Rather than depict luscious settings featuring the elegantly attired devouring sumptuous meals, Riemenschneider's darkly comedic mixed-media epicurean works poke fun at the way in which we've perverted our relationship with food, from our anorexic hostility (Chop Stix) at one end of the spectrum to gluttonish excess at the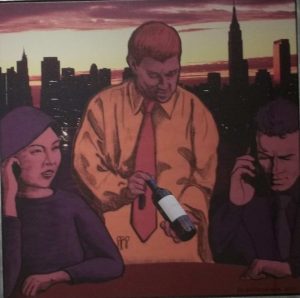 other (Chew Toy). But the overwhelming theme of this series is the sad fact that so many of us have become disassociated and disaffected with what had once been the festival and spectacle of the daily meal.
Eric makes the latter point with offerings such as TV Dinner, in which an overweight couple shove junk food into their mouths as they stare straight ahead at a rabbit-eared TV, oblivious to the food and each other, while in Drive Thru a man stares with disgust at the burger he's squeezing between his thumb and outstretched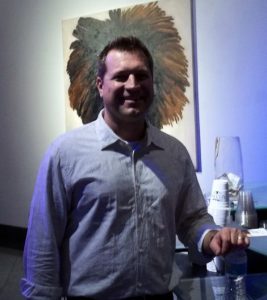 fingers as ketchup and mustard squirt onto his shirt. Prison Food depicts an inmate's abject disgust with the bland fare on his plastic tray, while Chew Toy parodies an overweight youth chowing down on a quarter-pounder against a backdrop of greasy fries interlaced with plastic Happy Meal toys. And in ComMuniCation, a tres chic  but emotionally disconnected couple talk away on their cell phones oblivious to each other and to their waiter, who is trying to show them an expensive bottle of wine.
"I got the idea [for the series] one day when I was looking at some ads.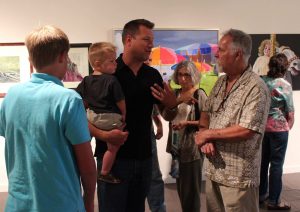 The images, the text, everything was so perfect." But Eric's a contrarian. He took his art in the opposite direction, and even used a combination of digital scanning and graphite to accentuate his message of disassociation. The final touch consisted of the aluminum frames he had a friend build.
Exhibitions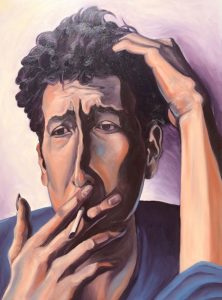 In 2012, Eric's portrait titled Otis was selected Best of Show by Deland Museum of Florid Art Exhibition Coordinator and Juror Davis Fithian at the Alliance's 26th Annual All Florida Juried Exhibition. He also had a well-attended and critically-acclaimed solo show at the Sidney & Berne Davis Art Center in 2011  titled America, along with AmERICa Eats in the East Conservatory.
Education and Training
Riemenschneider is a Robert Rauschenberg scholar and graduate of the Ringling School of Art & Design.
Other Accolades
As an Art & Design middle school teacher, Eric was a 2012 Golden Apple recipient and 2010 Angels of the Arts Teacher of the Year.
Film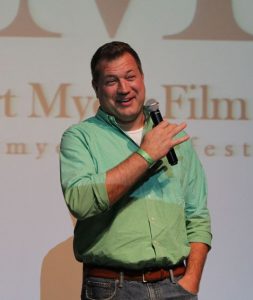 In 2016, Eric starred in a short film written, directed and co-produced by fellow artist Cesar Aguilera. Bubbles is a six-minute horror film in which Riemenschneider plays an abrupt and abrasive business executive who stops in a barber shop for a haircut. Cesar Aguilera plays a serial murderer who is dressed in a blood-stained clown outfit. It is not clear from the film whether Bubbles the clown has offed the barber or is the barber, and it's ambiguous whether he was intent on hacking the exec to death from the outset or was provoked by the exec's condescending attitude. But for five of the six minute running time of the film, the viewer assumes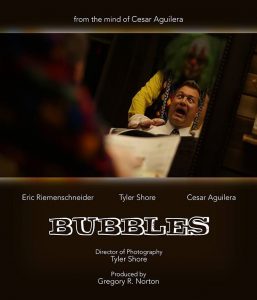 the point of view of the exec, who finds himself cast into the dark, looking for a means of escape in the pale light cast by the flashlight feature of his cell phone. The film premiered at a TGIM and was screened by the Fort Myers Film Festival in 2017.
RELATED POSTS.
April 15, 2020.