Riemenschneider's 'No Snitches' coming to a billboard near you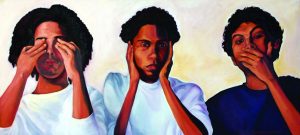 The Alliance for the Arts has revealed the artists who've been chosen to participate in Art Lives Here 2.0. One of the terrific 12 is Eric Riemenschneider, whose contribution to the Art Lives Here! Billboard campaign is No Snitches.
"As an Art & Design teacher,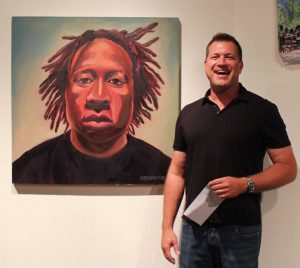 every day I attempt to open my students' senses to new experiences and challenge their way of thinking. These three young men are former students that challenged me quite a bit as a new instructor. Their pose represents the potential obstacles in communication but also celebrates the breakthrough and permanent bond of teacher and student."
The three students in question told Eric that drawing was for sissies and they weren't going to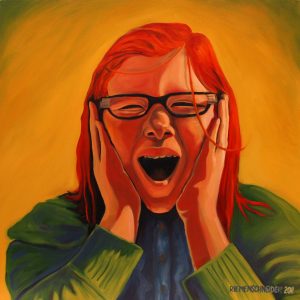 do it.
"They were very tight, and very adamant about not coming to class."
Riemenschneider got all Michelle Pfeiffer/Lou Anne Johnson on them. He wasn't a 2012 Golden Apple recipient and 2010 Angels of the Arts Teacher of the Year by accident.
"I got up in their business," Eric recalls.
In a scene reminiscent of Dangerous Minds (the 1995 box office smash based on Lou Anne Johnson's autobiographical My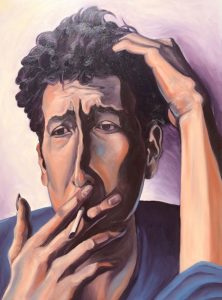 Posse Don't Do Homework), Eric told the boys he wanted to paint them and got out a camera. Without being coached, the boys spontaneously struck up the See No Evil,, Hear No Evil, Speak No Evil pose.
"Don was the pretty boy and he covered his eyes. Gabrielle never talked and he covered his ears. Dion had the scoop on everybody and he covered his mouth. It was crazy. Their poses matched their personalities to a tee. The only thing that I did was have them remove their bling."
Eric worked on the painting a little in class, and it inspired all three to morph into his best students.
Not only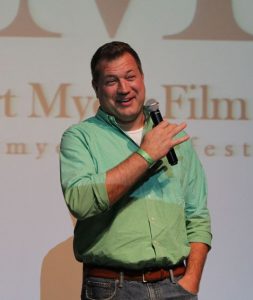 did all three graduate, they all went into something that was art-related.
Riemenschneider is no stranger to Alliance art lovers. In 2012, his portrait titled Otis was selected Best of Show by Deland Museum of Florid Art Exhibition Coordinator and Juror Davis Fithian at the Alliance's 26th Annual All Florida Juried Exhibition. He also had a well-attended and critically-acclaimed solo show at the Sidney & Berne Davis Art Center in 2011  titled America, along with AmERICa Eats in the East Conservatory. He also starred in a film that was screened in the Davis Art Center by the Fort Myers Film Festival. Titled Bubbles, it was written, directed and co-produced by fellow artist Cesar Aguilera and shot by filmmaker Tyler Shore.
April 16, 2020.