Belling nauticals invoke sense of sublime quietude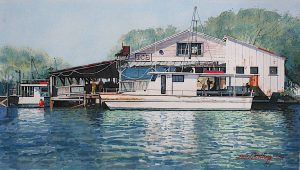 In turbulent times such as these, who couldn't use a little more peace and serenity? To fill this need, the Rene Miville Gallery is bringing a little tranquility to the downtown Fort Myers River District art scene – as in a new exhibition of work by watercolor realist David Belling.
Tranquility –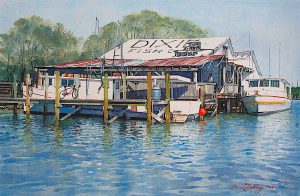 The Modern Landscape Art of Southwest Florida will feature dozens of the nautical scenes and historical-based landscapes that David Belling has been rendering since turning to painting full time after his retirement in 2004 from decades as a creative director for big and little advertising agencies in both Milwaukee and Cape Coral.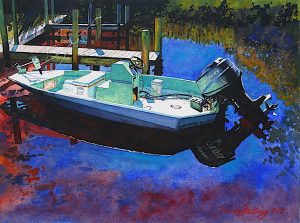 While there will be plenty of moderately-sized originals to admire, gallery owner Rene Miville has blown up photos of half a dozen of Belling's paintings into 44-by-32-inch prints. These, in particular, uniquely enable viewers to savor the sublime quietude built into the fabric of each of Belling's compositions.
There is a Norman Rockwell quality to Belling's watercolors. While not by design,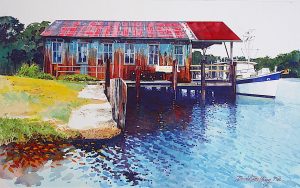 it's also no accident. Belling confesses to idolizing the renowned illustrator/realist painter as a youngster.
"As a kid, I always thought I was going to be the next Norman Rockwell," Belling divulges somewhat conspiratorially. "He was a hero back then with his covers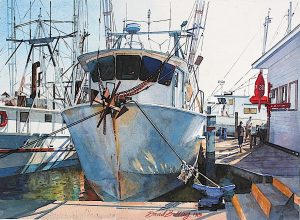 on the Saturday Evening Post [from 1916 to 1963] and other magazines nobody knows the names of anymore."
Both Rockwell and Belling started out as illustrators, and that discipline and experience flavors and defines the body of work of both painters. But in Belling's case, the oeuvre he's amassed since his retirement from advertising in 2004 is also heavily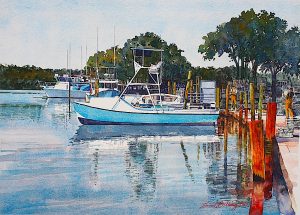 influenced by his work as the creative director of a local ad agency that represented both the Visitors and Convention Bureau and a number of boat manufacturers and distributors.
"When I was art directing for boat clients, I was always on the look-out for interesting backgrounds to park boats in front of for ads and catalogues," recalls Belling.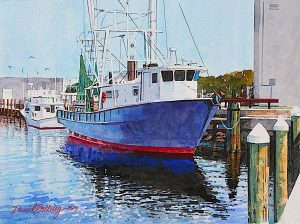 Informed as it is by this experience, his eye and artistic sensibilities are trained to see, appreciate and render interesting and intriguing settings, particularly in and around marinas, commercial fisheries and other working docks.
"I've had some people see a scene [I've painted] and tell me that they've passed by that place every day but never saw it quite that way or in quite that light," Belling recounts. "When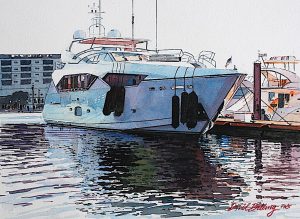 I'm out and about, I see settings as paintings. I see scenes that are [paint-worthy] and know immediately exactly how I'm going to render them."
In addition to the feel for composition that he's inculcated through decades of looking at landscapes through a mental viewfinder, Belling employs a number of devices to convey a feeling of peace and tranquility in his paintings.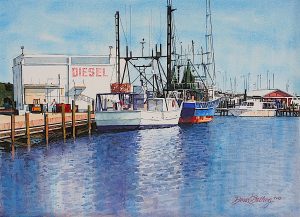 For example, his compositions almost always juxtapose broad swaths of uninterrupted color against meticulously-crafted detail. These flat, almost two-dimensional geometrical shapes and abstract patterns cause Belling's manmade motifs such as pleasure craft, fishing vessels and buildings to virtually jump off his support with a depth, dimensionality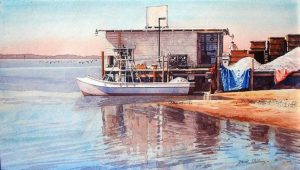 and animus informed by Belling's adroit handling of light, shade and shadows.
Belling augments this effect by combining elements of realism and impressionism, as well. Just as he chose scenes during his ad agency days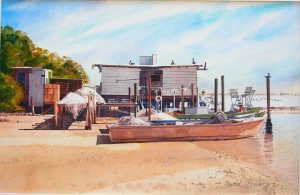 because of their ability to provide interesting backdrops for the boats and other vessels his agency was marketing for its clients, Belling throws the focus on the central subjects of his far-ranging compositions by keeping his backgrounds and foregrounds softly impressionistic. This delightful dichotomy, in turn, resonates on a subliminal level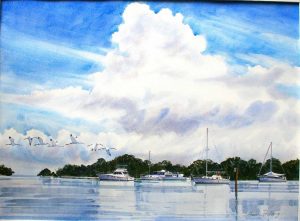 with our inner spirituality (much like the Yin and Yang of Chinese Taoism), encouraging a closer connection to the natural world in which we live and the nostalgia of simpler times.
And then there's the obvious and not-so-obvious symbolism that underlies Belling's compositions, especially his nautical scenes. Just as an author or filmmaker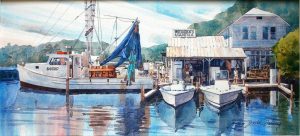 might employ a lonesome train whistle to signify that a character is about to embark on a psychological journey of some ilk, the pleasure and commercial craft that Belling include in his paintings promise travel and crossings, adventure and exploration even as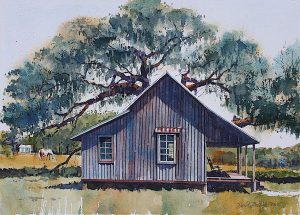 the marinas, docks and moorings in which they rest connote the safety and sheltering afforded by ports up and down the coast.
Many decades ago, Pablo Picasso was quoted as saying that "the purpose of art is washing the dust of daily life off our souls." Belling's paintings have that very effect. If you too need more peace and tranquility in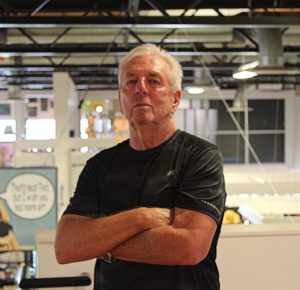 your days and your life, make a sojourn to the Rene Miville Gallery in February. Tranquility – The Modern Landscape Art of Southwest Florida opens February 1 with a 6:00-10:00 p.m. opening reception that is coextensive with Fort Myers Art Walk.
January 14, 2019.