'Everyone on this Train' sure to make you feel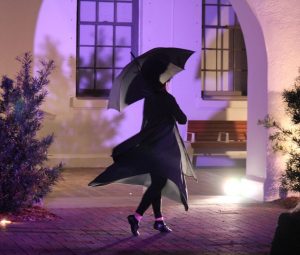 On "stage" tonight and next Friday and Saturday is Ghostbird Theatre Company's production of Everyone on this Train by playwright, actor and Ghostbird co-founder Jim Brock.
Brock gives every indication of being an old soul. In Everyone on this Train, he appears as a teetering, hunched porter with a Walter Brennan (there probably aren't many of you who remember The Real McCoys television show) hitch in his step. But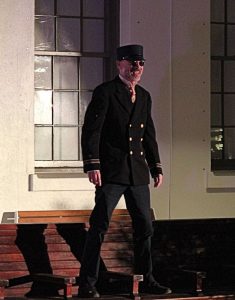 that's not what I mean. With his latest play, Brock conjures the bygone joys associated with watching people arrive and depart airports, bus terminals and, in this particular case, train stations and depots.
Except perhaps for street photographers, people watching is a lost art. Even when sitting across from each other at dinner, most of us today would rather bury our nose and attention in our smartphone or other hand-held device. But as Jim Brock well knows and apparently still remembers, there was a time when people entertained themselves and young children by surreptitiously spying on passers-by and eavesdropping on their conversations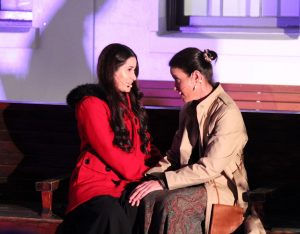 in public places like malls (also archaic and rapidly becoming obsolete), parks and public squares. And for this (and other reasons), Everyone on this Train harkens back to simpler and (dare I say it?) more romantic times.
Plane, train and bus terminals have the benefit of attracting all manner of humanity. And travel affords the added advantage of exaggerating and accentuating the foibles and idiosyncrasies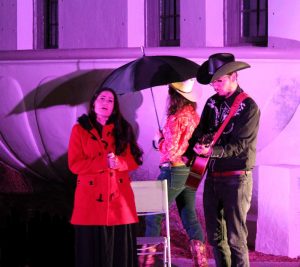 of the commuters and passengers who are waiting, typically impatiently, for their connection. But in Brock's ideation, there is clearly a sinister aspect which ripples through the station as he channels the jeopardy experienced by refugees, runaways and similar ilk of peregrinators.
Brock credits a verse by Oregon poet Shaindel Beers as inspiration for this play [read here], but the play's title is derived from the last recorded words of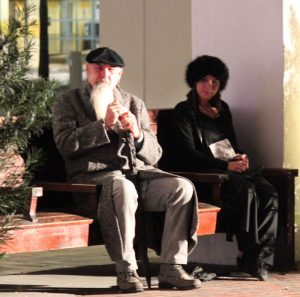 Taliesin Myrddin Namkai-Meche, a Portland commuter who died in 2016 of stab wounds he suffered after stepping in to defend two Muslim women from a man barking racial slurs at the two adolescents. "Tell everyone on this train I love them," said the recent 23-year-old college graduate.
We are all on the same train.
Much of the play is allegorical. The story follows the plight of a solicitous Mother (brilliantly portrayed by Sharon Isern) and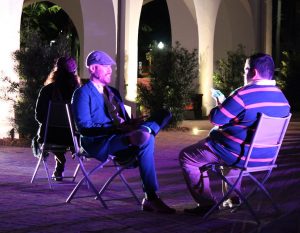 her perplexed daughter Ilya (played to perfection by Megan Shindler) as they escape the Chechen Wars of the 1990s, as well as the parallel story of Sam (Josh Needle), a down-on-his-luck Manhattan commuter hoping against hope to keep his job. "While they never meet, never cross paths, their lives are intertwined," says Brock.
We are all on the same train.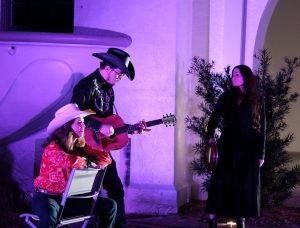 It's simultaneously interesting and sad that Brock had to travel halfway across the planet and nearly three decades into the past in order to give us permission to feel sympathy, even empathy, for the pain, sense of loss and abject fear experienced by these two lost souls who find it necessary to give up their home, family and friends and overall way of life in order to obtain freedom for from war. Of course, they could just as easily be seeking to escape gang violence or systemic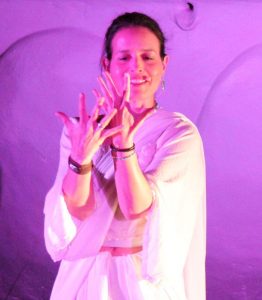 human rights violations. And sympathy/empathy is precisely what audience members feel as they voyeuristically watch and listen to Mother and Ilya talk about the conditions they're fleeing and the danger they face as they try, with fear and trembling, to perfect their escape. And (as we see in the next to last scene in the play) that fear and uncertainty leave permanent emotional scars, particularly for those who lack a support structure in their adopted home where, too often, they become mere strangers in a strange land.
It may be an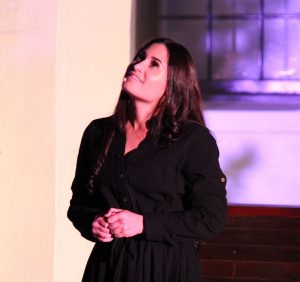 unpopular sentiment to voice in some circles, but refugees deserve our understanding, support and encouragement. They certainly don't deserve to be denigrated, derided and criminalized.
After all, we're all fleeing something.
We are all on the same train.
As with any Ghostbird Theatre Company production, there is considerably more meaning to be mined from the dialogue and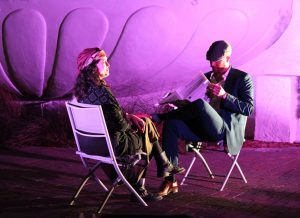 action in this show. I'll leave you to draw your own lessons and conclusions. But I would be remiss if I didn't compliment Director Barry Cavin, stage manager Stella Ruiz and Everyone on this Train's talented and terrific cast for yet another innovatively staged and imaginatively performed site-specific show.
Cavin and Brock never allow the audience's attention to drift.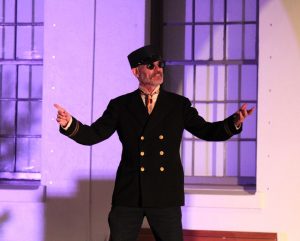 It is always clear what you should be watching and to whom you should be listening. But the earmark of any busy airport, bus terminal or train station is constant activity – people coming and going, waiting and welcoming. And the ACL depot during Everyone on this Train is no exception. Don't blink or you may very well miss something interesting or outrageous going on someplace else.
This notwithstanding,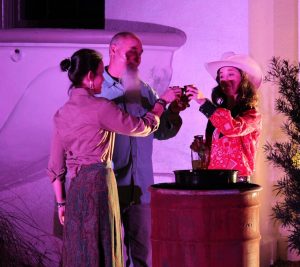 the actors never missed a cue, effecting their entrances, walk-throughs and walk-bys with seasoned, split-second timing … which is not always easy to achieve when performing at an outdoor venue where cast and crew typically have limited access for rehearsals prior to the show.
While this show represented their stage debuts, Sharon Isern and Josh Needle excelled. Paired with mesmerizing Ghostbird vet Megan Shindler,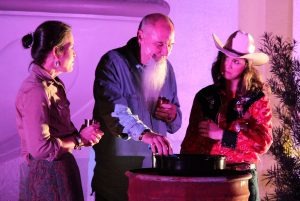 Isern is particularly engaging. The duo's interactions as mother and daughter and their mid-show stargazing scene are two of the many highlights of this show.
The flirtatious Kaleena Rivera, homespun cowgirl Katelyn Gravel, Dan De La Rosa, Scott Michael and Terry Tincher also make the most of their moments in the spotlight, with Jim Brock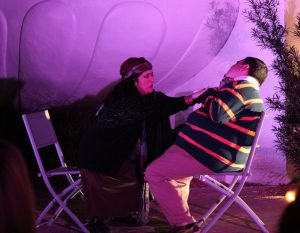 himself providing both continuity and an element of comic relief.
But enough praise cannot be heaped on the musical overtones associated with this production. Everyone on this Train contains original songs by Katelyn Gravel and Philip Heubeck, music by Victor Stephen and dance by Olivia Curtalo. And even more applause for Megan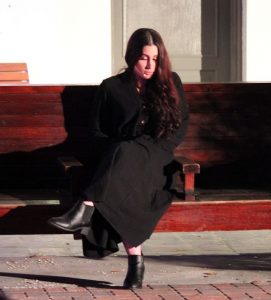 Shindler for the amazing vocals she hauntingly supplies in the show's finale.
Whether or not you've ever attended a Ghostbird Theatre Company production, this is one show you're sure to enjoy. Besides being outdoors in the environ of an historic train station from yesteryear [read here] where the shadows of past travelers are almost palpable, Everyone on this Train will bewilder, confound and confuse you. But it will make you think and make you feel – as all good theater should.
After all, we're all on the same train.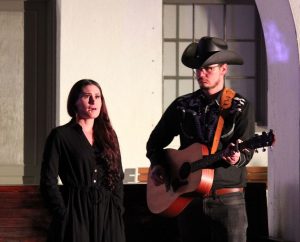 January 19, 2019.
RELATED POSTS.