Estero Fine Art Show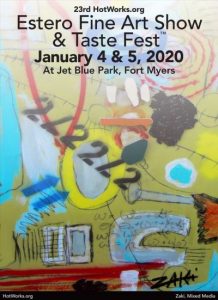 Name: 23rd Estero Fine Art Show
Date: The Estero Fine Art Show is on January 4 & 5, 2020.
Hours:
10 a.m. to 5 p.m. on Saturday
10 a.m. to 5 p.m. on Sunday
Place: JetBlue Park in Fort Myers, located East of I-75 on Daniels Parkway between Treeline Avenue and Gateway Boulevard. Opened in February of 2012, JetBlue is comprised of the Boston Red Sox's spring training ballpark and player development complex. With a capacity of 11,000 fans, the ballpark includes a mix of fixed seats, standing room, and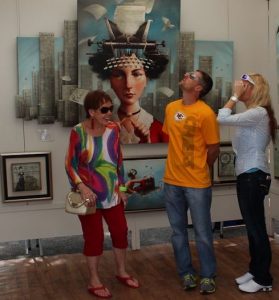 grass berm/family picnic seating options and features a manual scoreboard just like the one in Fenway Park along with a replica of Fenway's "Green Monster."
Description. This top-notch fine art & craft event brings to Estero, Florida new original paintings, drawings, pastels, photography, ceramics, clay, glass, sculpture, wood working and carvings, fiber art and art jewelry from the ateliers, studios and workshops of some 120 local and internationally-acclaimed artists. All are present throughout the two-day event and eager to answer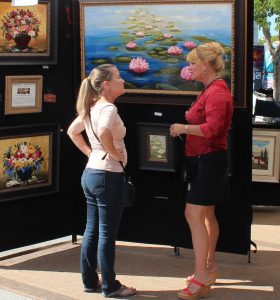 questions about their work and inspiration. Live art demonstrations afford numerous opportunities for patrons to witness first-hand the various processes that the artists' go through and the techniques they employ in order to create high-quality artworks in their chosen medium.
Whether you have a serious interest in finding the perfect painting, photograph, sculpture or other artwork for your winter residence here in southwest Florida or your summer home some place else or you just enjoy browsing fine art under clear blue skies, the Estero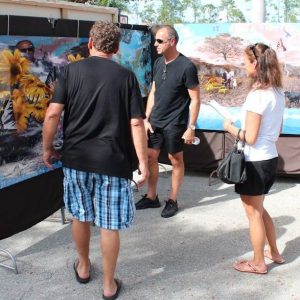 Fine Art Show is for you. Organizer Hot Works LLC goes out of its way to "create an atmosphere that enhances the artwork and creates a relaxing environment for art lovers." So save the date in your smart phone or calendar. This is one art festival you won't want to miss.
Cost: Admission is free.
Parking: There is a $5 fee for parking that covers both days of the show with a receipt.
Organizer: The Estero shows are produced by Hot Works, LLC, which also runs the award-winning Orchard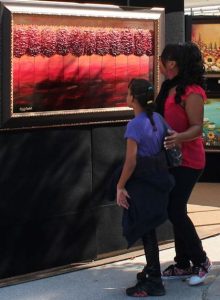 Lake Fine Art Show in Michigan. In order to achieve a high-quality fine art and craft show, the Hot Works team travels continuously around the U.S. and Canada visiting art shows and recruiting the very best artists for Hot Works events.
Those artists who do apply for inclusion in the Estero festivals must submit three compelling images of their  work along with one showing their booth presentation. Then, a group of art professionals (that include gallery owners, directors and curators, and artists) reviews the application and images. "We judge based on originality, technique and execution, quality, and booth presentation," observes show director Patty Norozny. Only the finest are admitted into the shows.
In order to encourage participating artists to bring their finest work to the shows, a second round of judging occurs on site on the first day of the show. The results are announced on Sunday, with the best artists in each category receiving ribbons, purchase awards and cash prizes. By pre-qualifying each one of the artists who come to this event and recognizing the best with ribbons and awards, Hot Works seeks "to help the general public with making their artwork purchase decisions by [giving them the knowledge] that they are purchasing quality work."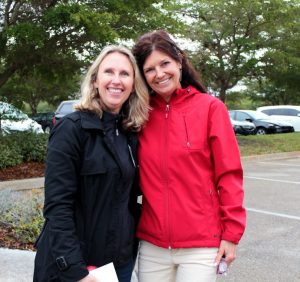 Director: Patty Narozny. In addition to 25 years of media and event experience, Patty has a corporate finance degree from Wayne State University in Detroit, Michigan. Currently, Patty produces high-quality, juried fine art & craft events in not only in Florida, but Michigan and North Carolina. Narozny is the founder of Hot Works Fine Art & Craft Shows.
Website: http://www.hotworks.org/esterofineartshow/.
Facebook: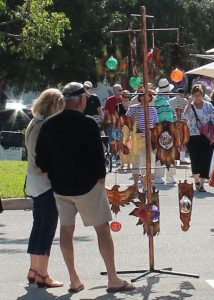 You can follow these events on Facebook at http://www.facebook.com/event.php?eid=219253024762681.
Event Hot Line. The event hot line is 941-755-3088.
Local Connections:
Hot Works produces the Estero Fine Arts Shows in affiliation with The Institute for the Arts & Education, a 501(c)(3) non-profit organization dedicated to enriching lives and strengthening our community through the power of arts. "We help teach communities how art work is made," states Hot Works, "and further enhance the involvement of the community with our events."
Through its Youth Art Competition, the Institute encourages kids in grades K–8 to create and display their own works of art with a chance to win cash prizes.
For both festivals, young artists are invited to create artworks for Hot Works' Youth Art Competition. Click here for a youth application: WWW.HOTWORKS.ORG.
Revised December 25, 2019.