Spotlight on BIFF Elvis tribute artists Dan Cunningham and Rob Lutz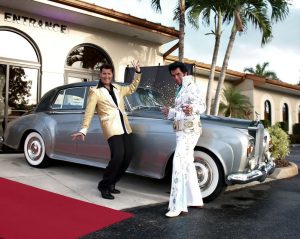 The opening of the 4th Annual Bonita Springs International Film Festival was denoted by not one Elvis tribute artist, but two. They not only provided photo ops for attendees, but supplied the vocals that kept everyone entertained.
The first was Dan Cunningham. He has 15 years of vocal training and has performed for Majic 102.7 Radio, Seminole Casino, Graceland's Crossing and the 2017 Mar-a-Largo Policeman's Ball. Cunningham performs 50s, 60s, and 70s era music. At the opening, he reprised a younger, slimmer and more suave version of Elvis.
Rob E. Lutz portrayed the costumed Elvis fans found in Los Vegas. In real life, Lutz resides up the road in Rotonda West. Always a huge Elvis fan, he has been paying tribute to Elvis for roughly 10 years. Rob is an award-winning Elvis tribute artist, with his most recent accomplishment being a 3rd place finalist in the Images of the King Contest in Memphis, Tennessee. He's placed in numerous other contests, as well as being awarded The Spirit of Elvis Award in Lancaster, Pennsylvania in 2008.
Both Cunningham and Lutz made the evening enjoyable and set the stage for the screening of the festival's opening film, The King, by Eugene Jarecki.
February 23, 2019.