Sea level rise could inundate 1.9 million U.S. homes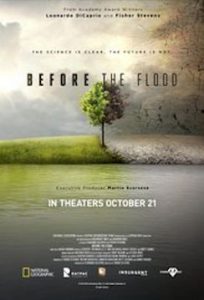 One of the more impactful documentaries screened at the 3rd Annual Bonita Springs International Film Festival was Before the Flood. Directed by Fisher Stevens, the climate change documentary follows Academy Award-winning actor and U.N. Messenger of Peace Leonardo DiCaprio on a three-year journey during which he interviews individuals from every facet of society in both developing and developed nations to discover what must be done today and in the future to prevent catastrophic disruption of life on our planet.
The title of the film may indeed be prophetic. Just before the film's release in 2016, the world learned that five tiny islands in the Soloman Archipelago have disappeared amid rising seas and erosion. While the documentary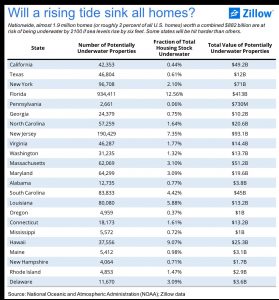 was still being edited, UNESCO warned that projected sea level rise threatens more than a dozen World Heritage sites including Venice, Italy, the Sydney Opera House, the Galapagos Islands, Stonehenge, Easter Island and the Statue of Liberty. And just weeks before the film premiered at the Toronto Film Festival, Zillow warned that its data indicates that the United States alone could lose more than 1.9 million homes if sea levels rise by the six feet projected by climatologists if carbon dioxide emissions continue unabated.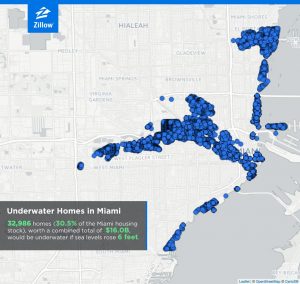 The Paris Accord could result in a reduction of greenhouse gases notwithstanding the Trump Administration's decision to withdraw the United States from the agreement. And sea walls, barriers and other flood-prevention efforts could help minimize the risk of sea level rise in some areas. But notwithstanding these initiatives, sea levels are going to rise. The only que4stion is by how much. It's such a certainty that insurance companies are anticipating it and many cities are planning for it.
"This is going to be a massive issue worldwide," Michael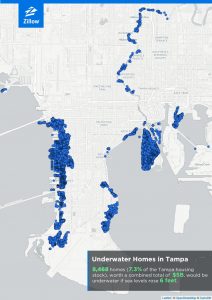 Gerrard of Columbia University, who directs the Sabin Center for Climate Change Law, told The Washington Post's Brady Dennis in a 2016 interview. "We don't know yet the exact pace, but we know it's coming. A certain amount is unavoidable."
Using maps released by the National Oceanic and Atmospheric Administration to determine what coastal areas would be inundated, Zillow then consulted its nationwide database to determine which properties were most at risk of being flooded — at least on the ground level — by the end of this century. And the state most at risk is Florida, which would account for 934,411 of the 1.9 million homes that could be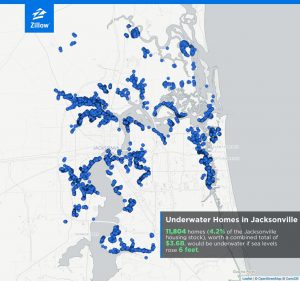 lost to sea level rise.
Miami was one of the endangered cities that DiCaprio visited for the documentary. Even on clear, sunny days, some parts of the city have experienced street flooding through storm drains compromised by high tides. According to Zillow, Miami could lose nearly a third of its housing, though Miami Beach already is spending hundreds of millions of dollars to install pumps and raise sea walls and roads in a bid to stave off encroaching water.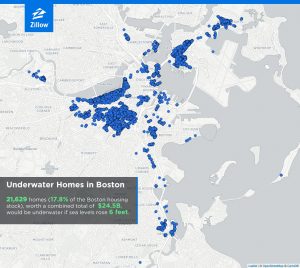 The situation is equally dire in Jacksonville, Tampa and Fort Myers.
Other states at high risk include New Jersey (with 190,429 homes), South Carolina (with 83,833 homes) and Louisiana (with 80,080 homes). Cities in danger include Boston (where one in five homes could be inundated), Honolulu (one in four homes), Virginia Beach, San Diego, Long Beach, Seattle and New York.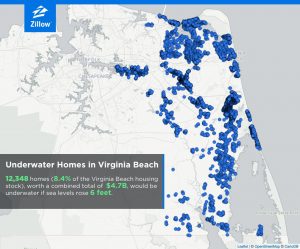 "It's important to note that 2100 is a long way off, and it's certainly possible that communities take steps to mitigate these risks," states Zillow. "Then again, given the enduring popularity of living near the sea despite its many dangers and drawbacks, it may be that even more homes will be located closer to the water in a century's time, and these estimates could turn out to be very conservative. Either way, left unchecked, it is clear the threats posed by climate change and rising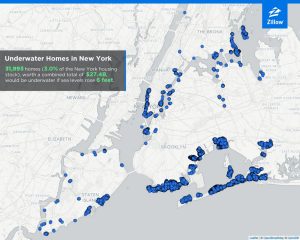 sea levels have the potential to destroy housing values on an enormous scale."
And this was one of the resounding messages of Before the Flood and one of the reasons the documentary was included in this year's edition of the Bonita International Film Festival.
January 26, 2018.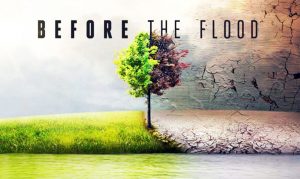 RELATED POSTS.