Cineastes to don flapper dresses and dancing shoes for BIFF opening night red carpet gala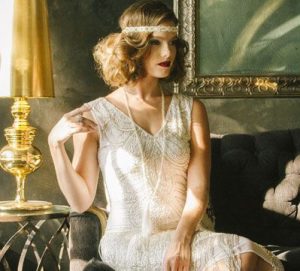 The Hinman Auditorium at the Center for Performing Arts Bonita Springs will be converted into a jazz club right out of the 1930s on Thursday night. The occasion will be the post-screening gala on opening night of the Third Annual Bonita Springs International Art Festival. And VIP guests will be donning their finest 1920s and '30s vintage clothing, including '30s-style evening gowns, iconic 'Roaring '20s' flapper dresses and Jazz Age fringed carwash-hemmed skirts designed to swing and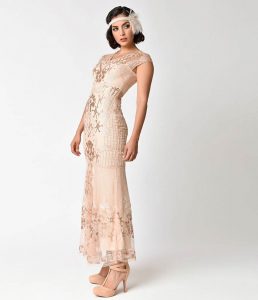 sway as a woman moved.
"We're letting guests know they should think about coming in costume, or accessorize for the 20's/30's look," notes BIFF President Susan Bridges.
For guests opting for '30s attire, the evening presents a rare opportunity to wear styles popularized by starlets like Joan Crawford, Greta Garbo and the silver screen's original "Blond Bombshell," Jean Harlow.
According to Unique Vintage, the most significant fashion trend of the 1930s was attention to the shoulder. "Many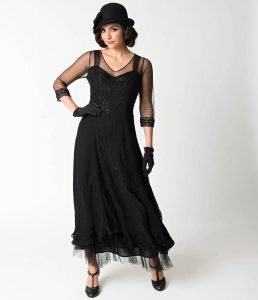 dresses featured puffed or butterfly sleeves as well as exaggerated shoulder pads to give the illusion of a smaller, more feminine waist." Fabrics were cut on the bias for figure-hugging dresses with flowing skirts that ran full-length all the way to the ground. Although hemlines on day dresses returned to mid-calf during the '30s, evening gowns were floor length and often made of fine fabrics such as tissue taffeta, silk chiffon, crepe, satin and silk velvet.
"Open or interesting backs were common," Unique Vintage points out. "The look was clean and lean, with an alluring silhouette, essentially flattering to the figure. Prints were the rage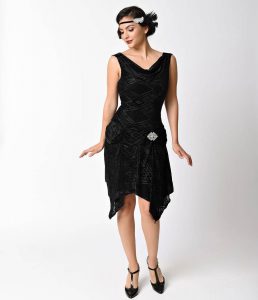 in the '30s and revival-style designs emerged including Grecian and medieval romantic styles. Overall, a much softer, feminine look emerged."
1930s hairstyles were much less polished compared to the finger waves and bobs of a decade earlier. Popular hairstyles remained short, but were much more voluptuous. The curls of the '30s were much softer and slightly longer.
But rightly or wrongly, when people reflect back on this period, they typically remember the short, sequined dresses worn by so-called "flappers" as they danced to the Charleston, Fox Trot, Tango and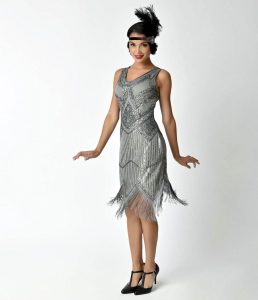 Shimmy in Prohibition-era speakeasies.
"The flapper dress was seen in many different types of fabric and with a variety of adornments including beaded chiffon, lace, velvet, sequins and lame, a 1920s favorite," observes Unique Vintage. "Most often, these beaded overdresses were worn over a slip dress. Many had lots of fringe so that the flapper could shimmy when she danced."
Formal evening wear was most often accompanied with headdresses (headbands), wound around the head, adorned with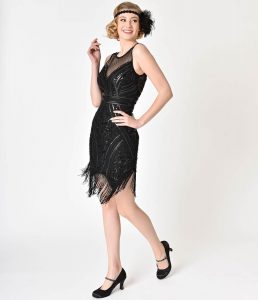 a variety of jewels, medallions and/or feathers. Another favorite was the Art Deco comb. "It was often made of celluloid, available in all shapes and sizes, which included both hand carved and rhinestone versions," Unique Vintage adds. "The turban and cloche hat were also popular. Cloche hats were deep, close-fitting and pulled down to the eye brows. Skull-caps were typical of the vamp style and were inspired by the east and silent films."
Interestingly, although hose featured back seams, they typically came only in black or white because nude was considered too racy, even during an era often considered sexy and sultry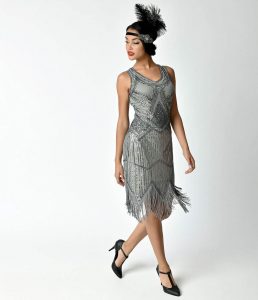 by today's no-holds-barred standards.
Accessories in the '20s included above-elbow evening gloves, fur and boa neck wraps, feather fans and fine mesh and beaded evening bags, with Whiting & Davis the favored brand of the day. But it was the wild hairstyles people go out of their way to replicate today. They consisted of boyish bobs worn with headbands and the finger wave, which involved setting the hair by pinching it between the fingers and combing it in alternating directions to create that signature wave shape.
Whether the film lovers who turn out for BIFF's spectacular opening night opt to pay homage to the Roaring 20s or 1930s, the red carpet on Thursday night will undoubtedly be the place to be and be seen.
You can purchase tickets for the film and gala here.
January 20, 2018.
RELATED POSTS.
Vince Giordano and The Nighthawks documentary to open Bonita International Film Festival