'Piper' an achievement in photo-realist animated storytelling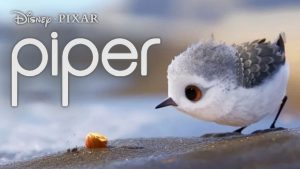 On Friday (January 26), the Bonita Springs International Film Festival screened its first of two short film packages. Among the six shorts included in this segment was Piper, an animated film made by Pixar's Alan Barillaro.
Piper tells the story of a baby sandpiper who overcomes her fear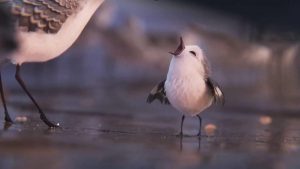 of water as part of her rite of passage to being able to feed herself. The project actually began as a tech experiment in photorealism in the tradition of another film in the same short package, The Blue Umbrella.
What fascinated Barillaro was how a flock of birds would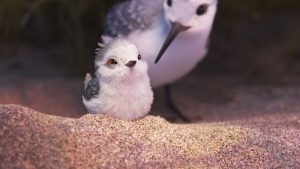 flee from the water and then return to eat when the waves were gone. "But how do we tell a story with little birds that's not anthropomorphized – by doing it in the way that classical animation does best [pantomime] and ultimately finding new ways of exploring that," Barillaro told IndieWire.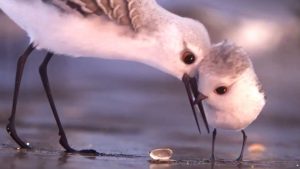 But Piper was also very personal story for Barillaro, who is presently doing the animation for The Incredibles II. Like his mentor, Andrew Stanton (Finding Nemo), Barillaro wanted to explore proper parenting through the hatchling and her mother.
"I'm talking about my own kids and I worry that I'm being over-protective as a parent," Barillaro said in the IndieWire interview. "You want to save them from all their mistakes. So the mother bird represents the parent I wish I was in many cases, that can stand back and let your kid grow up, and that they're way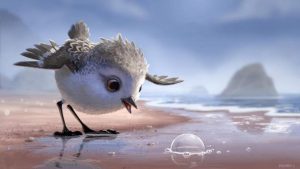 more resilient than you give them credit for."
In the process, Piper broke new ground at Pixar in photorealism. (The first attempt was another of the films in this short package, The Blue Umbrella. Inspired by macro-photography, the scale was crucially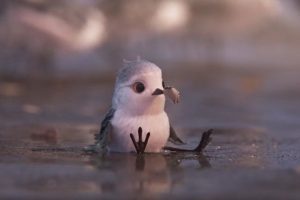 from her bird's eye view (which Barillaro and Pixar achieved with the help of RenderMan). Overall, though, the look was naturalistic, utilizing shallow depth of field and long lenses, but "more poetic, caricatured with an emotional quality. No arm gestures.  It's about believability. And when he's creeped out and scared, he has his own little hair style."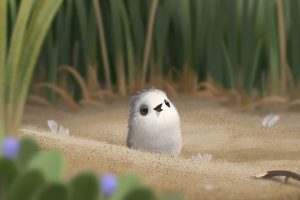 Before pitching the project to Pixar, Barillaro conducted some preliminary R&D designed to enable him and his artists to develop greater sculpting control. The led to the development of a sculpting brush called Presto, which breaks down the model into layers and allows further refinements in posing and silhouettes.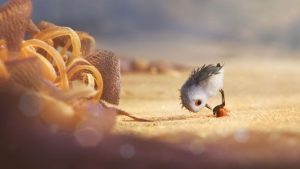 How to animate between 4 and 7 million feathers became their biggest challenge. Bubbles were equally problematic.
"This is the first as far as I know an animator shaping the bubbles as 12 separate sculpts that he filmed and referencing that," Barillaro told Bill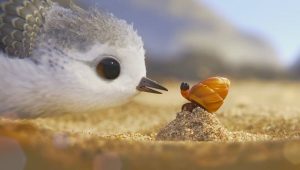 Desowitz in a 2016 article titled "Piper' Short First Look: A Pixar Photoreal Adventure."
"We've never done sand grains that detailed before," the director added. "And for you to care about the character, feathers became important because it was how birds express themselves."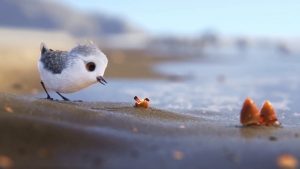 Judging from the reaction of the BIFF audience, the end result was a resounding success. But from Barillaro and Pixar's perspective, Piper is just one more step in the process of developing photo-realist tools with which to tell compelling stories.
January 26, 2018.
RELATED POSTS.
Vince Giordano and The Nighthawks documentary to open Bonita International Film Festival