'Talk to Me' actor Judy Copeland scores Best Actor at Fort Myers Beach Film Festival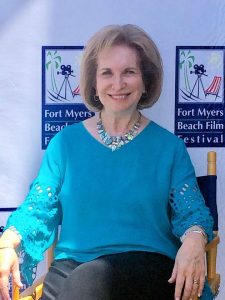 Judy Copeland received honors as Best Actor at this year's Fort Myers Beach Film Festival for her role in Mark Stolzenberg's People's Choice short film Actors Anonymous. It is the latest award for the actor/producer since returning to film after a lengthy lay-off.
The lay-off occurred early in Copeland's life. After studying theatre at Boston University, Judy had big plans for a career in film or on stage. Like many aspiring actors, she waited tables to earn a living while auditioning for roles. Then, she came to the realization that she just couldn't waitress one more day, so she gave up acting, got a real job, and established a career outside of film and stage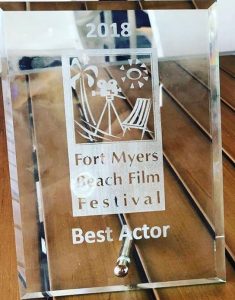 (which included serving as Director of Marketing and Communications at Morgan Stanley). But after retiring to Florida, she decided to return to what she really loves doing. Since then, she's been in several films, including Talk to Me (2017), Happy Family (2016), The Bright Side (20-16), Sisters (2015), I Love You Now Die (2014), Shlomo Pussycat and Tommy and Teresa.
Talk to Me and Happy Family won back-to-back Best Florida Film awards at the Bonita Springs International Film Festival. Shown to date at 12 film festivals, Talk to Me has won a total of four festival awards.
In
Talk to Me, Copeland plays a disgruntled psychotherapist by the name of Dr. Jocelyn Fieldstone. Burned out, she decides she doesn't want to be around crazy people anymore. But in her quest to establish a new career, she discovers that the bosses who interview her are crazier than her patients. Not only did Copeland star in the 19-minute dramedy, she co-wrote the screenplay with Mark Stolzenberg, who also directed the film.
Happy Family follows a mature, childless woman named Joy who, after hearing her friends brag endlessly about their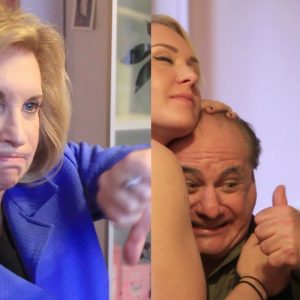 children, convinces her husband to adopt. When they approach an agency about adoption, they discover they are disqualified by their age from adopting a child, but for an additional fee of $10,000, they can adopt an adult son or daughter. They willingly fork over the doe, but quickly discover that the adoption process is fraught with nasty surprises and heart-rending disappointments and, to boot, Joy's friends are not as happy with their children as they'd like everyone to think they are.
While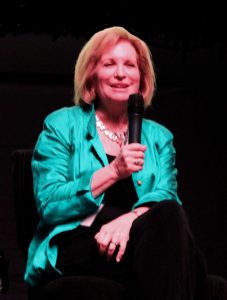 Copeland did not write the screenplay, she provided the storyline to writer/director Mark Stolzenberg.
"Happy Family was inspired by several of my friends in the Women's Cultural Alliance," said Judy in a Q & A that followed the film's BIFF screening. "They were having a conversation about their children and I had nothing to add because I didn't have any children. Afterwards, one of the women came up to me and said, 'I forget that you don't have children and I hope we weren't being terribly insensitive.' Bells immediately started going off in my head, and I realized there was a film in that comment."
Joining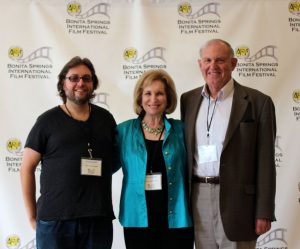 Copeland on the cast of Happy Family were Stolzenberg along with Beth-Ann Borensweig, Sandra Clopp, Danielle Dastis, Helen Mandlin, Rachel Rivera, Annette Silva, Antonina Vasilyeva, and Vinit Dubey. Mark Schulman served as executive producer, Eric Alexander serving as cinematographer.
It was Alexander who wrote and directed The Bright Side, a 16-minute short in which Copeland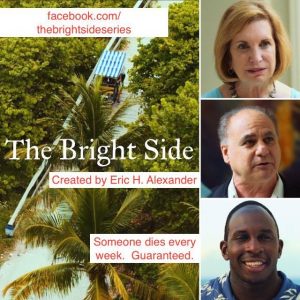 portrays an unrepentant Black Widow with a string of dead husbands along with a chauffeur who was trying to blackmail her. Awakening on a chaise lounge in a nether world where she is served sumptuous hors d'oeuvres and cocktails by a tuxedoed waiter on a Segway, she quickly discovers that she has one last chance to confess her sins before her body dies and she moves on to the next plane in her physical-spiritual existence.
In addition to acting and co-producing, Copeland has served as a judge at the Fort Myers Beach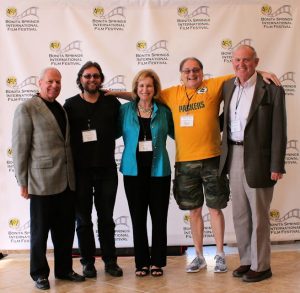 Film Festival and is Director of StayinMay Short Film Fest, which seeks to introduce the best independent films and filmmakers to Naples and all of Southwest Florida. Throughout the three nights of the short film fest, Judy brings filmmakers, actors, and producers to interact with the area cineastes. Combining the best of the arts in Naples with amazing talent from around the globe, the StayinMay Festival (formerly the ArtsNaples World Festival) presents concerts and events spanning art,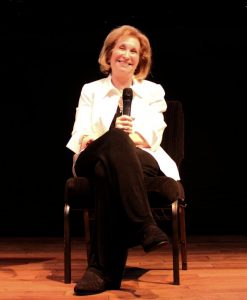 chamber music, cinema, culinary, dance, opera, fashion, theater and orchestra at multiple and unique venues across Naples. This year's festival continues through May 12.
Judy and her Executive Producer husband, Mark Schulman, split their time between their homes in Monmouth Beach, New Jersey and Naples, Florida. You may have also seen Judy recently on the Moe Auditorium stage at the Center for Visual Arts Bonita Springs, where she has participated in staged readings of Imagine This on March 16 (where she was a talk show host who has a complete meltdown live on her show a' la Jane Fonda in Monster-in-
Law) Suite Atlanta this past February 16 (where she portrayed a hard-nosed, no-nonsense casting director) and Tales of the Pea Sea in January.
While it remains to be seen whether Copeland will appear on stage in a full theatrical production, local indie film audiences can expect to see her in more productions in the coming years. Besides acting, she is likely to play a crucial role as both a screenwriter and producer, if not a director as well.