January, 2017 T.G.I.M. celebrity judge Jordan Axelrod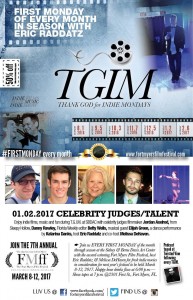 The Fort Myers Film Festival starts off 2017 right with screenings of several films that are under consideration for inclusion in this March's 7th Annual Fort Myers Film Festival. Thank God for Indie Monday takes place in the grand atrium of the Sidney & Berne Davis Art Center on Monday, January 2. Doors open at 6:30, with screenings beginning promptly at 7 p.m.
Each month, hosts Eric Raddatz and Melissa DeHaven empanel a group of celebrity judges to comment on each screening and kick start the lively audience participation session that follows. One of the judges for this Monday's T.G.I.M. is N.Y.U. grad and filmmaker, screenwriter and director Jordan Axelrod.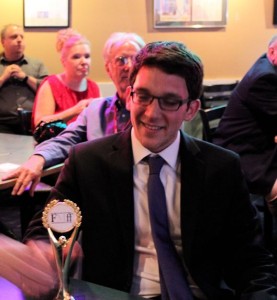 If the name sounds familiar, good for you! That means you attended last year's Fort Myers Film Festival. Axelrod not only had a 20-minute short titled Seven-Ten Split juried into the festival, he received Best Student Film honors for the entry.
The film presented two parallel stories taking place within a small town bowling alley. One depicted a shy college grad whose anxiety about his impending blind date overwhelms him prior to the girl's arrival. The other follows a young teen named Annie, who is also waiting for a date – and possibly her first kiss –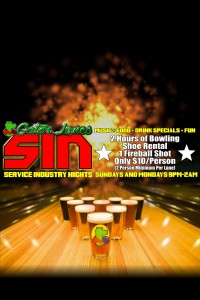 and the deep, but short-lived connection she forms with Paula, a lonely employee of the bowling alley.
"Jordan Axelrod is going to be making big films in the next few years, you'll see it happen," FMff Director Eric Raddatz predicted at last April's awards ceremony. "I think he was in junior high when we started the film festival, so he didn't even know how to talk to girls at that time. He's still there," quipped Raddatz, teasing that there could be something of an autobiographical connection to the college grad depicted in the film's first storyline.
"Since I came from here, it's very special to show the film here first," said Axelrod, who used to volunteer at the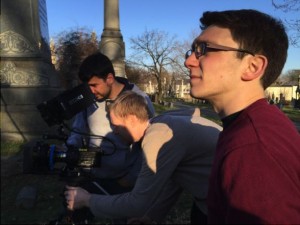 Fort Myers Film Festival. But turning serious, Jordan was quick to recognize the influence that his uncle exercised on every aspect of his life outside of Seven-Ten Split. "He passed away a week before we shot," Jordan noted, caressing the award in his right hand. "The film is in memorial for him."
During his time at N.Y.U. Tisch School of the Arts,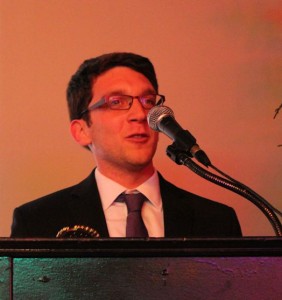 Axelrod wrote and directed numerous short films while developing and writing a feature screenplay. He also worked in the camera department of Jason Bateman's 2016 film, The Family Fang (starring Bateman, Nicole Kidman, Christopher Walken and Maryann Plunkett) and shot and edited behind the scenes material for the Broadway musical adaptation of the 2003 film School of Rock with music by Sir Andrew Lloyd Webber. Inspired by the work of Alexander Payne, Richard Linklater, and Mike Nichols amongst many others, he hopes to continue the legacy of filmmakers who create work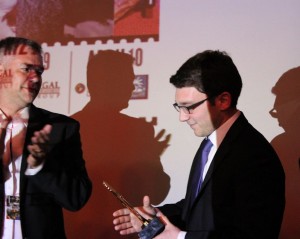 that both entertains and moves audiences.
December 30, 2016.
Related Posts: