World premiere of 'Bubbles' horrifies audience and scares T.G.I.M. judges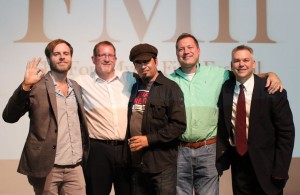 Last night, co-hosts Eric Raddatz and Melissa DeHaven screened a local film that is being considered for inclusion in next March's edition of the Fort Myers Film Festival. Starring local portrait artist Eric Riemenschneider and filmed by Tyler Shore, Bubbles was written, co-produced, directed and co-starred by popular mixed media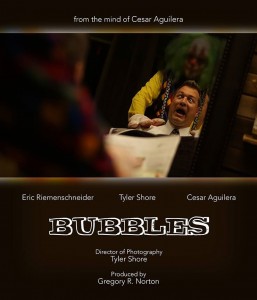 artist Cesar Aguilera, who just finished a solo show in September at the Sidney & Berne Davis Art Center.
The six-minute film is a horror. Riemenschneider plays an abrupt and abrasive business executive who stops in a barber shop for a haircut. Cesar Aguilera plays a serial murderer who is dressed in a blood-stained clown outfit. It is not clear from the film whether Bubbles the clown has offed the barber or is the barber, and it's ambiguous whether he was intent on hacking the exec to death from the outset or was provoked by the exec's condescending attitude. But for five of the six minute running time of the film, the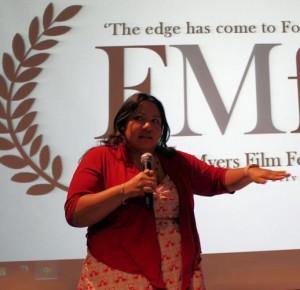 viewer assumes the point of view of the exec, who finds himself cast into the dark, looking for a means of escape in the pale light cast by the flashlight feature of his cell phone. The action is disorienting, intense and enthralling (although you will have to see the film for yourself to learn whether the exec escapes or has his Bubbles burst).
Morning Blend producer Toni Gonzales found much to like about Bubbles. She applauded Aguilera and filmmaker Tyler Shore for their shot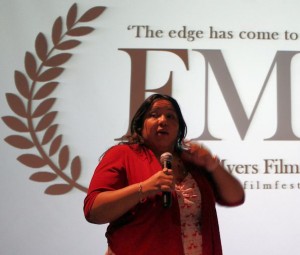 selection, cinematography and the film's introductory sequence, but she found fault with the fact that the film started in the third person and then abruptly switched to first person point of view. "I'm not a big fan of the point of view change," said Toni. "Either let the story unfold in front of me and let me be an observer of it, or let me go through it with you." Still, Gonzales found the effort "awesome" and looks forward to seeing more from this filmmaking trio.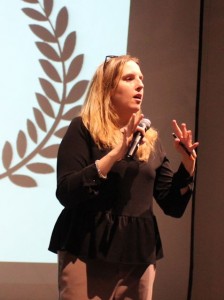 Like Toni Gonzales, celebrity judge Jamie Hufford liked the opening credits. "I thought, oh, it's going to be a nice period piece," said Jamie. "And then, that happened!" Hufford evoked a cascade of chuckles and guffaws when she confessed that she had some difficulty focusing because, knowing that Aguilera, Riemenschneider and Shore were in the T.G.I.M. audience, she found herself glancing over her shoulder, half expecting Bubbles the clown to dart across the grand atrium's polished marble floor in some kind interactive, crowd participation scenario. (In Hufford's defense, stranger things have happened during T.G.I.M. screenings.)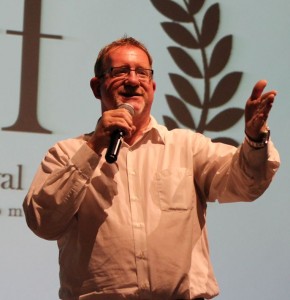 Celebrity judge Don Molloy copped to being extremely scared. He felt that the sound, the music and the cinematography all worked synergistically to ramp up the fear factor invoked by the film. In fact, Molloy compared Bubbles favorably with Angel Heart starring Mickey Rourke, "My wife will attest to the fact that when I'm scared, I jump. And I jumped. I did. So if that's what you were going for, it really worked."
Bubbles has been percolating in Aguilera's head for roughly two years. But it was a happenstance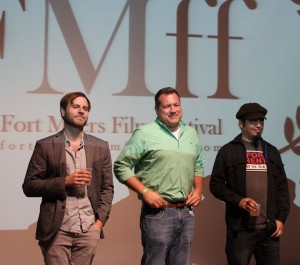 meeting with Tyler Shore at one of Aguilera's art shows that propelled the project from concept to reality. "I told him my idea, and he said let's run with it," Cesar told the T.G.I.M. audience after the screening last night. "It was a no budget film. I paid everyone who worked on the film in chicken."
Aguilera has made cameo appearances in other films, including Karen Whitaker's 2016 Fort Myers Film Festival Audience Favorite Film Ring, but he has long yearned to write, co-produce and star in a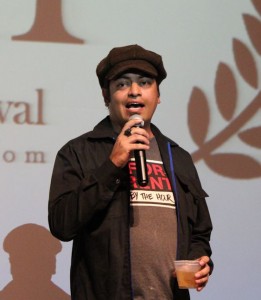 film of his own.
There is more to the film than just one's worst nightmare. Like too many people we encounter on a daily basis, Riemenschneider's character doesn't even acknowledge the barber when he first sits in his chair. "Just because you drive an expensive car, live in a nice home in a upscale part of town or have a few more zeroes in your bank account, does not make you any better than anyone else," Aguilera observed. "We all breathe the same air, drink the same water. But we all have a trigger point. You have a menial job like cutting people's hair and someone mistreats you like this,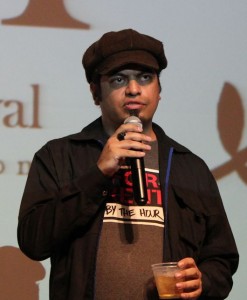 it may not turn out well."
However, Aguilera's explanation of Bubbles' motives does not ring entirely true. While feelings of being disrespected, bullied or an outcast have admittedly led to some of the worst instances of rampage violence in U.S. history from Columbine to Virginia Tech and beyond, mass murderers usually plan their attacks in public places during daylight hours and include their own demise as the ultimate denouement of their lethal plan. A serial killer, by contrast, is more maniacal. Because he has an insatiable appetite for killing, he wants the death spree to go on and on. Toward that end, he works hard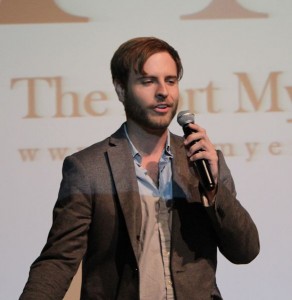 not to get caught. Bubbles seems to fit this profile more comfortably, and if so, there is no need to assign a rational motive to his murderous machinations. In fact, it is probably more horrifying to the viewer to realize that life is so fragile and precarious that any routine chore or task can place one in mortal jeopardy.
And that raises yet another interesting conundrum when it comes to analyzing this film. As celebrity judge Toni Gonzales astutely observed, the film shifts fairly quickly from third person to first person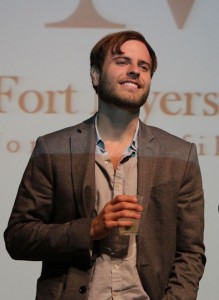 point of view. In first person POV, the viewer steps into the mind, body and shoes of the protagonist, and yet, the character we assume in this story is an unlikeable, detestable business type who probably deserves his upcommance. Would not the audience's identification with the protagonist be easier and more complete if he had been portrayed as a more likeable and sympathetic person? Hmmm.
No matter how audiences and the filmmakers sort out these and related issues, it is clear that we can expect to see more of Bubbles going forward. In fact, Shore intimated that Bubbles is just the first of many collaborations that he and Aguilera are planning for the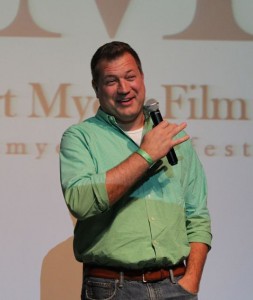 future. "When I first met him at that art show two years ago," admits Shore, "I was mesmerized by his mind and where it could take us."
And count Riemenschneider in as well.
Riemenschneider has recently transitioned from a career in art education to one in home and casualty insurance. Acting was the last thing on his mind. But when Aguilera put out a call for an executive type for a role that does not end well, he immediately sent Cesar a head shot in his new business threads. It didn't matter that there was no money involved.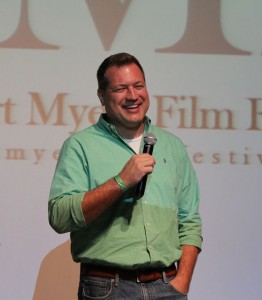 "I didn't even need the enticement of the chicken," quipped Eric. "I'm definitely going to do more with these guys," Eric added. "This town needs more of this." It was a sentiment that elicited whistles and wild applause from the T.G.I.M. audience.
If the applause and positive feedback is any indication, Bubbles seems a lock for inclusion in the Seventh Annual Fort Myers Film Festival. So if you missed last night's T.G.I.M., don't despair. But it is world premiere screenings like Bubbles that you're at risk of missing when you don't intellectualize with the sharpest, most savvy, and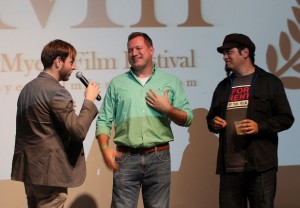 sexiest crowd in town. T.G.I.M. next visits the Sidney & Berne Davis Art Center on December 5. Return often for more details.
November 8, 2016.
Related Posts: