Cindy Chase turns in Tony-like performance in Lab Theater's 'Wings'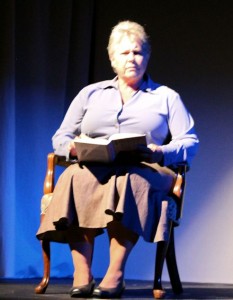 Every so often a play comes along that is so novel, so inventive, so impactful that it stays with you long after the final curtain. Lab Theater's production of Arthur Kopit's Wings is such a play.
The Southwest Florida theater circuit does not have an award similar to the Tonys. If it did, lead actress Cindy Chase would unquestionably deserve consideration. Chase plays Emily Stilson, an elderly woman who undergoes a stroke in the play's fractured opening scene and is then propelled into a topsy-turvy, death-defying existential quest to rediscover herself in the lost vocabulary of her inaccessible mnemonic archive. But Chase does not merely portray Emily Stilson. She is Emily Stilson –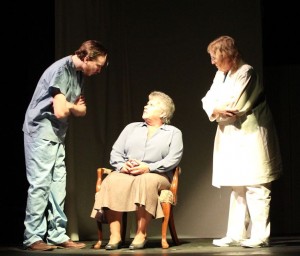 every second of every minute she is on stage during this 70-minute, no-intermission production.
Chase's identification with Stilson is authentic. While she has never suffered a stroke, she did have a brain tumor six years ago. But to experience what her character endures in the aftermath of her cerebral infarction (the medical terminology that describes the death of cells and neurons when a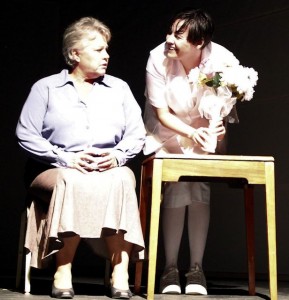 clot or blockage cuts off blood supply to a portion of the brain), Chase participated in rehab sessions at Cape Coral Hospital for more than two months. The Lab audience is the beneficiary of Chase's dedication and hard work. Chase becomes the portal through which the audience is given the inestimable privilege of witnessing, in a deeply personal way, what it's like in the moments before and the eternity following "the accident."
Chase is aided in this endeavor by the incredible lighting, sound and special effects that Lab Theater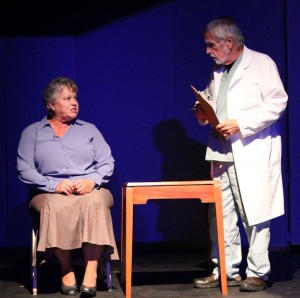 has linked together in order to put the audience in Emily's mind and body. Technical Director Matt DeNoncour and Production Manager, Sound and Video Designer Brandon Grendell have created a series of arresting audio tracks that give voice to Emily's shattered, splintered and surreal world during her stroke and other crucial scenes. Played over The Lab's nine -speaker Dolby surround sound system, these audio snippets work synergistically with a network of flashing and strobe lights to disturb, disorient and hook the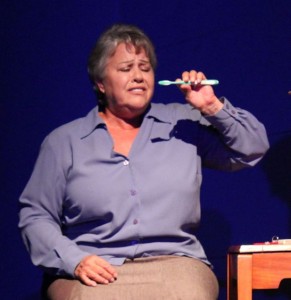 audience into the action in a way that's rare within the limited budgetary confines that typify most community theater productions. It's an ambitious undertaking that requires split second timing and unflinching concentration to make it all work, but Technical Operator Rose DeLeon is equal to the task. In just the plays' initial ten pages of script, DeLeon has to respond to no less than 40 separate sound and lighting cues! The pace remains frenetic throughout the show.
While this production is an unqualified triumph of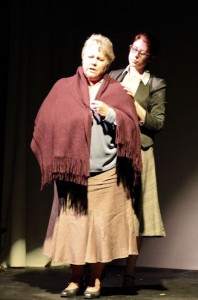 technology in theater, it is so much more. As we watch Emily's descent into turmoil unfold from the edge of our seats, sometimes on the verge of tears, she changes from stranger to cherished friend or family member largely because of Chase's ability to deftly convey a staggering range of human emotions that resonate deep within our core. Don't be surprised if you find yourself wanting to envelop her in a warm, protective hug.
The rest of the cast deserves mention as well. Kate Dirrigl excels as Emily's patience-of-a-saint therapist Amy, and Louise Wigglesworth, Patrick Erhardt and Steven Coe are unforgettable in the group therapy scene in which their characters revel in the glories of cheesecake and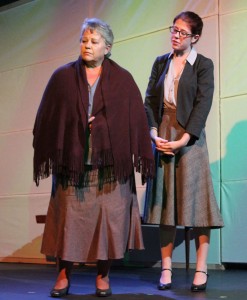 celebrate every breakthrough in regaining their mastery of language.
"Wings" is packed with poignant episodes that explore the intersection of memory and self, illustrate the fragility of our grasp of the past, and pay tribute to human spirit's ability to accept and transcend the tragedies and losses we inevitably endure. In one such scene, Emily rediscovers snow, not from seeing an accumulation of flakes on the seat of a nearby bench, but by picking them up and putting them in her mouth. In another, she learns anew that there's a word for the warm wetness running down her cheeks as she sits in the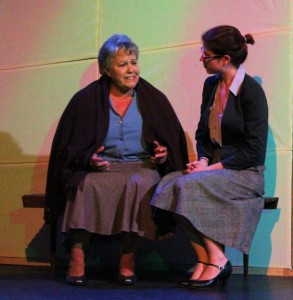 open cockpit of an old bi-plane her son takes her to see. While she cannot independently recall cartwheeling across the plane's wings tethered to the struts by a line spectators cannot see from the ground, she can nonetheless relive her glory days as an aerial acrobat deep inside her gut.
This is the very essence of the play. "Wings" reminds us that our sense of self is tied inextricably to language and memory. If we lose either, we lose all or a part of ourselves. And while some stroke veterans may be trapped intact inside of their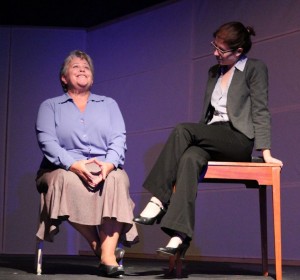 bodies, others lose themselves and are required to create a new person and awareness of self that is strangely devoid of the past.
The Laboratory Theater of Florida is located at 1634 Woodford Ave. in downtown Fort Myers. Please visit http://www.laboratorytheaterflorida.com or telephone 239-218-0481 for play dates, times and ticket information.
November 10, 2016.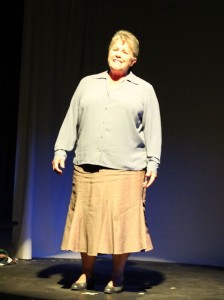 RELATED POSTS