Meet 'Paradise Reef' cinematographer and commentator Andy Brandy Casagrande IV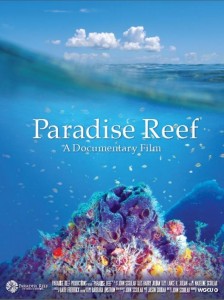 The Fort Myers Film Festival takes place at several Lee County venues March 8-12. One of the films included in this year's edition is Paradise Reef, a 56-minute documentary directed, filmed and edited by John Scoular. Three years in the making, the documentary follows a visionary's quest to secure BP disaster funds, rally community support, and deploy 18,000 tons of concrete to create 36 artificial reefs along Florida's Paradise Coast. Paradise Reef is the third Scoular film to be screened by FMff.
Although Scoular shot the majority of the film, he brought in world-renowned underwater cinematographer Andy Brandy Casagrande IV and his wife, Emma, for the underwater sequences shot in 5k on Red Dragon with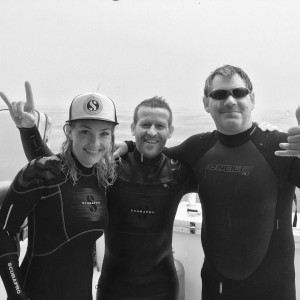 a Gates underwater housing. Born in Sweden, Emma met Andy in 2007 on a trip to East Africa. While Emma's passion for animals, travel, the world, different people and culture was already a big part of her life, the frequency and location of her wildlife trips went to a new level after meeting Andy.
Andy Brandy Casagrande IV is an two-time Emmy-Award-winning cinematographer, field producer and television presenter specializing in blue-chip wildlife / natural history documentaries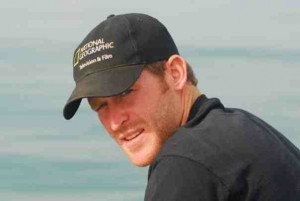 around the world. From super-slow-motion-high-speed and thermal-infrared to night-vision and remote-controlled spy-cams, Andy shoots with the most advanced camera technologies on the planet and continues to push the boundaries of wildlife filmmaking to shed new light and perspective into the hidden lives of the planet's most feared and misunderstood predators. So, whether his subjects are king cobras,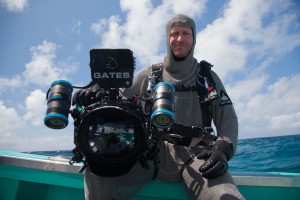 killer whales, great white sharks or polar bears, Andy's innovative cinematography and unorthodox camera techniques are helping revolutionize the way the world sees and perceives wildlife.
But Andy makes no excuses. He loves to shoot sharks more than any other animal species.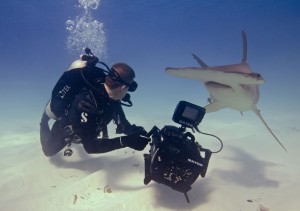 "Andy Casagrande had dreamed of swimming with sharks ever since he was a kid growing up in a small town near Pittsburgh," wrote Bill Morris for PM in 2013. "He finally got his chance in 2005. Armed with nothing but a Sony Handycam in a DIY waterproof case and his own nerve, Casagrande slipped over the side of a boat and into the waters known as Shark Alley, off South Africa's Western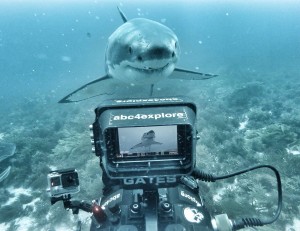 Cape province. Within seconds, Casagande's dream was coming all too true: A great white shark came gliding toward him."
He's been swimming among and photographing sharks ever since. In fact, his defining work is filming for Shark Week, the Discovery Channel's annual programming extravaganza featuring shows such as Into the Shark Bite and Impossible
Shot. In fact, he's become something of a poster boy for Shark Week. "He's known as the shark guy, but his work is much more diverse than that," Travis Pynn, a GoPro engineer, says. "He's incredibly inventive and resourceful. He has unique vision."
The latter attribute was illustrated in 2012 when Casagrande captured the first-ever "seagull's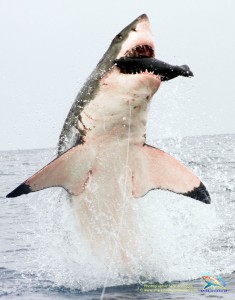 perspective" of a breach by a great white. "[He used] using a rig with a 3000-frame-per-second camera carried aloft by a massive helium balloon tethered to the photographer's boat," reported Morris in the PM piece. "[T]he shark attacks a seal-shaped decoy positioned below the camera and thrusts skyward, 12-plus feet of fish getting airborne. For Shark Week [2013] he created a fin cam—essentially a GoPro camera attached to a pair of barbecue tongs—to record the shark's point of view. All of this work (in addition to other wildlife footage he's taken with homemade rigs) places Casagrande at the forefront of the DIY adventure video genre. It's the stuff of millions of YouTube clips and has become a mainstay of extreme-sports TV."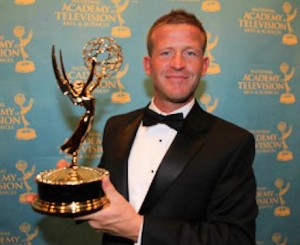 In addition to Discover Channel, Casagrande has shot and produced films for the world's top television networks including National Geographic, the BBC, ABC, NBC, CBS, Fox and Animal Planet. It was his camera work for the National Geographic series Great Migrations that won him the 2011 Emmy Award for Outstanding Cinematography—Nature.
All totaled, he has more than 100 wildlife films to his credit.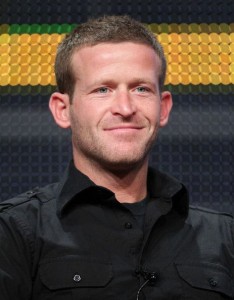 Some of his better known projects are Africa's Lost Eden (2010), Planet Ocean (2012), Bride of Jaws (2015) and last year's Sharks Among Us, Air Jaws: Night Stalker, Jungle Shark, Isle of Jaws and Wrath of a Great White Serial Killer. While his film anthology is decidedly shark intensive, through his growing body of work Andy hopes to draw attention to the fact that humans are a far greater danger to sharks than sharks are to us. (You can read his interview by Shark Angels here.)Andy's life-long mission is to inspire people to care about our planet and its vanishing wildlife.
February 27, 2017.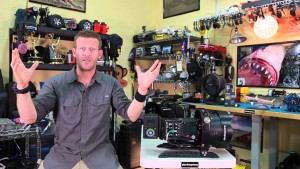 RELATED POSTS.