Meet 'Paradise Reef' writer and director John Scoular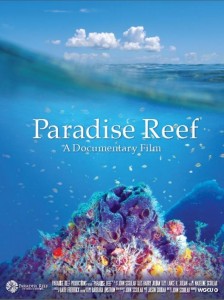 When local audiences met John Scoular last year, his documentary, Marcus Jansen: Examine & Report, was opening the Sixth Annual Fort Myers Film Festival. So what did John do for an encore? He made a documentary that won a local Emmy award. That documentary is Paradise Reef, and it's one of the films that's been juried into this year's edition of the FMff.
Even before Paradise Reef, John was an award-winning filmmaker, director, producer and cinematographer. He and his wife, Madeline, own and operate Scoular Image, Inc., an HD multi-media video production and still photography company dedicated to creating and developing innovative, character-driven content for its clients.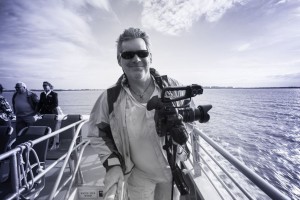 With a unique vision and commitment to the story, Scoular Image produces commercials, documentaries and other films. And in partnership with Marine Team International, Scoular Image also provides underwater, open boat and aerial video production under the banner of Pure Image Productions. "Most commercial directors dream of doing a feature film," John quips.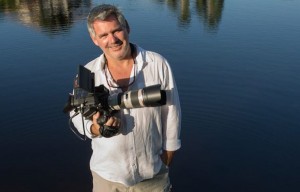 "We did a feature film first and now we do commercials. That's how we roll."
It all started when John attended the University of Texas El Paso, where he studied communications and drama. Inspired by Joe Namath and Steve McQueen, he was on full scholarship as UTEP's quarterback. But the NFL was not in John's future, so after college,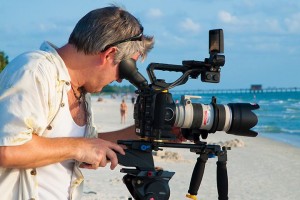 he moved to New York, where he studied at H.B. Studios before relocating (after a brief respite working at South Seas Plantation (now South Seas Island Resort) in Fort Myers) to Los Angeles to continue theater studies at The Beverly Hills Playhouse. "Playing in front of 50,000 at the Sun Bowl or 50 at the Santa Monica Playhouse was pretty much the same," John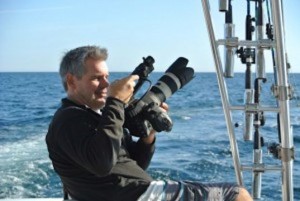 relates matter-of-factly.
Acting in small theaters across L.A., Scoular began writing and directing both stage plays and short films, paying the rent by working for some fantastic commercial and music video directors. "Getting paid to learn the film industry was priceless," says John of the experience. Not satisfied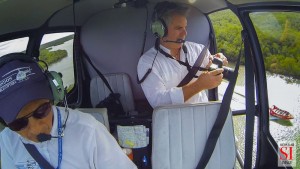 with his lighting and camera skills, John enrolled at The Los Angeles Film School, where he majored in Directing, Cinematography & Screenwriting.
Upon graduating with honors John directed his first feature film from his original screenplay,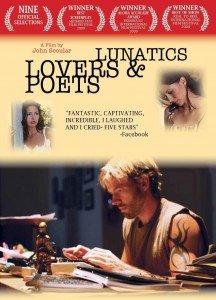 Lunatics, Lovers & Poets. Produced by Madeline and Jeremy Robinson of Brickyard Films, the indy film won six awards at film festivals across the country, including Best Screenplay (Methodfest), Best Feature (Fort Myers Film Festival), and Best Director. And without any studio backing, it was released in 15 states through Carmike Cinemas, the fourth largest chain in the country. The film is available on DVD and VOD from Amazon.
After landing in Naples and adding a third child to their family (they now have four), John and Madeline began work on a feature film called Saltwater Cowboys and not one, but two documentaries, Paradise Reef: The World is Watching and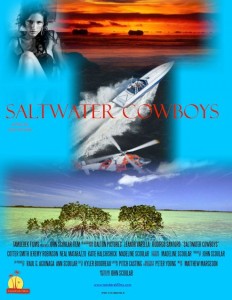 Marcus Jansen: Examine & Report, a documentary that introduced viewers to the world of contemporary art through the vantage of the work of local artist and Fort Myers' favorite son Marcus Jansen.
It just so happened that John and Madeline completed work on Examine & Report first, and that's the film that FMff featured at its opening night red carpet gala in 2016. But by June, Paradise Reef was also in the can. Presented by Barbara Linstrom and WGCU-PBS, the film debuted on June 30, 2016 and has since been viewed in over 1195 cities and in more than 29 countries. In fact, Paradise Reef was WGCU-PBS's most watched online video in 2016 with over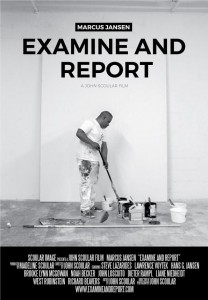 4,000 views. It ended the year with Suncoast Chapter of The National Academy of Television Art & Sciences' 2016 Suncoast Regional Emmy in the Topical Documentary category.
"I feel fortunate," John told Sanibel Captiva Coast's John Sprecher in an interview last year. "It took 20 years and a lot of twists and turns. Like in football, sometimes you're in the zone and sometimes you're not, and for whatever reason, [I was in the zone in 2016]."
Last year couldn't have turned out better had John written the script for 2016 himself. bserving that projects for Southwest Florida filmmakers are not as abundant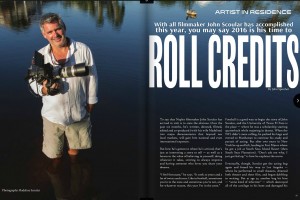 as they were back in L.A., John decided to create a niche for himself and Images. "I decided I was gonna be the water guy," he says. "So pretty much I shoot on water, whether it's in the swamp, on a chase boat or in a chopper." But he is quick to give credit in that endeavor to Lance and Harry Julian, who founded their own water-based company when they relocated to Florida several years ago. At one time, the father-son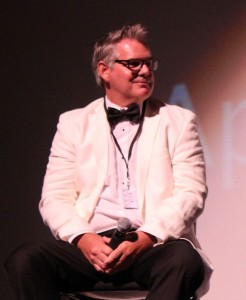 tandem were among  Hollywood's leading marine production companies for film and television, and while their concern, Pure Florida, is primarily a boat tour and rental company, it also serves as a platform for on the water, above the water and underwater film project like Paradise Reef.
Based upon Paradise Reef's success, it's likely the first of many successful ventures. At least, cineastes here in Southwest Florida certainly hope it is.
February 26, 2017.
RELATED POSTS.