Meet 'Three Wishes' writer, director and producer Curtis Collins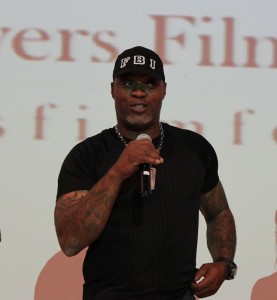 Filmmaker Curtis Collins has been making quite a splash locally, not with Three Wishes, but with his first full-length feature, Hanging Millstone.
Hanging Millstone is a micro-budget thriller/courtroom drama about human trafficking. The action centers on a young girl who is kidnapped outside a local convenience store. Filled with action, tension and raw emotion, it is designed to be thought-provoking as the girl's parents realize their worst fears as they are forced to confront the way in which their decisions have affected their daughter. Collins is hoping to sell the film to Netflix or Hulu as a miniseries.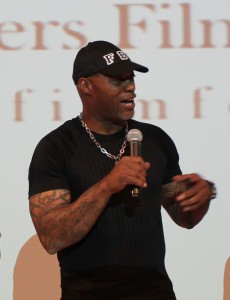 Due for release as early as March of 2017, the film is currently in the final stages of editing.
The film boasts a cast of more than 80 actors and extras, and during the filming, Collins and his crew found it necessary to close downtown Fort Myers to vehicular and foot traffic more than half a dozen times while shooting the film. Each time, they were pleasantly surprised to not only have the full support of Mayor Randy Henderson and his staff, but to receive the assistance of a complement of 16 police officers, including S.W.A.T.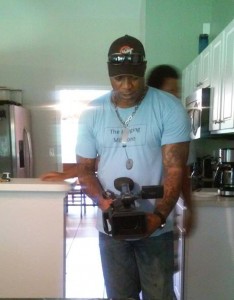 "We're trying to bring the film industry here," stated Collins, who began filming another full-length feature in January. "In fact, Fort Myers wants to name a film commissioner because they're really serious about bringing Hollywood here. This is a beautiful place to shoot a film, and if you're a filmmaker, our local community will support you."
Filmmakers like Mr. Collins spend dollars on local resources, with out-of-town cast and crew members staying at local hotels and dining at area restaurants. As importantly, their projects bring name recognition and cachet to the settings featured in their projects. Recognizing these and other benefits, the City Council agreed to establish the Fort Myers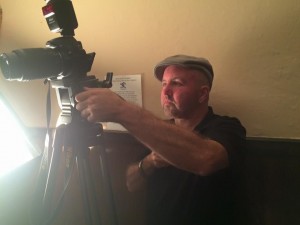 Film Office last year as part of the Community Redevelopment Agency that's located downtown.
Natalie S. Dunham runs the Fort Myers Film Office as part of her job as marketing and promotions manager for the CRA. "Although the city did not dedicate any financial resources to the office, aside from Ms. Dunham's time and creativity,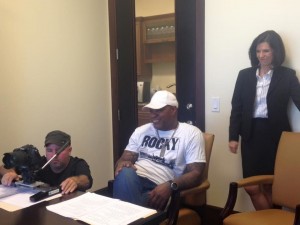 she has been working over the last year to make it a 'resource hub, one-stop shop' for filmmakers interested in shooting projects such as features, commercials and TV shows," reports correspondent Evan Williams for Florida Weekly (09-09-2015).
"They put me in contact with the people I needed to get my permits," says Collins. "They gave me all the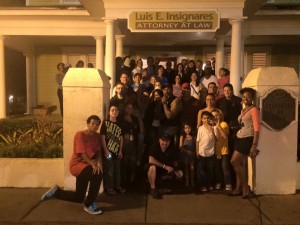 information I needed and pointed me in the right direction."
In addition to help with permitting, Dunham and her office take hundreds of photographs of local settings which filmmakers can view in the photo-library on The Florida Office of Film & Entertainment website. Dunham has also created a production guide that's filled with local services from

catering and costume cleaning to cinematography and editing.
Hanging Millstone grew out of a prior short film by the name of The Hanging Millstone, which was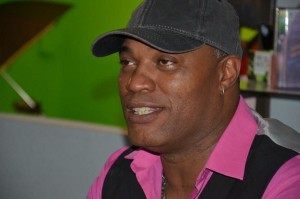 released in 2015. The Hanging Millstone won best local short film honors at last year's Fort Myers Beach Film Festival as well as the People's Choice Award from the 2015 International Ft. Lauderdale Film Festival. Headlining the feature film's cast is Cadence Bambrey-Zedd as Miranda, Deborah Smith Ford as Allie Anderson, Kaycie Lee (pictured with Eric Raddatz) as her daughter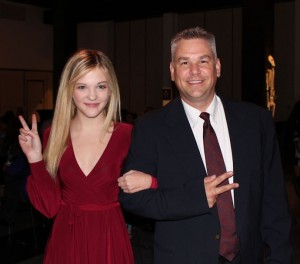 Tesha,  Ryan Milton Pratt as the defense attorney, and Audrey Lynn as the prosecutor.
Collins first became interested in writing in 1992 while attending Ohio University, where he received a degree in business management. Originally from Selma, Alabama, the 46-year-old screenwriter, director and producer now resides with his wife of 22 years, Kelley Causey, and their four children in Estero.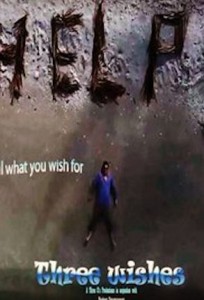 February 13, 2017.
RELATED POSTS.