Proud to Serve Special Achievement Award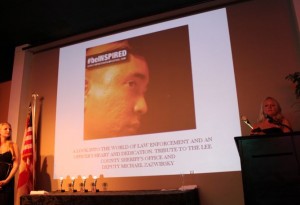 Proud to Serve is a look behind the scenes into the world of Lee County law enforcement and one officer's heart and dedication. Directed by University of Tampa film student Kaitlyn Traurig, the film seeks to break through stereotypes and humanize police officers by having a local Sheriff's officer talk about his calling and its challenges and opportunities while driving around town in his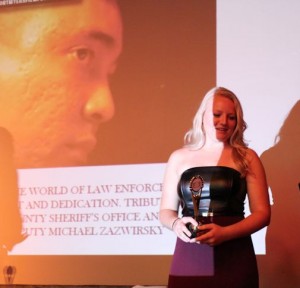 squad car and answering myriad calls. That officer was Deputy Michael Zazwirsky, and he was honored by the 2016 Fort Myers Film Festival last Sunday night with a special achievement award for his role in the mini-documentary.
Zazwirsky graduated from Mariner High School in Cape Coral, where he has lived since 1987. Michael began his career with the Lee County Sheriff's Office in the Technical Services Division at age 18. Shortly after, he attended the 103rd Corrections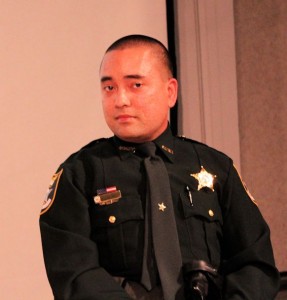 Academy at the Southwest Florida Public Service Academy.  Michael continued to excel, joining the Lee County Sheriff's Office Honor Guard and becoming a Field Training Officer.  In his pursuit of excellence, he graduated from the 55th Law Enforcement Crossover Class and eventually transferred to the North District, where he has spent the past eight years.  In North District, Michael worked as a Patrol Deputy, a Field Training Officer, a Detective, a Juvenile Arrest and Monitoring Deputy, and as a Community Policing Deputy.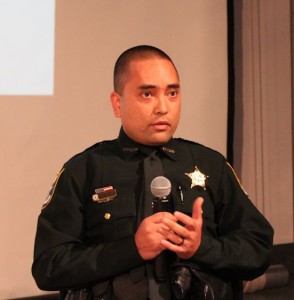 Zazwirsky's commanding officer, Captain Chris Reeves, says that Michael can be called upon to do anything, so when it came time to assign someone to a student filmmaker for an independent film, the choice was obvious. Not only was Zazwirsky chosen as Law Enforcement Officer of the Year in 2015, he is personable, well-spoken and conversant with the many rules and regulations that govern Sheriff's officers in the daily discharge of their duties and obligations.
"I was fortunate to get to work with Deputy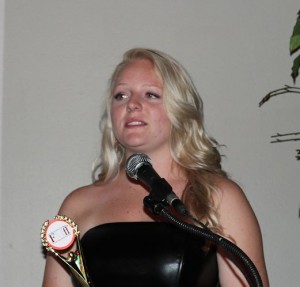 Zazwirsky," said Traurig in accepting the Special Achievement Award on his behalf. "The film is what it is today because of him."
In addition to his participation in Proud to Serve, Zazwirsky's accomplishments range from creating a program to crack down on young offenders to organizing community events, most notably, an event to fight hunger in North Fort Myers. During his tenure at North District, he created a database where deputies can access all of the juveniles that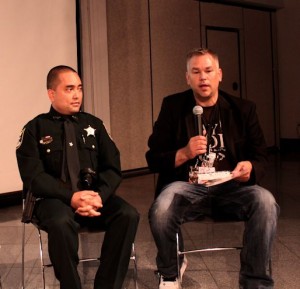 are on probation, and set in motion continual monitoring of them by all of the deputies in the district.  Instead of one deputy checking up on a juvenile offender, every shift has access and checks up on these offenders.  One juvenile offender even stated that because of the relentless checks, she now knows that she will get caught if she violates her probation.
"Actually, yes, it keeps me on my toes," said the juvenile. "It keeps me in line."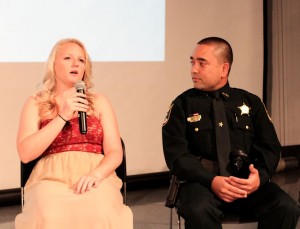 Zazwirsky came up with the idea after Reeves said they needed a better way of tracking the juveniles. "It gets the information quickly to the officers," he said. According to Captain Reeves, the program has been so effective that juvenile crime is down 20% and overall crime in the district is down 26%. In operation for about a year, the program has been picked up by the other LCSO districts.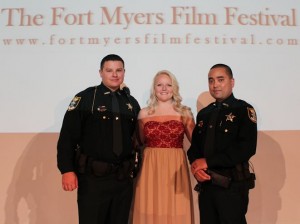 During the holiday season in 2014, Zazwirsky persuaded North District to try something different. Previously, North District had organized an annual adopt-a-family program which aided one lucky family. We wanted to affect more people than just one family," said Zazwirsky, who promptly organized aFighting Holiday Hunger event in North Fort Myers Community Park that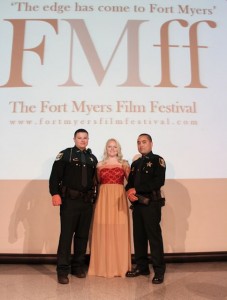 featured live music and family-friendly activities. Admission into the event was a can of food or donation for those in need.
"When we started, we weren't sure of the response we would get," Michael told journalist Tiffany Rapecki of the Cape Coral Daily Breeze last September. Zazwirsky worked tirelessly on the event, which brought in over 10,000 cans of food, 2,000 pounds of dry food and $3,000 in cash donations.  According to Captain Reeves, it took over two-and-a-half hours to unload all of the food raised, which was distributed to local food banks, eventually reaching 2700 families in the community.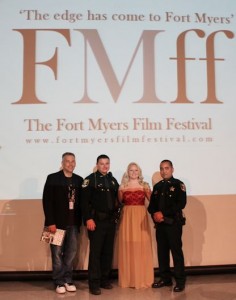 Deputy Zazwirsky remains humble, maintaining that he's simply working his dream job. Or as the title to the film so aptly summarizes, Deputy Michael Zazwirsky is just "Proud to Serve."
Related Fort Myers Film Festival Articles.