Fort Myers Film Festival to screen sensational new Ruth Bader Ginsburg doc
In a major coup, the Fort Myers Film Festival has secured the rights to screen RBG at this year's four-day, five-night event. The documentary about United States Supreme Court Justice Ruth Bader Ginsburg has only been seen once before – on January 21 at the Sundance Film Festival in snowbound Park City, Utah.
At an event known for the A-list celebs who attend, Justice Ginsburg eclipsed this year's big name stars when she showed up at Sundance for the film's premiere. Following the screening, the crowd gave the Justice and filmmakers Betsy West and Julie Cohen a standing ovation which continued as the trio took the stage for an enthusiastic Q&A.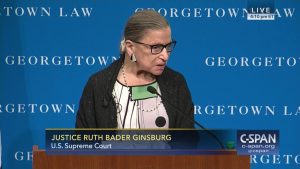 No, RBG did not comment on hot issues such as DACA and immigration, which just might come before the Court this or in ensuing sessions. But she did hold forth on women's march through Park City the previous day, women's rights in general (she's been an advocate her entire career) and the #MeToo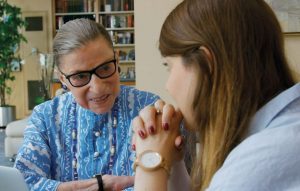 and Times Up movements.
At the age of 84, Supreme Court Justice Ruth Bader Ginsburg has developed a breathtaking legal legacy while becoming an unexpected pop culture icon. In an age of "bitterness, hysteria and rampant incivility … [she] is eminently sober, well-mannered, highly intelligent, scrupulous and just a teeny-weeny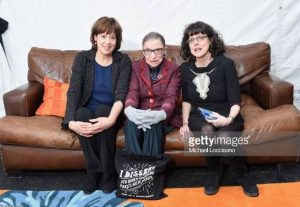 bit reassuringly dull," writes Leslie Felperin for The Hollywood Reporter. But without a definitive Ginsburg biography, the unique personal journey of this diminutive, quiet warrior's rise to the nation's highest court has been largely unknown, even to some of her biggest fans – until now. RBG is a revelatory documentary exploring Ginsburg's exceptional life and career.
In her review of the film,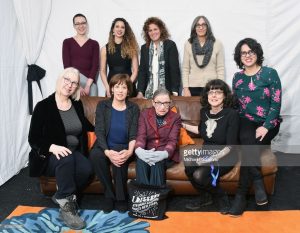 Felperin notes that the documentary is "roughly organized around 1993-shot footage of Ginsburg's confirmation hearing before the Senate, where she was grilled by Senators Joe Biden, Orrin Hatch and Ted Kennedy, among others … Time and again colleagues speak in awed terms about Ginsburg's quickness of intellect and natural perspicacity, her ability to spy strategies and arguments before they had even gotten to grips with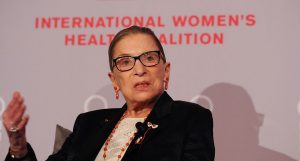 the bare essentials of the case at hand. Old friends from childhood, Cornell, Harvard and Columbia and her early days as a rising lawyer limn a portrait of someone doggedly determined but never attention-seeking, a dark horse who steadily rose to prominence through sheer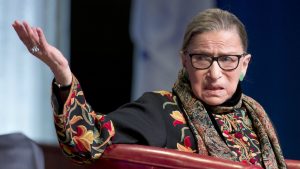 meritocratic effort and commitment to justice."
Although Justice Ginsburg is notoriously taciturn, West and Cohen were able to weave funny, light-hearted moments into their narration. One of the best came from the Justice's children, Jane and James, who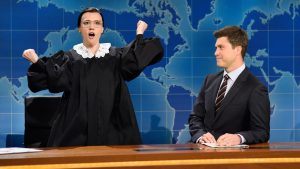 fondly recount how they once kept a scrapbook titled "Times When Mom Laughed" that paradoxically contained just a few cherished entries. They also melded in footage of RBG working out in a T-shirt emblazoned with the words "Total Diva," rummaging through her collection of the ornate collars she wears on the bench (including a black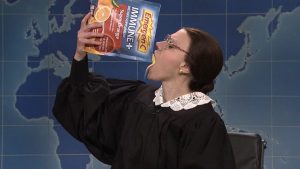 ribbon and white rhinestone-encrusted edition she reserves for "dissents"), and falling out as she watches Kate McKinnon impersonate her on Saturday Night Live.
But unquestionably, the most endearing moments of the film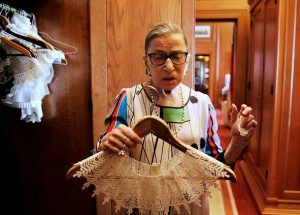 pertain to her late husband, Marty, "the first boy I ever knew who cared I had a brain." A highly successful tax attorney in his own right, he so believed in his wife's career that he gladly assumed many of the household chores and duties (like taking the kids to school, doing all the cooking (the Justice is a notoriously lousy cook) and paying the bills. "During her confirmation hearing in 1993,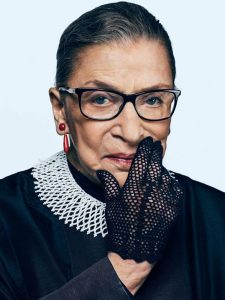 the strictly private Ginsburg lit up while describing her husband's respect for her career," notes Amy Nicholson in her review for Variety. "The cameras capture his proud glow as he sits behind her. He was a charmer; she was ever serene." [Read full review here.]
"The film brims with absorbing anecdotes like that," Felerin continues in her Hollywood Reporter piece. "Once again, in these times of extreme polarization in politics, it's cheering to hear how the 'ladylike' good manners Ginsburg learned from her strong single mother contributed to her ability to forge friendships with conservatives like associate Justice Antonin Scalia — who disagreed with her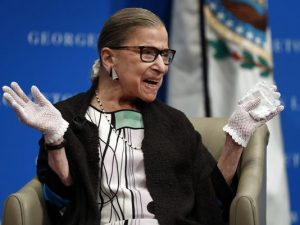 philosophically on nearly every point but still grew to feel a great, platonic affection for her right up until his death." [Read full Hollywood Reporter here.]
By the film's end, viewers will have a far greater appreciation for the accomplishments and contributions of one of America's most-renowned legal scholars and rigorous jurists. But shy, reserved and diffident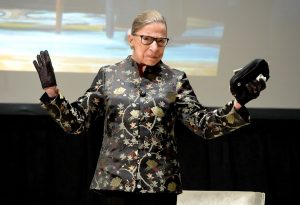 to a fault, Justice Ruth Bader Ginsburg remains something of "an elegant enigma" notwithstanding the yeoman's job that filmmakers Betsy West and Julie Cohen do to humanize the Notorious RBG (both she and Notorious B.I.G. were born and raised in Brooklyn).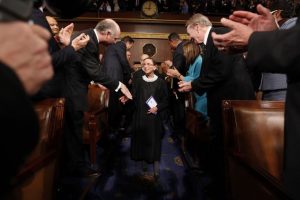 the Sundance Film Festival, Magnolia Pictures and Participant Media purchased the worldwide distribution rights to the film. Co-producer, CNN Films, retains RBG's U.S. broadcast rights, and will air the documentary in May. But prior to that, you can only see it during the 8th Annual Fort Myers Film Festival. It will be shown twice on Saturday, March 24 at FMff's newest screening partner, AMC Classic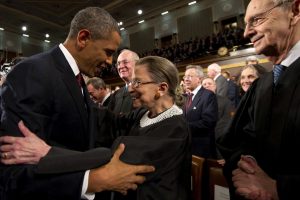 Merchants Crossing 16 in the Merchants Crossing Mall at 15201 N. Cleveland Ave., North Fort Myers, FL 33903. Show times are 1:00 and 5:00 p.m. The film's runtime is 97 minutes.
February 28, 2018.
RELATED POSTS.