'Bird's Eye' writer-actor Erin Beute charms FMFF audience during Q&A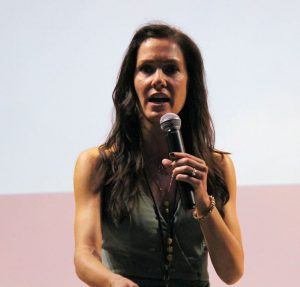 Part of the fun associated with attending a film festival is getting to meet and listen to the actors, directors and producers of independent documentaries, features and short films. Such was the case with Bird's Eye writer and lead actor Erin Beute, who charmed the Fort Myers Film Festival audience that caught her 13-minute short drama and stuck around after the screening to listen to her field questions during the post-screening Q&A.
Bird's Eye tells the story of a musical composer and instructor by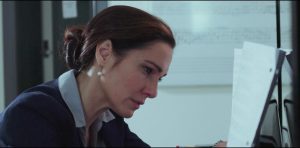 the name of Dr. McAllister. We meet her as she labors at the piano, fitfully trying to piece together fragmented notes and bars into a magnum opus. Try as she might, the work remains out of reach. The harder she pushes, the more it evades her.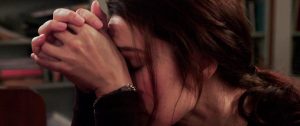 McAllister is angry, bitter and surly … as one of her hapless students discovers to her chagrin when she interrupts McAllister to ask why the good doctor gave her a failing grade on a recent assignment. McAllister takes out her pent-up frustration on the poor girl,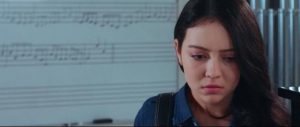 literally tearing the woeful student's composition to pieces, eviscerating the poor girl one painful stanza at a time.
In the middle of the tirade, a droplet of blood cascades onto the redletter failing grade on the sheet music in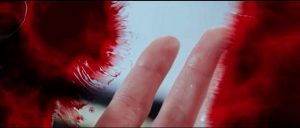 McAllister's hand. In the next instant, McAllister suffers a massive retinal hemorrhage that robs her of nearly all her sight, sweeping away with it McAllister's identity—her place in the world disappearing as quickly as her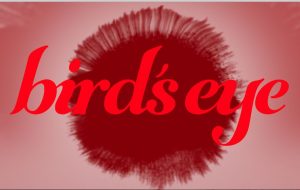 eyesight.
"Dr. McAllister is a Type I diabetic," Beute told the FMFF audience following the screening. "The massive retinal hemorrhage she suffers is the number one cause of blindness in the United States. And it takes her vision from her."
But in the context of the film, the drop of blood also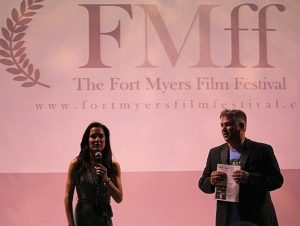 symbolizes something beautiful.
"It represents her having lost everything that was meaningful to her," Erin expounded. "But as happens so many times in life, she receives something else that is so beautiful. Sometimes it's our darkest night and our deepest pain that ultimately brings us tremendous joy though we never would have chosen that road. Dr. McAllister wouldn't have, but [the loss of sight]
gave her the listening ears and the open spirit to take in what music was trying to teach her all along. And that resonates. People can relate. If you've been on this planet long enough, you've been through that in some way."
The balance of the film tracks how McAllister deals with the loss of her sight. Filled with original music, choral group harmonizing and the angst of All-American Music Festival competition, the denouement is so powerful and purposefully ambiguous that it leaves the audience begging for more.
And it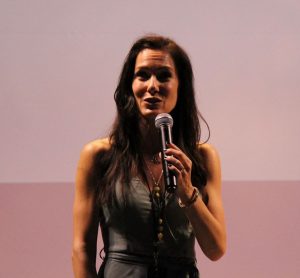 was the promise of more that had the FMFF Q&A audience erupting in applause as Beute informed them that she and her Skylar Studio's partner Scott Poiley are, in fact, turning the short into a full-length feature.
"Skyra Studios has four more films slotted for production this summer and in the coming year," Beute advised. "He always has a creative itch, whether it's in short film or a feature, but my eye is on getting Bird's Eye completely ready. The screenwriting is getting close.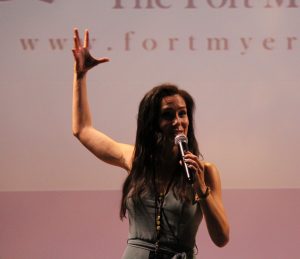 It's pretty addictive. It's hard to leave it alone. If you're a writer, you completely understand."
Of course, there remains a lot to be done to convert the short into a feature even after Beute completes the screenplay for the larger opus. Not the least of which is obtaining investors to fund the project!
And the work doesn't progress in isolation. In addition to the other four films she and Poiley have in various phases of pre-production,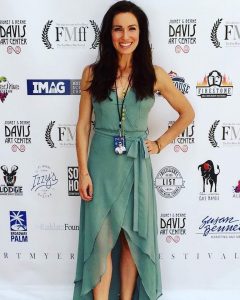 Erin continues to audition for and perform acting roles.
"Just last week, we wrapped shooting in Nashville for a new Patsy Cline bio-pic that's coming out later this year," Erin divulged. "It highlights the friendship between Patsy and Loretta Lynn. Patsy really mentored Loretta Lynn and brought her along in the industry. Yours truly played June Carter Cash. That was a whole lot of hairspray, that's all I can say about that." [It will come out under the title of Patsy and Loretta, Forever.]
Beute is best known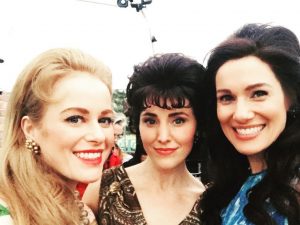 for playing Miranda Gilbert on The Vampire Diaries for six seasons and Shots Fired, which aired on Fox a few years ago. She also hosts ("rocks") the local CW18 network in Central Florida, WKCF.
And it was as an actor, that Erin also made a huge impression on the FMFF audience that watched Bird'sEye. A couple of audience members were particularly wowed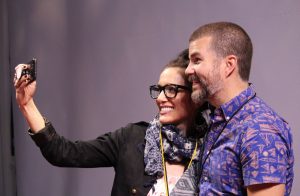 by how convincingly she portrayed a sightless Dr. McAllister.
"I used contacts to simulate blindness during parts of the filming," she advised. "I don't normally wear contacts, so that was uncomfortable."
But it also led to her scariest moment during the filming.
"I went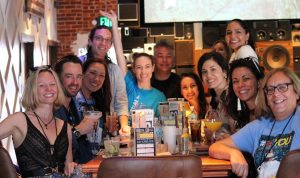 into the make-up room to remove them after a scene. I grabbed the first one and put it on the counter, but when I opened my eyes everything was dark and I still couldn't see. I said to myself, 'Oh my God, I've went and done it. I've blinded myself.' I started to panic a little. I didn't know that I wasn't alone in the room and the make-up guy asked what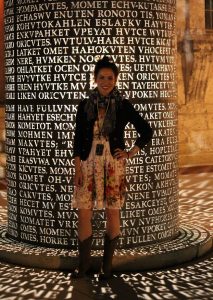 was wrong. He started to look around and said he didn't see it anywhere. Then he looked in my eye and told me it was still in there! It was so stuck to my cornea that it hadn't come out."
Whew! It's one thing to play Dr. McAllister. It's an entirely different proposition to be Dr. McAllister on a full-time, permanent basis.
But that moment in time is also likely to inform her performance when it comes time to shoot the feature, which will flesh out and answer many of the questions purposely left unanswered in the 13-minute short, which can next be seen on Sunday, April 28, which Bird's Eye screens during the Fort Myers Beach International Film Festival.
If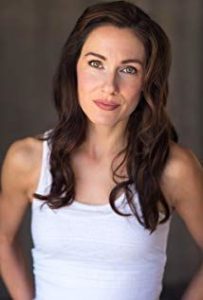 you miss that screening, you'll have to wait until Fall. Bird's Eye is also an official selection of the Central Florida Film Festival.
For all the latest on Bird's Eye and Beute's other projects, you can follow Erin on Instagram and @TheOfficialErinBeuteFanPage on Facebook.
April 20, 2019.
RELATED POSTS.