Visual and Performing Artists and Their Events in the news July 8-14, 2023
This is who and what's creating news in Southwest Florida's visual and performing arts community this week:
1     ACTORS
Grace Atherholt is Ariel in Broadway Palm's 'Little Mermaid'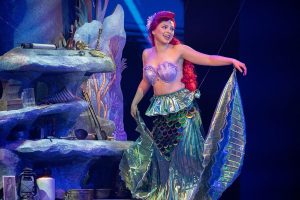 Grace Atherholt returns the Broadway Palm Dinner Theater in the role of Ariel in Disney's The Little Mermaid, a role she also performed at Prather Entertainment's Dutch Apple Dinner Theatre venue. "From fairytales and children's shows to plays and off-Broadway workshops, I'm in love with it all," proclaims Grace, who made her theater debut in her local high school's production of Legally Blonde. You will find the rest of Grace's credits here.
______________________________________________________________________
Cadence Bambrey-Zedd is Tilly Evans in 'She Kills Monsters Young Adventurers Edition'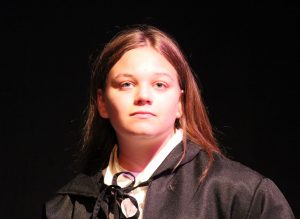 Cadence Bambrey-Zedd returns to the Laboratory Theater in the role of Tilly Evans, a young girl on the brink of adolescence who is trying to figure out her sexual orientation and how to fit in. Unlike her popular older sister and teased and tormented by the mean girls in school, she turns to gameplaying to gain acceptance in a world of her own making. You may have seen Cadence previously at Lab in Trap.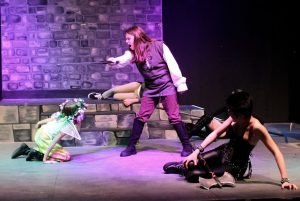 Some of her favorite credits include Matilda in Matilda (MLPA), Incident at Our Lady of Perpetual Help (Florida Rep), Baby June in Gypsy (TheatreZone), Narrator in Into the Woods (Florida Rep Conservatory), and Rhoda in The Bad Seed (CPT).
_______________________________________
Joseph Bryne is Quasimodo in TNP's 'Hunchback'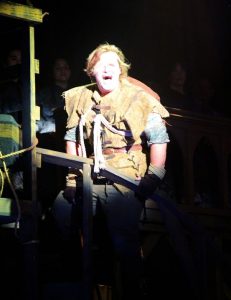 Joseph C. Bryne plays Quasimodo for the Naples Players in The Hunchback of Notre Dame. His appearance in the role is more than fortuitous. He visited Paris in 2018 and toured the historic cathedral, experiencing a sense of worldly love and renewal. Those emotions inform his portrayal of the lonely, kind-hearted bell-ringer who is seen by his uncle, Archdeacon Claude Frollo, and the outside world as a monster due to his physical deformities.
_________________________________________________________
Jamielynn Bucci stars as Esmeralda in TNP's 'Hunchback of Notre Dame'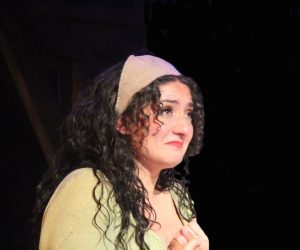 Jamielynn Bucci stars in the role of the beautiful Romani street dancer named Esmeralda in The Naples Players' powerhouse production of The Hunchback of Notre Dame. Drawing from the irrepressible spirit of her character, Bucci says that the musical's timeless storyline reminds us that "we are strongest when we embrace our differences with compassion, lead with kindness and stand up for what is right." You will find Jamielynn's previous stage credits here.
______________________________________________________
Austin Gardner is Dom Claude Frollo in 'Hunchback of Notre Dame'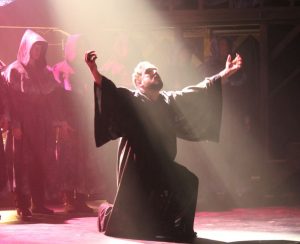 Austin L. Gardner makes his Southwest Florida debut in the role of Archdeacon Dom Claude Frollo in The Naples Players' production of The Hunchback of Notre Dame. A religious zealot, Frollo uses his political office to wage war on the Romani, a fun-loving, Dionysian band of nomads that he and the people of Paris associate with the supernatural, witchcraft and the racist trope of kidnapping Parisian children to sacrifice in their Wiccan rituals. You can view the rest of Gardner's profile here.
_____________________________________________________________
Rachael Lord is Andrina and in the ensemble of 'Disney's The Little Mermaid'
Rachael Lord is a professional EMC actor, singer, dancer, poet and fantasy writer. She appears in the role of Andrina and in the ensemble for Broadway Palm Dinner Theatre in Disney's The Little Mermaid. Rachael's stage credits include Kari in Always a Bridesmaid (Off Broadway Palm), work in the ensemble of The Wizard of Oz, a Postulant in The Sound of Music, work in the ensemble of The Wizard of Oz, and a featured singer in Ha! Ha! Ho! The Holiday Show (Off Broadway Palm). Go here to view Rachael's extensive stage credits.
_____________________________________________________
Giselle Meyer serves as swing for Broadway Palm's 'Little Mermaid'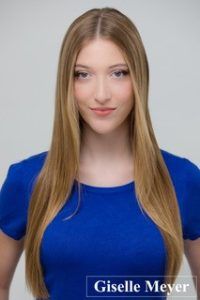 Giselle Meyer is Female Swing for Broadway Palm Dinner Theater in its production of Disney's The Little Mermaid. She previously appeared at Broadway Palm in Sister Act. A legitimate triple threat, Meyer left quite an impression in the Southwest Florida theater community with two performances – first as the Lady of the Lake in Monty Python's Spamalot the Musical followed by Fastrada in Pippin, both for Carmen Crussard and the Alliance Youth Theatre. Other credits include Legally Blonde Jr., Xanadu, Peter Pan Jr., Heathers the Musical, Thoroughly Modern Millie (Naples Performing Arts Center), James and the Giant Peach (Alliance Youth Theatre) and Lynn Ahrens' Once on this Island. Go here for more.
_________________________________________________________________
Ashlee Rowzer is Agnes Evans in 'She Kills Monster's: Young Adventurer's Edition'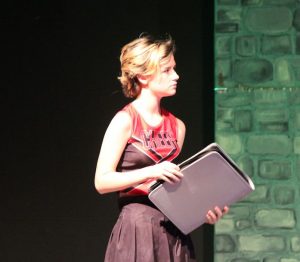 Ashlee Rowzer portrays protagonist Agnes Evans in Lab Theater Ed's production of She Kills Monsters: Young Adventurers Edition. A popular senior, Agnes discovers her younger sister's penchant for Dungeons & Dragons role playing while going through her books, writings and games after Tilly dies in an accident. Rowzer does an exemplary job as the guilt-ridden older sister on a quest to forge a posthumous relationship with the nerdy little sister she never really knew. You may have seen Ashlee in Failure: A Love Story at the Lab and in Annie at the Fort Myers Theater.
__________________________________________
Jack Weld in ensemble of 'Hunchback of Notre Dame'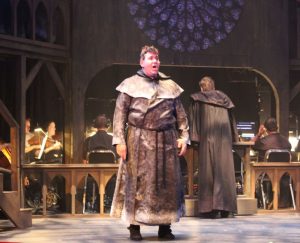 Jack Weld appears in various role in the ensemble of The Naples Players' production of The Hunchback of Notre Dame, including as one of Quasimodo's gargoyles and King Louis XI. Jack last appeared at TNP in Something Rotten as well as in a plethora of other shows, including Les Miserables, The Producers, Guys and Dolls, She Loves Me, The Music Man, Footloose, Young Frankenstein and The Producers. You will find the rest of Jack's stage credits here.
___________________________________
2     ART SHOWS AND EXHIBITIONS
'Storm Stories' exhibition at Alliance hopes arts will facilitate healing post-Ian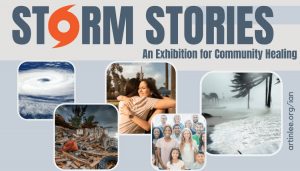 The Alliance for the Arts will commemorate the one-year anniversary of Hurricane Ian with an exhibition called "Storm Stories." It will include a book that documents contributors' experiences during and following the storm as well as artworks made of post-Ian debris as well as artist's reactions to what they and the rest of us went through as a result of the storm.
Read/listen to the story here
.
________________________________________________________
Joan Sonnenberg retrospective at Alliance for the Arts through July 29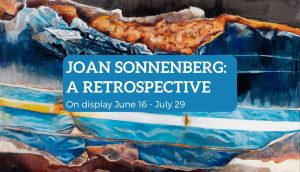 On display in the main gallery at the Alliance for the Arts now through July 29 is Joan Sonnenberg: A Retrospective Exhibition.
At the age of 5, Joan became interested in the real and imaginary facets of art and life which have formed the basis of her artwork ever since. Interested in geometric patterns achieved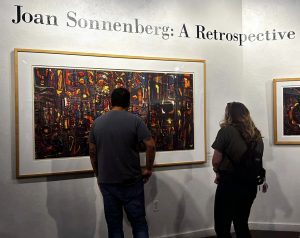 through multiple reverse etching processes, Sonnenberg superimposes and stacks up to ten images on top of each other, creating a complex montage of lines, shapes and patterns. "I strive to alter and combine abstraction with realism; capturing marks made over time through human intervention; the mundane, decaying worn objects, dumpsters, wall graffiti," relates the artist, who also portrays street people,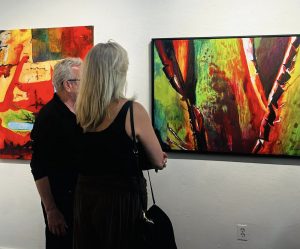 each embedded with stories to tell.
Evolving from printmaking to painting, much of the same kaleidoscope patterns and shapes remain.
"I photograph multiple images in one frame, automatically producing compounded/fractured imagery as a reference for painting," the artist explains.
After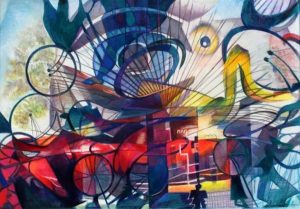 moving to Florida in 1997, Sonnenberg found similar subject matter along walks through urban southern streets, but since she is curious about all that she encounters, the tropical foliage, specifically the banana's multitudinous leaf patterns, inspired a new series of paintings.
Sonnenberg prefers to work on multiple series simultaneously and continually explores new approaches, using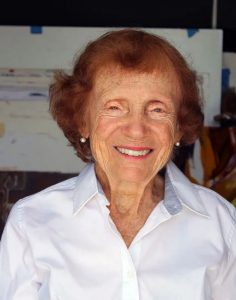 charcoal, pastel, watercolor, acrylic, gesso on both canvas and paper. Her practice has included printmaking, photography, painting and drawing. The 92-year-old artist maintains her lifelong daily art practice and four-mile walks to this day.
Displaying artwork from across an artistic career that spans more than 50 years (from the 1970s to 2023), Joan Sonnenberg Retrospective affords a peek into Sonnenberg's distinctive style and unique body of work.
_______________________________________________________________________
Danielle Branchaud's DAAS 'Thereafter' exhibition pictures world after human extinction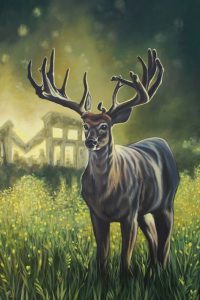 DAAS CO-OP Art Gallery & Gifts presents the artwork of visual artist Danielle Branchaud in July. The paintings in her Thereafter exhibition delve into the emerging recognition that humankind has entered a new epoch in our planet's history characterized by mass extinctions of plant and animal species.
Branchaud is known for enigmatic compositions that comment on timely social and environmental issues.
In the paintings she includes in Thereafter, Danielle documents species facing the threat of extinction and speculates about a future that may be devoid of many of the wondrous species with whom we share the planet.
"[It] gives me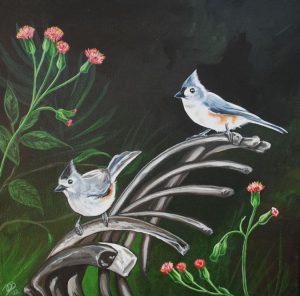 joy to bring to life on canvas … even the smallest and simplest of creatures … as if in preserving them there I might preserve something of them for posterity," Danielle notes.
Thereafter explores a variety of local flora and fauna in Branchaud's traditionally beautiful realist depictions, albeit with a dark touch-and-cheek twist to each one that belies the artist's profound sense of affection for the creatures she captures on canvas and awareness of our connection to every living being, whether flora or fauna.
Still,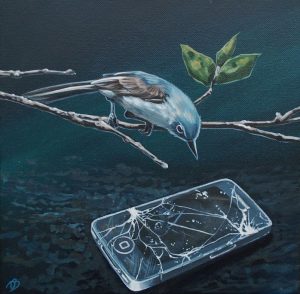 Branchaud cannot help but worry about the deleterious impact humans are having on climate, the world's oceans and all the creatures who inhabit the land, air and sea. A 2019 United Nations sponsored Global Assessment Report warned that as many as one in four plant and animal species are threatened by extinction due to human activities. While one million species currently face extinction within a mere matter of decades, the report predicts that the rate of extinction will accelerate unless action is taken to reduce the intensity of drivers of biodiversity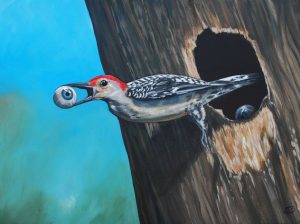 loss.
"There may be no real means of re–establishing that delicate balance – no matter how painful it is to acknowledge," says Branchaud. "The reality of our world now has forever changed, for us and for all that which lives and breathes alongside us. Only time will tell if we can possibly persevere despite of it."
This reality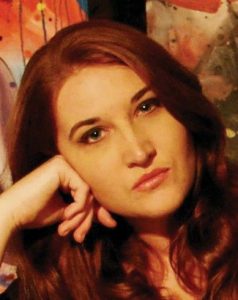 causes Branchaud to wonder if the world wouldn't be better off without humankind.
"I can't help but imagine how the world would thrive without us, that invasive human element. May they all live long after I am gone, and flourish in all that is left thereafter."
The paintings in Thereafter express this optimism that life will preserve notwithstanding the destruction we are causing. Branchaud sees a remarkable endurance in nature. She has witnessed it again and again, in every place where humans once thrived but have now abandoned. Each has been overtaken and reclaimed by new life.
"The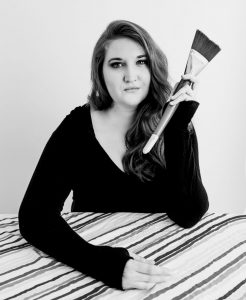 green and growing things will emerge and evolve long after we are gone. This belief – however dismal to some- gives me hope," Danielle concludes.
DAAS CO-OP Art Gallery & Gifts is located at 1815 Fowler Street, in the Butterfly Estates complex in Fort Myers, FL. The gallery's business hours are Wednesday to Sunday from 10 a.m. to 3 p.m. More information about the venue and/or how to become a member can be found at daascoop.com or by calling 239-590-8645.
________________________________________________
Arts for ACT Gallery opening July 7 concurrent with Art Walk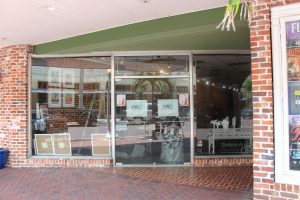 After more than nine months of renovations following Hurricane Ian, Arts for ACT Gallery in the downtown Fort Myers River District is now open! In this segment, Arts for ACT Gallery Director and curator Claudia Goode sits down with WGCU's Tom Hall to describe the journey. Listen here.
_________________________________________________
'Iberian Influences' in Davis Art Center Grand Atrium in July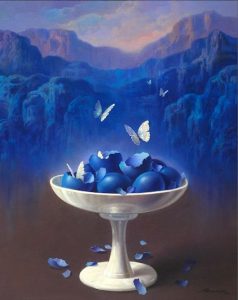 On exhibit in the Grand Atrium of the Sidney & Berne Davis Art Center this month is Iberian Influences: Spanish Artists of Florida. This group exhibition showcases the rich and diverse artistic creations of six artists from Spain living in Miami.
Iberian Influences celebrates the works of Spanish Artists of Florida and promotes cultural exchange between Spain and the United States by showcasing the rich and diverse artistic creations of Spain to the local community. The artists include Alberto Pancorbo, Josep Maria Veciana, Montserrat Rams, Jaime Angulo, Mario Almaguer, and Juan Miguel Vazquez, all of whom aim to provide an opportunity for Floridians to experience the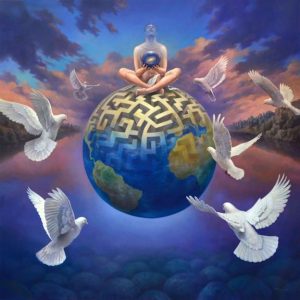 beauty and creativity of Spanish art in all its forms, without having to travel abroad. In doing so, the cohort hopes to contribute to the overall cultural development of the Southwest Florida community and foster understanding and appreciation of different cultures. By providing a platform for artistic expression, Spanish Artists of Florida creates a vibrant and thriving art community that enriches the cultural fabric of South Florida.
Iberian Influences will be on display through July 27, 2023.
______________________________________________________
'Follow the King' in Davis Art Center Capital Gallery through July s7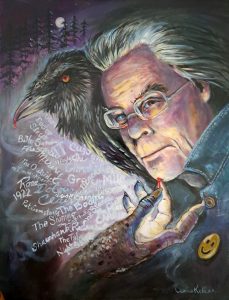 On exhibit in the second floor Capital Gallery of the Sidney & Berne Davis Art Center through July 27 is the group show, Follow The King. This exhibition features Stephen King-inspired works culled from a local call to artists.
The Capital Gallery's July's group exhibition celebrates the works of Stephen King and his iconic literature. King has published 64 novels, including seven under the pen name Richard Bachman, and five non-fiction books. His books have sold more than 350 million copies, and many have been adapted into films, television series, miniseries, and comic books. He has also written approximately 200 short stories, most of which have been published in book collections.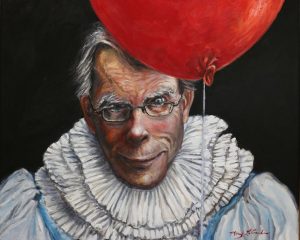 With classics like The Green Mile, Carrie, It, The Shawshank Redemption, The Dark Tower, Pet Sematary, The Shining, Children of the Corn, Stand by Me and many others, the inspiration is endless to create some great masterpieces based on his works. Artists considered for this show were challenged to create a piece of art of any medium including painting, song, short film, illustration, or sculpture inspired by any of the works of Stephen King.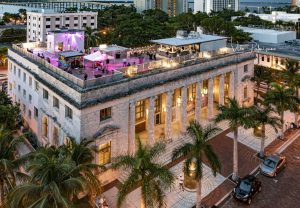 Follow the King will be on display through July 27, 2023.
The Sidney & Berne Davis Art Center is located at 2301 First Street in the historic downtown Fort Myers River District.
_____________________________________
4     THEATER PRODUCTIONS
Anti-drag law could spell death knell of SWFL theater industry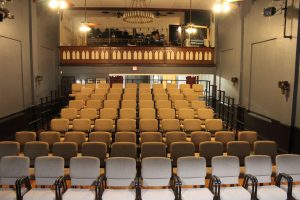 Florida's new anti-drag statute was intended to prevent children from seeing sexual content at drag shows, but the State's "Protection of Children" law applies to any adult live performance, including musicals and plays. That has Southwest Florida's 19 local theaters re-evaluating the shows they choose to produce and who they'll admit into performances.
Listen to the full story here.
________________________________________________________________
Broadway Palm's 'Disney's The Little Mermaid' on main stage through August 12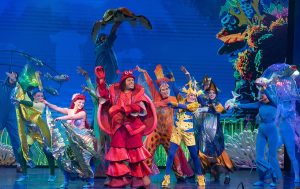 This summer, Broadway Palm Dinner Theater is going under the sea with Disney's The Little Mermaid, now through August 12, 2023. This full-scale, stage production is based on the popular 1989 animated film of the same name that quickly became a Disney favorite.
Theater-goers of all ages will enjoy watching this Disney classic come to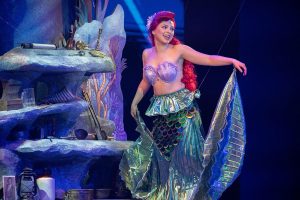 life on stage, where the beautiful mermaid, Ariel, longs to leave her ocean home to live in the world above. When Ariel falls in love with the human Prince Eric, she makes a bargain with the evil sea witch, but the bargain isn't what it seems. You'll see all your favorite characters and hear the irresistible songs including Under The Sea, Kiss The Girl, Part Of Your World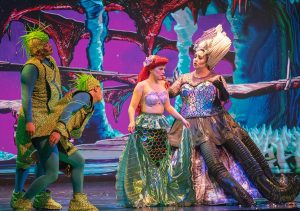 and more!
Performances are Wednesday through Sunday evenings with selected matinees. Tickets are $55 to $85 with group prices available. There is a summer special and tickets for anyone 16 and under are just $30 including the meal. Tickets are now on sale and can be reserved by calling (239) 278-4422, by visiting BroadwayPalm.com or by stopping by the box office at 1380 Colonial Boulevard in Fort Myers.
________________________________________________________________________
Lab Theater Education presenting 'She Kills Monsters: Young Adventurers Edition' in July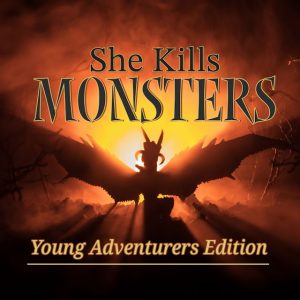 The Laboratory Theater of Florida's award-winning education department will present Qui Nguyen's She Kills Monsters: Young Adventurers Edition on July 13th – 16th. The story follows Agnes, who rediscovers her recently-deceased sister in a magical game of Dungeons and Dragons. As she slashes her way through orcs, dragons and cheerleaders, Agnes learns there's more to her sister than she ever knew. This funny and imaginative play is a universal story of honoring those we've lost.
The Laboratory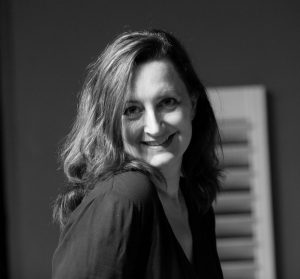 Theater of Florida takes a "whole actor" approach to acting. In addition to physical theater, stage combat, voice modulation, blocking, stagecraft and scene study, students also learn the basics of set design, lighting instruments and design, costuming, stage makeup, stage management, theater etiquette and best practices – and, of course, theater games.
"Quality education in theater includes valuable lessons in communication, teamwork, organization, and responsibility –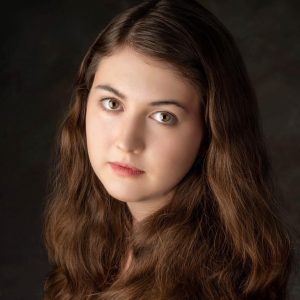 as well as specific skills on all elements of theater," says Lab Theater Artistic Director Annette Trossbach. "In this, our 15th year, I am proud of the high standard of education Lab Theater offers. Our campers are going to have a blast with the show and learn so many skills that will help prepare them for the world."
Madelaine Weymouth and Steven Michael Kennedy are returning as the camp's co-directors. Weymouth previously co-directed Trap, Failure: A Love Story,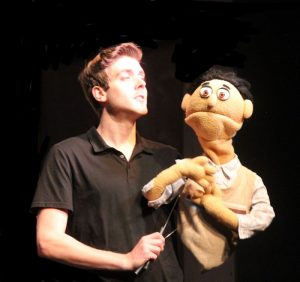 The Wolves (2019) and Evil Dead (2018) for Lab Theater's summer camp program. Weymouths' co-director for Trap and Failure was none other than Steven Michael Kennedy, whose directorial credits include 13: The Musical and Almost Maine for the Alliance Youth Theatre.
"One of the Lab's priorities when picking summer camp shows is to choose plays with teenage main characters to highlight the importance of telling authentic stories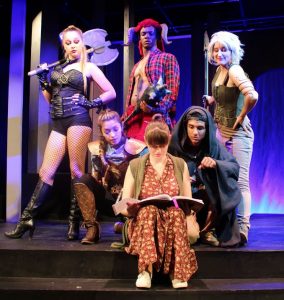 that resonate with our campers," observes Weymouth, who most recently directed the world premiere of Mark Harvey Levine's Save Hamlet. "We work with them to shine a light on their dreams, fears, and emotions in a way that all audiences, not just teen audiences, can identify with. No matter your age or gaming ability, you'll be rooting for Agnes, Tilly, and their friends through the goofy shenanigans of She Kills Monsters."
"As a teaching theater, I love that the education team continues to find fresh and creative plays, like She Kills Monsters: Young Adventurers Edition,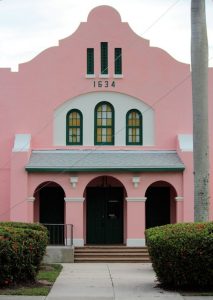 for our campers," adds Paula Sisk, the Lab's Director of Education. "I am excited to watch our students master the complexities of this comedic romp through the fantasy world created in a Dungeons and Dragons campaign."
This camp is sponsored by a grant from The School District of Lee County and Art Zupko.
She Kills Monsters: Young Adventurers Edition will be performed:
At 8:00 p.m. on July 13, 14 and 15; and
At 2:00 p.m. on July 16.
_____________________________________________________________________
'She Kills Monsters: Young Adventurers Edition' to be nostalgic for Gabrielle Landsden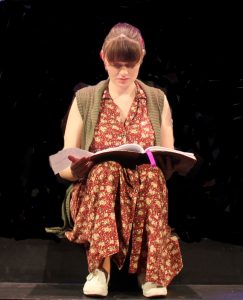 As campers settle in at Lab Theater this summer to learn all the ins and outs of theater from physicality,  stage combat, voice modulation, blocking, stagecraft and scene study in the lead up to their production of She Kills Monsters: Young Adventurers Edition, Lab Theater Production Manager and Set Designer Gabrielle Lansden will undoubtedly be following their progress with a touch of nostalgia. Lansden burst upon the Southwest Florida theatrical stage in the role of Agnes for Stuart Brown when Florida SouthWestern State College produced the adult production five years ago.
Lansden's performance as Agnes earned the following review: "Lansden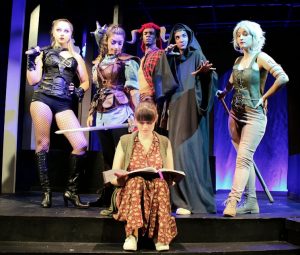 shows tremendous versatility as the stranger reluctantly venturing into a strange new land. Her initial encounters with Lilith and Kaliope are downright hysterical, particularly her reaction to Lilith's skimpy Dominatrix costume, fishnet stockings and imposing black boots. She's rewarded for her priggishness by being dubbed Agnes the Asshatter, but alas, she learns to unclench by the end of the show. Still, look up the word incredulity on Google, and chances are you'll find a photo of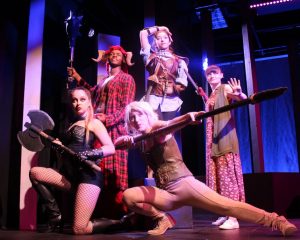 Lansden playing Agnes in New Landia's Enchanted Forest."
Stuart Brown's cast for that show has proven to be filled with some of Southwest Florida's brightest emerging stars. Joining Lansden in the cast were Broadway Palm Dinner Theater perennial Kiana Raine Pinder Cintron in the role of Tilly, George Luis Cabal as the dungeon master, Faith Detering as the Elven Kaliope, and Chloe Chan and Brithany Hernandez as 
Evil Tina and Evil Gabbi, a pair of duplicitous cheerleaders on a par with the legendary Heathers. Of course, Brown is not only a good judge of talent, he's expert at developing the talent lurking inside young actors. Just ask Steven Coe.
In any case, Gabrielle Lansden is certain to have more than just a passing interest in what the kids are doing in summer camp … which is sure to inure to the benefit of the campers.
___________________________________________________________________
The Naples Players opens 2023-2024 Season off site with 'Hunchback of Notre Dame'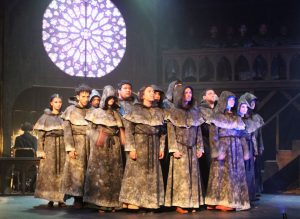 Featuring a 14-piece orchestra, 16-person on-stage choir, Alan Menken's sweeping score, Stephen Schwartz's moving lyrics, sound design by Tony Nominee Joshua Reid and costumes by Disney costume designer Joshua Winchester, The Naples Players delivers a powerful production of The Hunchback of Notre Dame to kick off TNP's 2023-2024 season. But not at the Sugden Theatre. That's presently undergoing a $20 million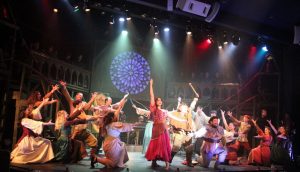 renovation. The show is being staged in TheatreZone's home at the Community School of Naples on Livingston Ave. Go here for more.
Go here for play dates, times, cast list and ticket information.
_______________________________________
Hear about 'Hunchback of Notre Dame' on WGCU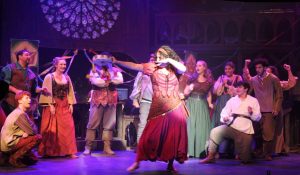 The Naples Players opened its 2023-2024 season with a bang—or bell, rather. Here's why people are saying that the production of The Hunchback of Notre Dame is one of TNP's very best.