Archway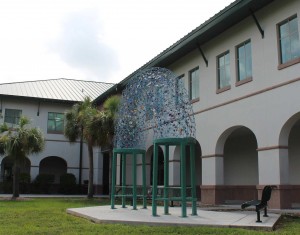 On the north side of Whitaker Hall is a gently curving wire archway that rests on two jungle green four-legged stanchions. Writing for FGCU's Pinnacle magazine, Nancy Stetson penned an apt simile to describe the piece. "[It] looks as if Buckminster Fuller created a giant blue Slinky, incorporating pieces of colored glass, tile and seashells," she jots, going on to explain that "when the sun hits it at a certain angle, [the glass, tiles and seashells] create colored reflections on the sidewalk:  raspberry, orange and cobalt blue." Mesh basket-like seating at the base of each column is reminiscent of a volleyball or basketball net, subtly echoing the playground atmosphere of the work.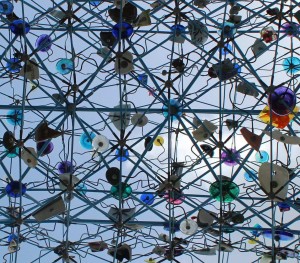 Appropriately titled Archway, the artwork is the product of renowned sculptor Brower Hatcher. For the mesh, the sculptor employed his favorite color. "They call it Brower blue," says Hatcher. "Blue works particularly well because as a color it's quite transparent. Certainly against the sky, it almost absorbs light." That allows the metal frame to almost disappear so that the reflective objects attached to the frame and dangling inside are free to make the whole piece sparkle.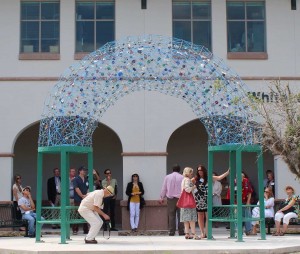 Archway is actually an arch within an arch, a huge web of interconnectedness that serves as a metaphor for the world in which we live today. More, it is meant to encourage interconnection – between students, faculty and everyone else who has business on any given day in Whitaker Hall. You see, Hatcher prides himself on involving and enveloping viewers within his public artworks.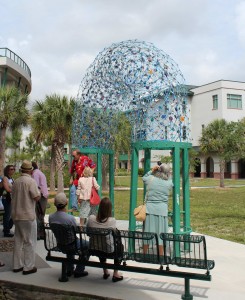 Archway was intended as a focal point at which people would congregate to meet, talk and laugh. "Just as the Eiffel Tower or the Fountains in Rome [are] symbolic centers in their respective cities, so [are] Brower's sculptures in his," proclaims Leslie Park, Hatcher's former sculpture assistant. "It becomes a place of interaction … A sense of place, an identity, and a corridor for interconnection is born."
Regrettably, the University thwarted this aspect of the sculpture by moving it from its original location. Hatcher designed Archway to span a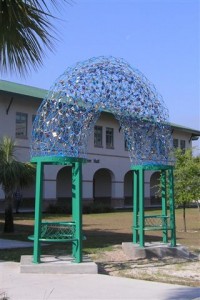 portion of the sidewalk that connects Academic Building 3 and Fletcher Hall. "Funds from the construction of both buildings were combined to commission the piece, and the sculpture was placed halfway between each building," relates Morgan Paine, Chief of the Department of Theatre & Visual Arts. "But several students apparently walked into [the stanchions], and there was a concern that it might be a hazard to the visually impaired, so [Dr.] Joe Shepard [FGCU's Vice President for Administrative Services and Finance at the time] had it moved."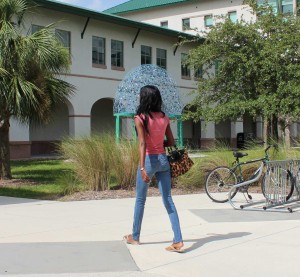 But apparently Dr. Shepard consulted with neither the art department nor the sculptor when choosing Archway's new location. Instead of turning the sculpture so that it ran parallel with the sidewalk, Dr. Shepard simply placed Archway adjacent to the walkway that runs alongside Whitaker Hall. "Foot traffic there has expanded since the engineering and business buildings have been added to the courtyard," Morgan Paine notes, but viewers must now go out of their way in order to interact with the sculpture. Moreover, the the sunlight at Archway's present location is less intense, spoiling the light show described above by journalist Nancy Stetson.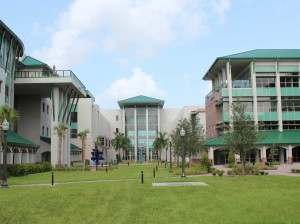 It's possible that Archway could move yet again.  There are plans to renovate the long corridor that runs between the buildings from Lutgert to Griffin and Reed Halls. "There was supposed to be a water feature that ran the length of the corridor," Paine discloses. If it's added to FGCU's long interior mall, Archway may yet find a home where it can occupy a "place of interaction," one that more effectively conveys and establishes a venue for interconnection between students, faculty and University visitors and guests.
About Brower Hatcher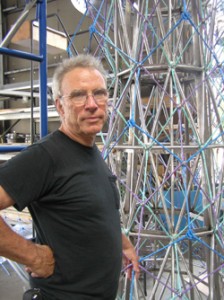 Brower Hatcher was born in Atlanta, Georgia.  He attended Vanderbilt University School of Engineering in Nashville, Tennessee but received his degree in Industrial Design from Pratt Institute in New York.  He then jumped across the pond to study sculpture at St. Martins School of Art in London, U.K. with Sir Anthony Caro and William Tucker.  He served on the faculty at St. Martins for several years before returning to the U.S. to join the faculty of Bennington College. He taught there for 13 years before retiring in 1986. Since that time, he has built approximately 50 public art projects throughout the United States (see below).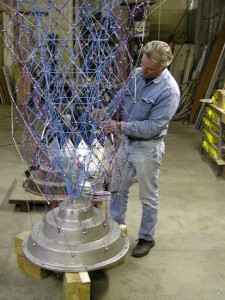 Brower Hatcher is a recipient of 3 National Endowment for the Arts Fellowships, a Guggenheim Fellowship and an honorary Ph.D. from the State University of New York.  As the Artistic Director of Mid-Ocean Studio, he works at the historic steel yard in Providence, Rhode Island not far from his home on Block Island. Hatcher also maintains a residence in New York City, New York.
Public Sculpture Commissions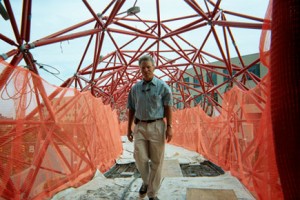 Hatcher's career in public art goes back to 1972, when he began work on a series of steel sculptures that incorporated domed roofs. A cross between sophisticated puzzles for the mind and visionary architecture, his stainless-steel mesh structures seem both high tech and whimsical, filled with floating objects such as turtles, tables, chairs, ladders, numbers, letters and books.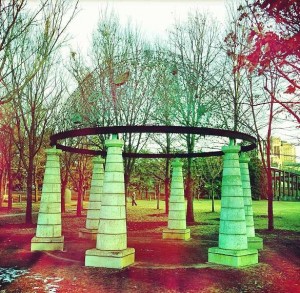 For example, Prophecy of the Ancients (left, commissioned for the Minneapolis Sculpture Garden) consists of a futuristic wire mesh dome resting on six classical columns. An assortment of disparate objects that suggest cultures both past and present are suspended within the structure of the steel dome. The dome itself suggests complex constellations or a visual model of space, and provides an environment for meditation and thought.
In addition to his domed pieces, Hatcher's monumental sculptural installations include gateways, suspended works, performance spaces, interactive water features, lighting, paving patterns and street furniture. "Inspired by the natural world, my sculptures are typically stainless steel cellular matrixes built from multi-layered and multi-colored geometric frameworks," Hatcher explains. "These matrixes often contain various combinations of embedded artifacts, glass, ceramics, metal and LED lighting relating to a site's mission, history, and influences, resulting in landmark public art that enhances the sense of community and place."
Hatcher's public sculpture commissions include:
2012     Gateway of the Open Book, Downtown Greenway SW Cornerstone, Action Greensboro, Greensboro, NC  ($145,000; excludes site work & lighting, supplied by client)
2012     Jazz Man, Howard Theatre, Howard Theatre Restoration, Washington DC  ($102,500)
2011     The Simulation of George Karrer's Workshop, Karrer Barn Property, Dublin, OH  ($150,000)
2011     The Mapping of Systems, 3630 Peachtree, Atlanta, GA  ($150,000)
2010     Bear, Stuart Park, City of Kelowna, BC, Canada  ($188,000 (CDN))
2009     Untitled, Pacific Avenue Roundabouts, City of Santa Cruz, Santa Cruz, CA awarded/for 2013 installation  ($200,000)
2009     Showing the Way: The Tillie K. Fowler Memorial, Jacksonville River Walk, Cultural Council for Greater Jacksonville, Jacksonville, FL  ($172,000)
2008     Gravity Wave, Trafton Science Center, Minnesota State University, Mankato, MN  ($90,000)
2007     Event Horizon, A5/A483 Chirk, Landmark Wales, Chirk, Wales, UK  ($1,5oo,ooo; competition winner/project unbuilt)
2007     Solar Path (right), Sheldon Lake at City Park, City of Ft. Collins, Ft. Collins, CO  ($65,000)
2006     Blue Spring, Blue Springs Hwy 7 Corridor Project, City of Blue Springs, Blue Springs, MO  ($100,000, excludes engineering & lighting, supplied by client)
2006     Linear Accelerator (right), University & Big Bend Station, St. Louis Metro, St. Louis, MO  ($140,000)
2006     Beacon, New Castle County Courthouse, Art Committee for the NCCCH, Wilmington, DE ($500,000)
2006     Cycle, Administration Building, St. Lucie County Cultural Affairs, Ft. Pierce, FL  ($75,000)
2006     Wellspring & Oculus, Bayliss Park, City of CB/Iowa West Foundation, Council Bluffs, IA  ($750,000)
2006     Source, Lemon Ave. Plaza, City of Sarasota, Sarasota, FL  ($125,000)
2006    Archway, Florida Gulf Coast University Green, Florida Gulf Coast University, Ft. Myers, FL  ($65,000)
2005     Solar Path II, Spectacle Island, UrbanArts Institute, Boston, MA construction/installation depend on funds  ($125,000)
2004     Coastal Current, EpiCenter, Pinellas County Arts Council, Clearwater, FL  ($85,000)
2004     Crucible, EH & S Building, Iowa State University, Ames, IA  ($50,000, excluding foundation, base & lighting, supplied by client)
2003     Unification of Diversity, Ann & Alvin Rogel Chapel, Robert Morris University, Pittsburgh, PA  ($22,000)
2003     Turbulent Stream, Toney Anaya Building, New Mexico Arts, Santa Fe, NM  ($150,000)
2003     Ancient Concept, Target Corporation Headquarters, Target Corp., Minneapolis, MN  ($50,000)
2002     Cultural Tapestry, District #1 Police Station, Dept. of Culture & Film, Denver, CO  ($85,000)
2002     Starman Plaza & Vortex, Wills Eye Hospital, Wills Eye Hospital, Philadelphia, PA  ($450,000)
2002     Union of Matter and Space, Drury University, Drury University, Springfield, MO  ($50,000)
2001     Passage, Columbus State Community College, CSCC, Columbus, OH  ($750,000)
2001     Brainstorm, ADC Telecommunications Headquarters, ADC Telecom, Eden Prairie, MN  ($220,000)
2000    Radial Light, Fidelity Investments, Fidelity Investments, Smithfield, RI  ($50,000)
1996     Scattering Light, Dain Bosworth Corp., Dain Bosworth, Minneapolis, MN   ($40,000)
1995     Forum of Origin, State Street, City of Madison, Madison, WI  ($75,000, excluding columns and foundation, supplied by client)
1995     El Arbol de Esperanza, Thomas Jefferson Park, NY Dept. of Cultural Affairs, New York, NY  ($50,000)
1994     Edge of Sky, Allen Center, Allen Center Metropolitan Life Insurance Co., Houston, TX  ($100,000)
1994     Sky Web, Northwest Airlines Sky Lounge, Northwest Airlines, Minneapolis, MN  ($25,000)
1994     Global Apex, St. Paul Companies Global Headquarters, St. Paul Companies, St. Paul, MN  ($100,000)
1993     Sanctuary, Lloyd Noland Hospital, Lloyd Noland Hospital, Birmingham, AL ($120,000)
1993     Sanctuary of the Guardians, Administration Building, Pinellas County Arts Council, Largo, FL ($100,000)
1993     Layering of Worlds, Herberger Theater, Herberger Theater Center, Phoenix, AZ ($120,000)
1990     Starman in the Ancient Garden, Wills Eye Hospital, Redevelopment Authority, Philadelphia, PA  ($210,000)
1986     The Principle of Justice, Municipal Courthouse, Roanoke Valley Arts Council, Roanoke, VA  ($100,000)
1984     Adirondack Guide Monument, State University of New York, SUNY, Plattsburg, NY  ($50,000)
1983     Language of Whales, Battery Park (temporary), Creative Time, New York, NY  ($25,000)