Lucas Century Etchings and Murals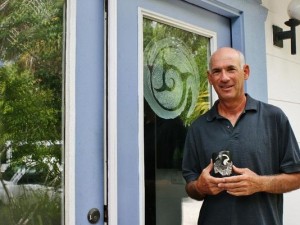 Among the works included in Florida Gulf Coast University's public art collection are a number of etchings and murals by Sanibel artist Lucas Century. "Luc Century's discipline-specific recognition walls add a refinement and process appropriate to a university," says Senior Director of Advancement Judie Cassidy, who has worked with Century on the five installations he has created at FGCU. "In the conceptual process, he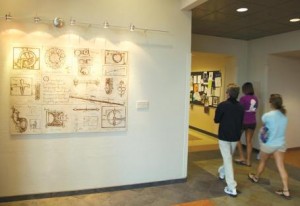 encourages donor involvement and blends their ideas with his own. The resulting installations are cerebral, precise and spectacular."
Century enjoys the largest presence by a single artist on campus, with works in five different buildings at Florida Gulf Coast University. Specifically, Century is responsible for:
etched tiles titled The Elements of Machinery and Give Me a Place to Stand installed by Century in 2009 in the 1st floor lobby of Holmes Hall;
a 1991 etched glass piece 50 inches in diameter and 3/4″ thick titled Tourbillion that is located in the first floor lobby of Academic Building – 7;
a 2001 etched glass work titled Leonard da Vince drawings and sketches that is located in the 1st floor lobby of Whitaker Hall;
a 10 x 30 foot etched porcelain titled Water Symphony that Century installed in the lobby of the Music Building in 2010; and
a series of stone etchings located in the lobby of Marieb Hall.
Water Symphony
Water Symphony dominates the narrow lobby of the Bower School of Music. Standing 10 feet tall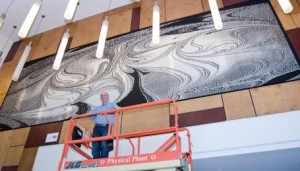 and 30 feet wide, it is visible through the two-story glass facade long before music students, faculty and guests enter the lobby from the concrete sidewalk that separates the music building from the arts complex. Commissioned by the FGCU Foundation, the mural consists of seventy-five 2-by-2-foot ivory ceramic tiles engraved with black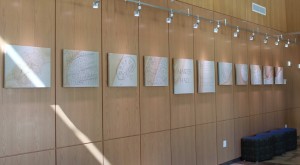 swirling patterns. Like much of Century's work, it reflects imagery from his beloved Sanibel Island.
"It was inspired by patterns in low tidal areas, the ripples left by the incoming and outgoing water," Lucas explains. "The intersecting ripples have a marvelous flow. It's something I watch during my evening walks on the beach."
About Century's Etching Process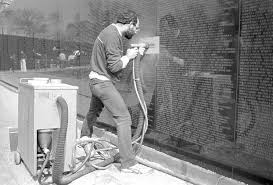 Since 1977, Century has been perfecting a pioneering process that enables him to etch images and text on a variety of media, including porcelain, stone and glass, with unparalleled clarity and depth. He first used the technique to etch the names of 58,000 service men and women who lost their lives in Vietnam into the granite surface of Maya Lin's renowned Viet Nam Veteran's Memorial in the Washington, D.C. Mall in 1984.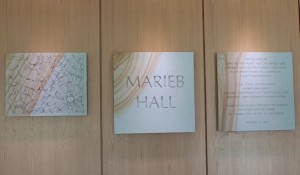 "I began to explore other materials beyond granite, such as glass, ceramic and wood, all of which I now incorporate into my work utilizing photo-stenciling and grit-blasting techniques," Century points out. "Line art from original drawings or appropriated images are transferred into a stencil that is capable of resisting the abrasive grit-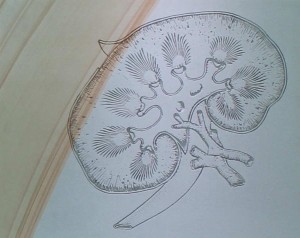 blasting. The eroding process removes the substrate, penetrating and etching the surface to create a deep relief, not possible with any other etching process."
The nature of aluminum oxide grit-blasting is to abrade the surface, which creates a rough texture in contrast to the original surface of the material. These two contrasting surfaces can be left as is, or colors and enhancers can be applied to achieve a different outcome.
About the Artist
Lucas Century was born in Newark, New Jersey and raised in Cleveland Heights, Ohio. "Cleveland has a wonderful cultural community that surrounds University Circle, where museums, galleries and performing art halls abound," Lucas reports. "I was constantly exposed to this pocket of creative people who radiated the arts, and my fondest memories of my childhood included exploring the avenues of people and venues that Cleveland offer.
While he studied business at Cleveland's Case Western Reserve University, his primary interest was nevertheless art. Although he did not study art formally and collaborates with other artists when his work requires illustrations (like the Archimedes mural in Holmes Hall), he cultivated his love of photography. "It fascinated me to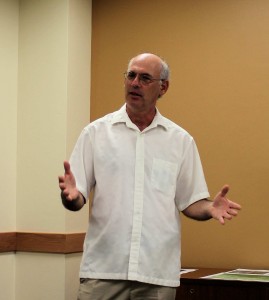 develop film and print in the darkroom with chemistry, light, lenses and, best of all, red safe lights," Lucas recalls. "To go from what the eye captured on film and then be able to translate it on to photographic paper …. well, it just couldn't get any better than that. It was magical. I remember projecting imagery through the enlarger and spending countless hours cropping and composing my evenings away. These exercises instilled within me a photographer's eye and a love for this fascinating art form that consequently began a career based around photographic methods."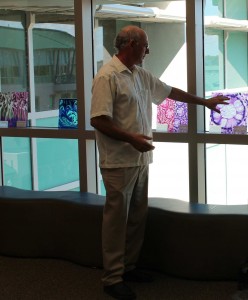 Century's attraction to etching began when he got a job engraving people's names on snow skis at a resort shop. A window washing gig in the 1970s led to an epiphany. Pulling a squeegee across a pane of glass, Luc saw his reflection and became intrigued with the idea of how to transfer graphic images and color onto glass. This investigation led to four years of experimentation with acid etching and other techniques after which Century developed and perfected an innovative photographic process for creating stencils that could be used in sand-blast engraving. The erosion of the surface technique became a metaphor for the sands of time.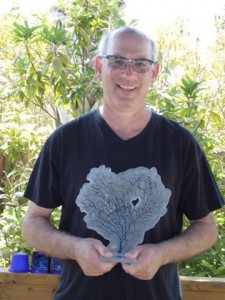 "That's what weather would do, but it's sped up," says Luc. "That's very empowering."
The artist's considerable spiritual energy and heartfelt intent is always at play. His love of nature, the aesthetic beauty that lies within, is permanently embedded in his work. "I like expressing the essence of things," Lucas acknowledges. "There is soulful resonance within life forms and learning to manifest its simplest version is a challenge. I enjoy reworking materials until a balance is reached and discovering yourself through the entire process of unfolding is as much the beauty as the end product."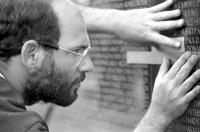 A fulltime artist, Century has maintained a home and studio on Sanibel Island for nearly three decades, living and working within a natural sanctuary of lush, subtropical vegetation. He and his illustrator wife, Dee Serage-Century, often work together as a team on projects.
Public Commissions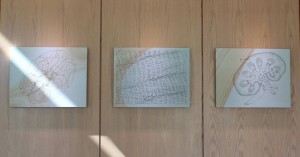 In addition to his works on the campus of FGCU, Century has completed commissions for:
Bailey-Matthews Shell Museum
Barbara B. Mann Performing Arts Hall
City of Sanibel, Sanibel Island, FL
Florida SouthWestern State College (formerly Edison State College), Fort Myers, FL
Florida Museum of Natural History, Gainesville, FL
Hope Hospice, Cape Coral, FL
Hope Hospice, Fort Myers, FL
Miami City Ballet Company, Miami, FL
Sanibel Congregational Church
Sanibel Library
University of South Florida, Fort Myers campus
Fast Facts.
Sanibel was to be a one-week vacation from his work on the Vietnam Memorial in Washington, D.C. in 1983. "Either this has turned into the longest vacation on record or the finest Utopian experience I could have imagined," quips Century.
During that first week on Sanibel, Luc met his wife, Dee, on the dance floor at the Crow's Nest at 'Tween Waters Inn.