Dali Interprets Currier and Ives Limited Edition Lithographs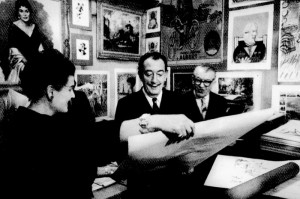 Thanks to a November 20, 2009 gift from the Evelyn Davis Trust, Florida Gulf Coast University's permanent collection includes seven lithographs by Salvador Dali. Best known for his surrealist paintings of the 1930s and 1940s, Dali also created a number of lithographs based on popular culture including a suite of prints he produced in 1971 for Sidney and Phyllis Lucas of New York. The set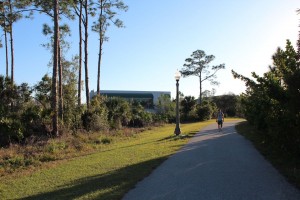 consists of six lithographs, each of which incorporates a work from the famed American publishing firm Currier & Ives at its lower center, ranging from Central Park, Winter to The Life of a Fireman: Fire! Fire! Fire! The influence of past artists was frequently present in Dalí's work from this period, as he sought to integrate his Surrealist aesthetic with new discoveries and evolutions in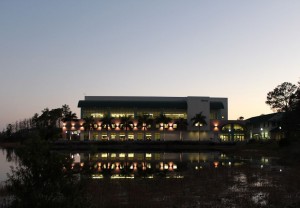 science and technology in masterpieces as storied as Vermeer's The Lace Maker and Raphael's Madonna del Cardellino. The FGCU collection of "Dali Interprets Currier & Ives" limited edition lithographs plus an original sales presentation marquis poster are located in the Special Collections section of Library East (Room 323 on the third floor). All were personally signed and numbered by Dali, and certified to be authentic by Albert Field, who is founder of the Salvador Dali Archives (see below).
Central Park, Winter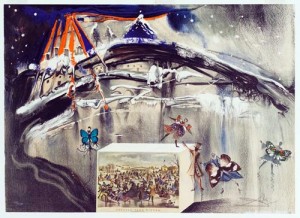 This is a Dali homage to a print based on a painting by Charles Parsons, lithographed by Lyman W. Atwater (American, 1835–1891) and printed and published by Currier & Ives in 1862. It depicts a skating pond in New York's Central Park. The nation's first, the skating rink opened in 1860, at the advent of the ice skating craze that was sweeping the country. In this scene, Parsons and Atwater render more than 70 skaters.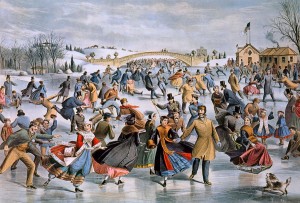 Parsons was a skilled painter and draftsman. Although he was head of the art department at George Endicott's lithographic firm, he often created lithographs for Currier & Ives, who by 1862 frequently enlisted the aid of artists across New York in order to meet the growing demand for their prints. Fundamental to Parsons' association with the imprint was Lyman Atwater's skill in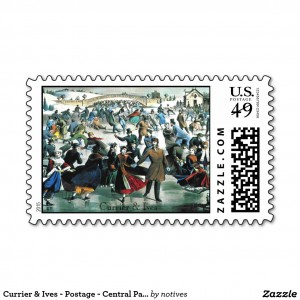 rendering Parsons' lively designs on stone. Parsons enjoyed a reputation for imparting great discipline in drawing to the numerous apprentice lithographers he trained during his long career as a commercial artist, and Parsons unquestionably appreciated Atwater's superior draftsmanship.
One of the most engaging prints that Currier & Ives ever published, the print remained popular for decades. This and many other Currier & Ives winter scenes have been made into Christmas and seasonal greeting cards over the ensuing decades.
The FGCU print is numbered 153 of 250 prints.
The Celebrated Trotting Team
This is Dali's interpretation of Currier & Ives' print titled The Celebrated Trotting Team Edward and Swiveller. The horse was owned by a New York attorney by the name of Frank Work, and the team won their match in a time of 2:20, earning a prize of $1,000. The race took place at a driving park in Morrisania, New York on July 8, 1882. The print is based on a painting by noted artist Scott Leighton. This Dali lithograph is numbered 99 of 250 prints.
Landscape, Fruit and Flowers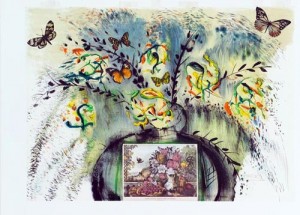 Numbered 159 of 250 prints, Landscape, Fruit and Flowers is Dali's homage to Currier & Ives' print Landscape, Flowers and Fruit by Frances Flora Bond Palmer, a 19th century woman artist known as Fanny Palmer. Recognized for her ability to capture her audience's visual imagination, Palmer excelled in lithography and became well known for her work, which includes American farm scenes and this Landscape, Fruit and Flowers (1862).
Stella and Alice Grey – Lantern and Whalebone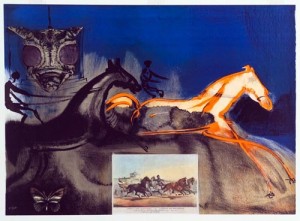 Numbered 41 of 250 prints, Stella and Alice Grey – Lantern and Whalebone is an ink and watercolor lithograph that measures 29 3/4 by 21 1/2 inches. The lithograph is an interpretation of the eponymous Currier & Ives print created by Louis Maurer, a color miniature of the Currier & Ives print appearing in the bottom center of the Dali lithograph. In this lithograph, two horses pull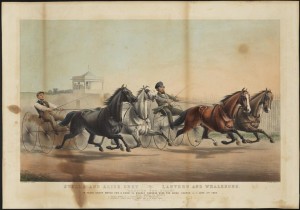 their drivers, their speed clearly delineated in Dali's thickly applied orange and blue pigments. The Currier & Ives scene represented is a harness race entitled Stella and Alice Grey, Lantern and Whalebone: Passing the Stand depicting a race in 1855 at the Union Course. Dalí had a life-long appreciation and fascination with horses. As Robert Descharnes and Gilles Néret have noted,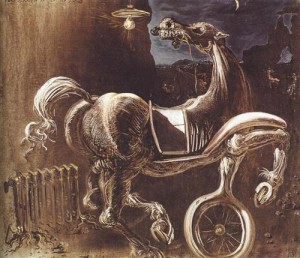 "Dalí was always a lover of horses. Many of his paintings feature horses, among them The Temptation of St. Anthony, Debris of an Automobile Giving Birth to a Blind Horse Biting a Telephone (right) and St. James of Compostela (Robert Descharnes & Gilles Néret, Salvador Dalí 1904-1989, The Paintings, Vol. II, Cologne, 1994, p. 597).
Life of a Fireman
Currier & Ives produced at least twenty-five different fire-fighting prints, most of which featured scenes of heroic men battling dangerous flames. One of the best known is Now Then with a Will – Shake Her Up Boys! Due to poorly regulated 19th century construction, city fires were a common threat and the subject of widespread public concern. In this print, a frightening yet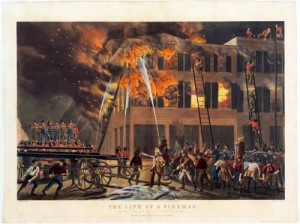 theatrical depiction of flames is offset in this print by illustrations of bravery and hope. Lithographer Nathaniel Currier, who was himself a fireman, draws the viewer into the peak of action by depicting men furiously pumping and spraying water on the flames while other fire fighters climb ladders to rescue residents from a burning building. In a dramatic touch, a fireman emerges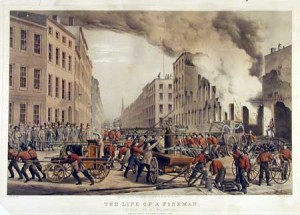 from a third-story window with a baby, while the child's mother on the ground raises her arms in relief. Many of the prints in this series offered descriptions of the latest firefighting equipment.
This 1854 image was the first of several Currier & Ives prints to be used as an advertisement by the American Insurance Company of Newark, New Jersey, which substituted its name for that of the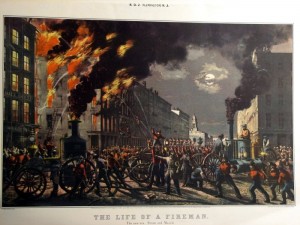 title of the piece. In 1971, Dali created his own interpretation of this print, which he titled Fire! Fire! Fire. The one in FGCU's collection is numbered 50 of 250 prints.
The Great Ocean Yacht Race
Numbered 65 of 250 prints, The Great Ocean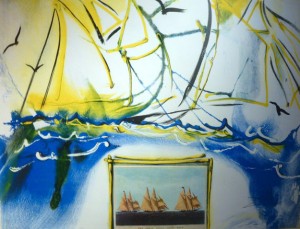 Yacht Race is an ink and watercolor lithograph that measures 29 3/4 by 21 3/4 inches. This lithograph is Dali's interpretation of the Currier & Ives print, The Great Ocean Yacht Race Between the Henrietta, Fleetwing and Vesta. A color miniature of the print is adhered to the bottom center of the Dali lithograph. In the Currier & Ives print, the Fleetwing is pictured on the left, the Vesta is in the middle and the Henrietta is on the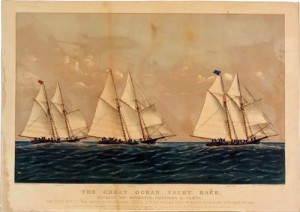 right. On board each vessel, men can be seen cheering. The 1866 image recalls the start of modern ocean racing. In 1866, three schooners of between 32 and 32.6 metres, raced from Sandy Hook, N.J. to Cowes, Isle of Wight under New York Yacht Club rules. The Henrietta, owned by American newspaper publisher James Gordon Bennett, won, arriving at 5:45 pm. on Christmas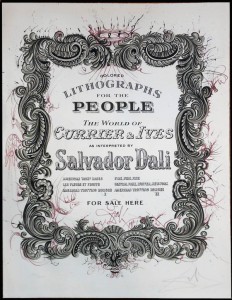 day in a time of 13 days and 22 hours. The Fleetwing arrived 8 hours later, followed by the Vesta 1 1/2 hours after her.
Sales Presentation Marquis
Numbered 45 of 300, the sales presentation marquis is titled Lithographs for the People, the World of Currier and Ives.
Currier & Ives
Currier & Ives was America's longest running printing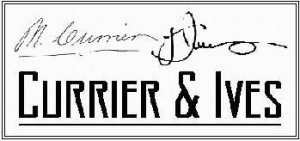 establishment. Headed by Nathaniel Currier and James Merritt Ives, the New York City firm published over 7,500 lithographs during its 72 years of operation. In fact, between 1834 and 1895, its artists created two to three images each week, from which more than a million hand-colored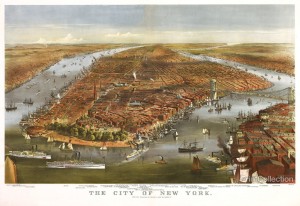 lithography prints were produced. To do this work, the firm brought in a number of celebrated artists of the day, including James E. Buttersworth, John Cameron, George Inness, Eastman Johnson, Otto Knirsch, C.H. Moore, Thomas Nast, Charles R. Parsons, Napoleon Sarony, Thomas Worth, Arthur Fitzwilliam Tait (who specialized in sporting scenes), Louis Maurer (who executed genre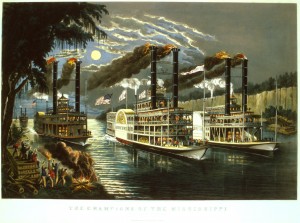 scenes), George H. Durrie (who supplied the company's iconic New England winter imagery) and Fanny Palmer (who not only executed picturesque panoramas of the American landscape, but was the first woman in the United States to make her living as a full time artist). Most of the lettering was done by J. Schultz. Hundreds of other craftspeople worked grinding stones, printing, coloring, selling and supplying images.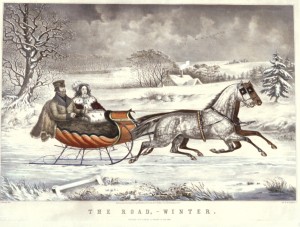 The earliest lithographs were printed in black and white and then colored by hand. As new techniques evolved, Currier & Ives found it possible to produce full-color lithographs that featured softer, more painterly effects. Its prints were among the most popular wall hangings of the day and included hunting, fishing and whaling scenes, city life and rural scenes, patriotic and historical events (including Lincoln's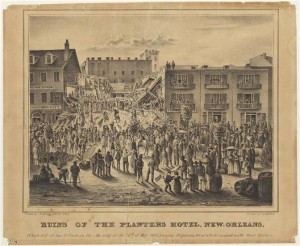 assassination), clipper ships, yachts and steamships, Mississippi and Hudson River scenes, railroads, politics, comedy, gold mining, winter scenes, sporting events (including horse racing) portraits and still lifes.
The first print published in the style which made the firm famous was Ruins of the Planters Hotel, New Orleans, which fell at two O'clock, on the Morning of the 15th of May 1835, burying 50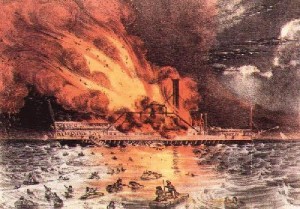 persons, 40 of which escaped with their lives, which was published in 1835. Currier's first financial success was a broadside of the sinking of the Lexington that was published in The New York Sun, which was the largest of New York City's newspapers at the time. (According to company records, Currier's presses ran day and night for months to fill the demand for the prints.) But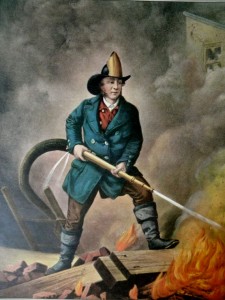 among its most memorable and historically-significant prints are the 1958 Louis Maurer lithograph titled The American Firefighter, which was reprinted in 1886, and Currier & Ives' 1862 print, Central Park Winter, The skating pond.
Nathaniel Currier died in 1888; James Merritt Ives in 1895. Although their sons ran the firm for a time after that, changing tastes and the advent of newer commercial processes such as photolithography finally forced Currier and Ives to close in 1907. Today, original Currier and Ives prints are highly prized by collectors. The winter scenes are especially popular and are often reproduced in Christmas cards.
A Word About Dali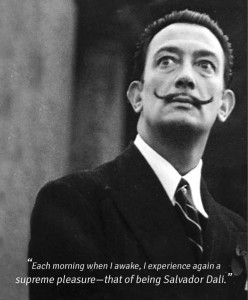 Salvador Dali is best remembered for the contributions he made to the Surrealist movement between 1929 and his expulsion from the group in 1939. Inspired by Sigmund Freud's psychoanalytic studies and publications, Dali's paintings during this period were small collages of his dream images. But the "unreal dream" space and hallucinatory characters he created were contradicted or counterbalanced by Renaissance-influenced classical technique. His major contribution to the Surrealist movement was what he called the "paranoic-critical method," a mental exercise of accessing the subconscious to enhance artistic creativity. Dali produced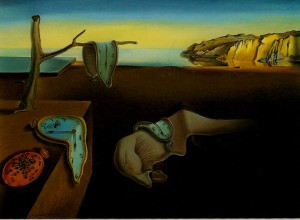 his most famous painting during this time. Sometimes called Soft Watches, The Persistence of Memory (1931) conveys, among other themes, the central idea that time is not rigid and everything is destructible.
Following the end of World War II, Dali moved into a period he described as Nuclear Mysticism. During the next 15 years, Dali's work expressed his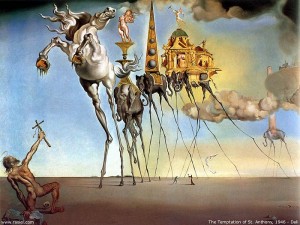 overarching fascination with the power of the atom and the advances being made by modern science, particularly physics. Borrowing from painters of the Italian Renaissance, he employed his focused and deliberate artistic style to express these elements in an effort to demonstrate that proof of a divine power could be found in the unity between science and mysticism. The 19 museum-scale works Dali produced during this period thus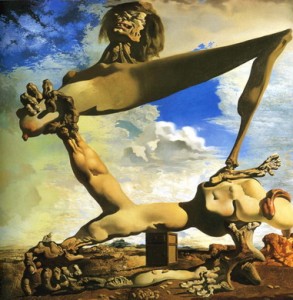 incorporate optical illusions, holography and geometry that evince divine geometry, DNA, the Hyper Cube and religious themes.
From 1960 to 1974, Dali dedicated much of his time to creating the Teatro-Museo Dali in his hometown of Figueres, Spain. The museum was built from the ruins of a 19th century municipal theater that had been destroyed at the end of the Spanish Civil War and is reputed to be the world's largest Surrealist structure (containing a series of spaces that form a single artistic object where each element is an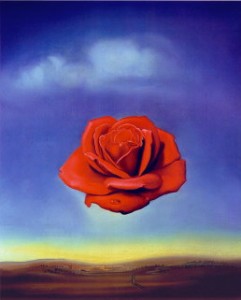 inextricable part of the whole). It was during this time, that Dali experimented with lithography and produced the suite that pays tribute to Currier and Ives.
The artist was forced to retire from painting in 1980 due to a motor disorder that resulted in permanent trembling and weakness in his hands that deprived him of the ability to hold a paint brush. Dali died of heart failure nine years later at the age of 84.
While Dali has been credited with many significant artistic contributions, he is also remembered for his colorful
personality and proclivity for self-promotion. Often sporting an exaggeratedly long mustache (in the tradition of painter Diego Velazquez), a cape and walking stick, Dali's public appearances exhibited highly eccentric behavior. For example, when New York art dealer Julian Levy introduced Dali to America at a 1934 exhibition, Dali appeared in characteristic flamboyant style wearing a glass case across his chest that contained a brassiere. Another time, he delivered a lecture titled "Authentic paranoid ghosts" at the opening of the London Surrealist exhibition in 1936 while dressed in a wetsuit, carrying a billiard cue and walking a pair of Russian wolfhounds. He later said his attire was a depiction of "plunging into the depths" of the human mind.
A Word About Dali's Lithography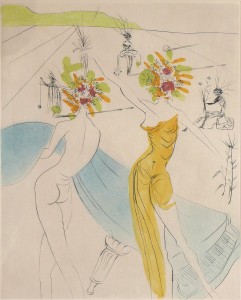 Dali created prints using a medley of different techniques, including etchings, engravings, woodcuts, mixed media, lithography and photo-lithography. He created print images for literary works like Hamlet, The Old Man and The Sea and Alice in Wonderland, and he worked on one hundred wood block prints for an edition of The Divine Comedy. The prints from this period, which collectors refer to as the Golden Age of the 196os, showcase his legendary imagination and portray the unconscious world of dreams, thoughts, and perceptions.
Publishers produced his prints both as individual sheets and as series in the forms of portfolios or illustrations in limited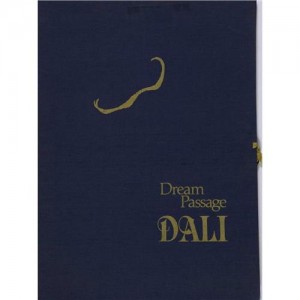 edition books. Flower Man, Dream Passage, Symphony Bicyclette, The Studio of Dali, Head of a Young Girl, Immaculate Conception, The Drawers of Memory, Fantastic Voyage, The Lucky Number of Salvador Dali, and The Persistence of Memory are some of his best works.
Forged Dali Prints
Dali's great popularity and marketability made him irresistible to art forgers. When the source of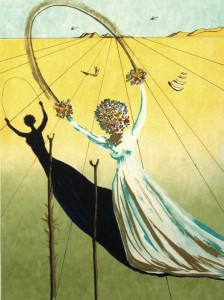 new prints dried out due to the artist's involuntary retirement in 1980, fakes began to appear on the market. Bogus Dali prints were produced in different variations:
new print images that the artist had never made
prints "after" Dali paintings or drawings sold as originals
extended editions with forged signatures
restrikes or facsimiles with forged signatures
fake copies of real prints
Fortunately the two paper mills that manufactured nearly all of the papers used for Dali prints, changed their watermark signs in 1980 by adding an infinity symbol. Thus most fakes can be identified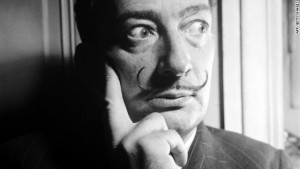 quite easily. Prints that bear the Rives or Arches watermark with the infinity sign and have Dali's signatures are fakes as Dali did not sign any prints after 1980.
A second means of authenticating a purported Dali print is by referring to one of two catalog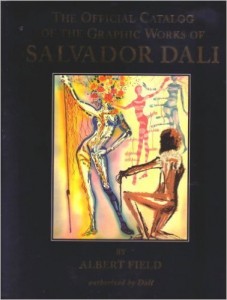 raisonnes. The first is Albert Field's Official Catalog of the Graphic Works of Salvador Dali that was published by the Salvador Dali Archives Ltd. (ISBN 0-9653611-0-1 ) in 1996. The other is Ralf Michler's Catalog Raisonne of Etchings and Mixed-Media Prints, 1924-1980" and Catalog Raisonne of Prints II, Lithographs and Wood Engravings.
Field has collected information about Dali prints and other works for over forty years with the approval of the artist. Field has cooperated with some 20 art fraud investigations by government agencies and has testified as an expert witness in court. He is regularly called on to authenticate Dali works for galleries and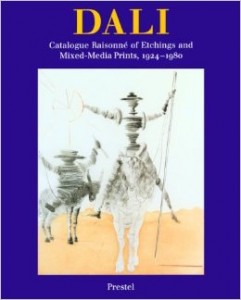 collectors. He also works closely with the Salvador Dali Museum in St. Petersburg, Florida, to which he has willed his own large collection of the artist's work. His catalog raisonne lists 1,700 genuine and authentic graphic works. Field groups them into original and cooperative prints. He defines original prints as those created by Salvador himself and cooperative prints as those supervised and approved by Dali. (The tome also makes reference to more than 400 dubious prints that collectors should avoid, prompting former chairman and director of the Dali Museum, A. Reynolds Morse, to call the catalog a vital weapon against counterfeiters. "Only the labors and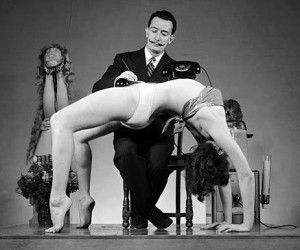 scholarship of Mr. Field can begin to restore any kind of order to the vast world of Dali reproductive prints," Morse wrote in an introduction to the book.)
In 1992 Lee Catterall published The Great Dali Fraud & Other Deceptions. As a result of the book, several art publishers and dealers and a former secretary of the artist were arrested and convicted. Fake Dali prints continue to circulate in the art market. Many are now offered on the Internet.