Spotlight on Fort Myers' Ward 1 art hub at Billy Bowlegs Park and Sports Complex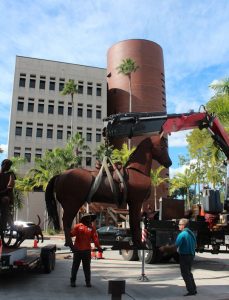 The Fort Myers Public Art Committee has been establishing art hubs in each of the City's six wards using in the 23 Edgardo Carmona sculptures that the City purchased in August of 2018. One such art hub is Billy Bowlegs Park and Sports Complex in Ward 1. This past November, it became the permanent home of Al Galope or The Horse at the request of Councilperson Teresa Watkins Brown.
The term art hub refers to a location that is already or which is intended to become either a cultural, business or residential destination. Billy Bowlegs Park and Sports Complex is unquestionably a residential destination. Also known as STARS East, the complex features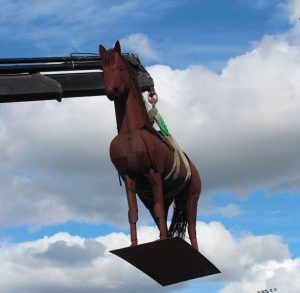 After School and summer camp programs. It is equipped with a regulation football field, multi-purpose field, playground and an adjacent 2.5 mile walking trail called the Billy Creek Preserve & Filter Marsh. Billy Bowlegs Sports Complex is home to STARS soccer, STARS flag football, and STARS 7v7. It is also home to youth recreation partners such as the Ft. Myers Firecats Youth Athletic League.
Studies show that public art delivers a host of benefits to the surrounding neighborhood by creating what urban designer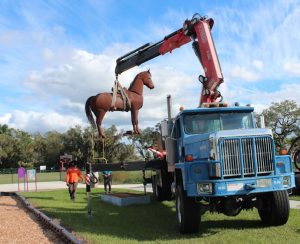 Mitchell Reardon calls "community fingerprints" – spaces that make people feel represented and give them a sense of ownership and belonging. An artwork's community-building powers can combat feelings of anxiety and social isolation. And exposing young children and teenagers to outdoor artworks can be especially uplifting and inspiring on both a conscious and subliminal basis.
Art encourages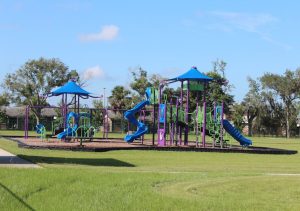 creativity and imaginative thinking, two skills that are increasingly linked with long-term professional success. "Encouraging students to use their imagination can help them actively engage with new concepts and discover connections between ideas, as well as provide advantages for their social and emotional well-being," the UF Online Master of Arts in Education program concludes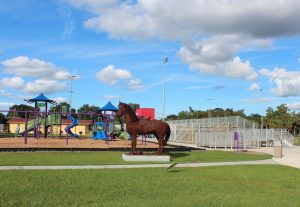 in an August 1, 2021 article. Along these lines, researchers from the University of Illinois at Chicago's Department of Public Administration have linked the mere act of viewing works of art to higher levels of civic engagement and social tolerance.
Art can help facilitate communication and bonding between children even if they don't know each other or don't share many
common interests. Children often use art to help them process their experiences and deal with their emotions. It is never too soon to introduce kids to the possibilities of creative expression. Locating Al Galope or The Horse next to the playground and at the entrance to BBSC football field will reinforce and foster these and the other goals of the BBSC's After School and summer camp art programs.
For many of the children and teens who frequent Billy Bowlegs Park and Sports Complex, as well as their parents and grandparents,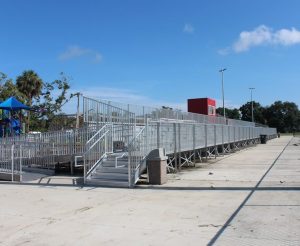 Al Galope may very well be their only exposure to public art. And a large number of them may also be unaware of the life and legend of the Seminole leader from whom the park derives its name. The Public Art Committee intends to rectify this omission by including information about the Seminole Chief in an audio recording on the City's free mobile app, Otocast, which already includes text and photos depicting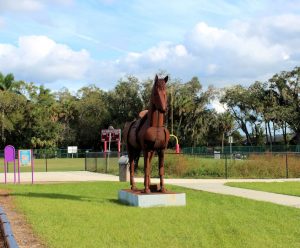 the sculpture.
The Public Art Committee hopes that Otocast will deliver a host of other benefits. Anyone with a smart phone will have access to information about more than two dozen of the City's other outdoor public artworks. Through passport challenges and other games, the Committee plans to encourage residents to visit art hubs in each of the City's six wards. And Committee even hopes that the presence of artworks in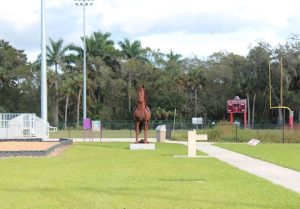 neighborhoods and business venues will one day inspire viewers to propose public art and mural projects of their own.
Who knows, the next Robert Rauschenberg or Marcus Jansen may even be among them.
June 9, 2022.
RELATED ARTICLES.